Common name: Nodding Carpesium
Perennial herb, up to 1 m tall, much branched. Lower cauline leaves spatulate-oblong, up to 25 cm long, up to 6 cm broad, base contracted and attenuate into winged petiole, margins irregularly doubly serrate, hairy on both surfaces, upper surface green, lower surface pale; upper leaves smaller; heads solitary, 1.5-2 cm across, long pedunculate, subtended by many linear-lanceolate, 2-5 cm long leaves; outer bracts leaf-like, scarious near base, inner ones narrowly oblong, scarious, obtuse; florets tubular, finally yellow; achenes linear, 4.5-5 mm long
A weed (
Carpesium abrotanoides)
quite distict from C. cernuum
in its smaller axillart flower heads and narrower leaves
Perennial herb, up to 1 m tall, much branched. Lower cauline leaves spatulate-oblong, up to 25 cm long, up to 6 cm broad, base contracted and attenuate into winged petiole, margins irregularly doubly serrate, hairy on both surfaces, upper surface green, lower surface pale; upper leaves smaller; heads solitary, 1.5-2 cm across, long pedunculate, subtended by many linear-lanceolate, 2-5 cm long leaves;  outer bracts leaf-like, scarious near base, inner ones narrowly oblong, scarious, obtuse; florets tubular, finally yellow; achenes linear, 4.5-5 mm long

Photographed
from Dachhigam, Kashmir
in July and August.
---
---
Flora of Chakrata: Carpesium from Chakrata Deovan Area: 5 images.
Carpesium from Chakrata Deovan Area
An Asteraceae herb wildly growing
My guess is Carpesium cernuum
Pls validate
---
Yes …. Good photographs
---
Carpesium pedunculosum?
---
Carpesium pedunculosum Wall. is now an invalid name, the taxon considered as synonym of C. nepalense var. pedunculosa S. Kumar a plant that has heads smaller than 1 cm, leaves ovate, abruptly cuneate at base, involucre bracts serrulate.
---
---
---
Yes … Very good photographs.
---
---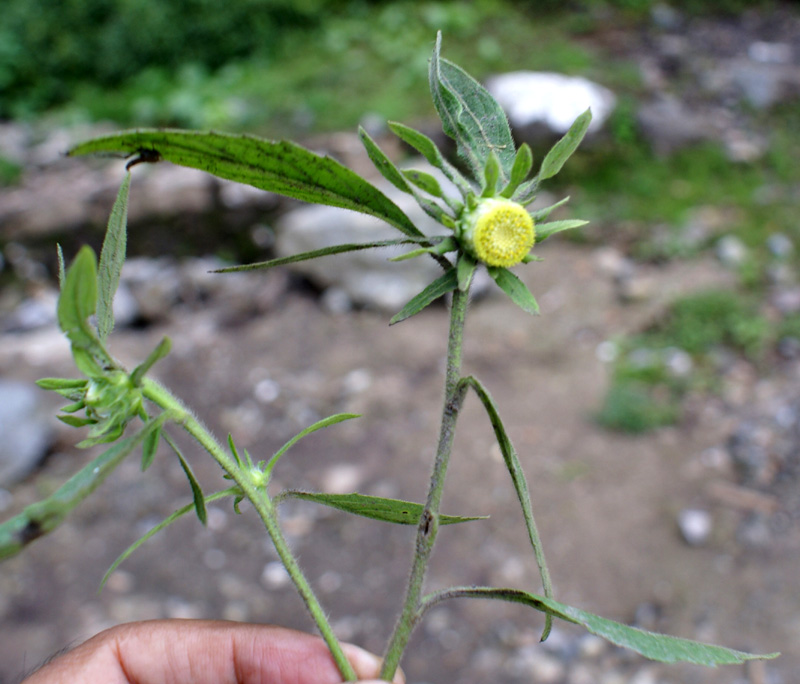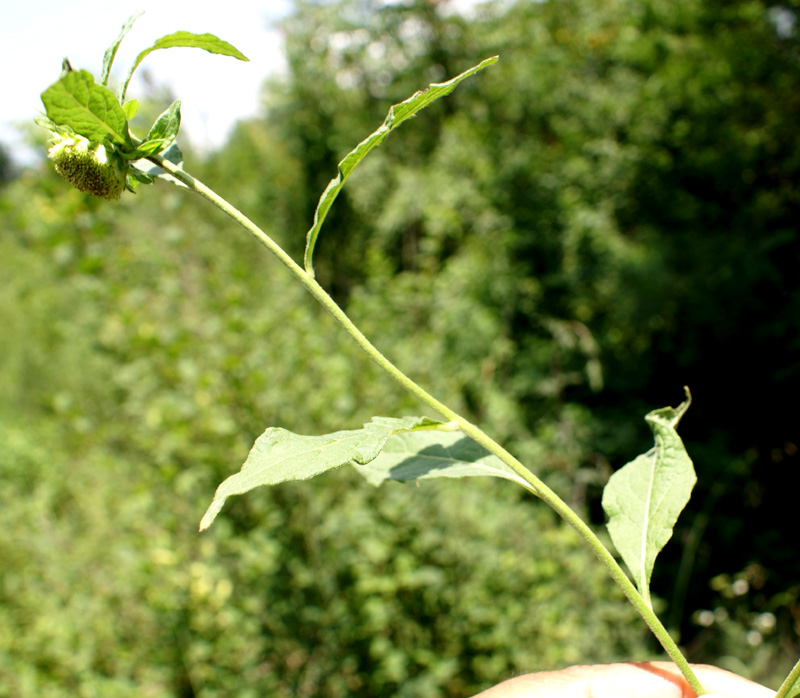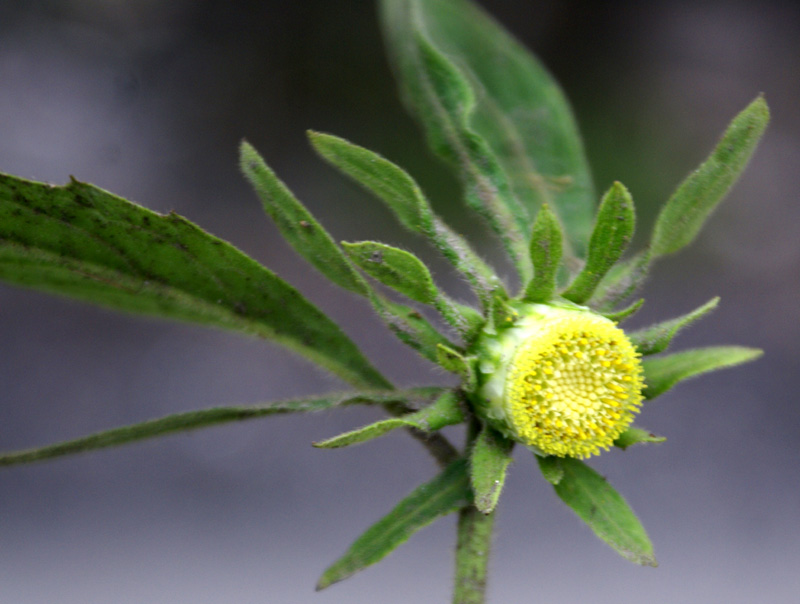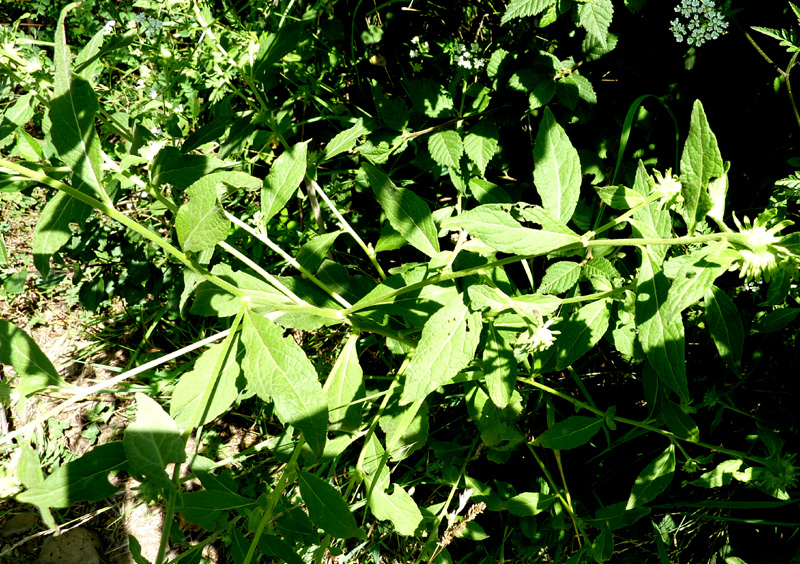 Asteraceae Fortnight Part 2-Discoid heads- Carpesium cernuum from Kashir and Chakrata-GS22 : Attachments (5). 1 post by 1 author.
Carpesium cernuum L., Pl. 859. 1753
Perennial herb, up to 1 m tall, much branched. Lower cauline leaves spatulate-oblong, up to 25 cm long, up to 6 cm broad, base contracted and attenuate into winged petiole, margins irregularly doubly serrate, hairy on both surfaces, upper surface green, lower surface pale; upper leaves smaller; heads solitary, 1.5-2 cm across, long pedunculate, subtended by many linear-lanceolate, 2-5 cm long leaves; outer bracts leaf-like, scarious near base, inner ones narrowly oblong, scarious, obtuse; florets tubular, finally yellow; achenes linear, 4.5-5 mm long.
Photographed from Dachhigam, Kashmir in July and August, and Chakrata in September.
---
.
---
Is it Carpesium cernuum??: 1 image.
Am posting photo of a plant collected and photographed in the 1st week of September this year. It was growing in an orchard in Srinagar. My tentative ID is Carpesium cernuum. I have just this one photo with me.
---
Yes it is Carpesium cernuum
---
Possible but difficult to confirm with this image only as there are many similar species.
Pl. see
https://efloraofindia.com/2011/02/13/carpesium/
---
There are just 3 species on the page and two i.e. abrotanoidies and trachelifolium are very different. The close resemblance is to cernuum only rather than to nepalanse if the flowers are compared.
---
Being from Kashmir, there should be no doubt on ID.A very common plant there.
---
References: