---
I shot this fruiting plant
in Eaglenest WLS Arunachal Pradesh in Nov 2008,
Could please id this plant for me?
---
Pratia montana
---
Yes, Pratia montana from me too.
---
Beautiful and really unusual looking fruit with such a lovely colour.
---
As said above its a Pratia montana
Family: Campanulaceae
Some more details as per the Materials for the flora of Arunachal Pradesh
Herb, up to 30 cm tall; stem erect, glabrous, reddish, rooting at base. Leaves elliptic to elliptic-lanceolate, serrulate or denticulate. Flower solitort, white, greenish blue or violet with two purple gibbosites inside.
Berries globose, yellow to purple or red.
Fl. & Fr: Throughout the year
Elevation: 300 – 3000 m
Habitat: In Moist shady forest or along roadside.
---
.
I photographed this single flower 

in Upper Dibang Valley, Arunachal Pradesh in Oct 08.
Checking Polunin & Stainton's, 'Flowers of Himalaya – A Supplement' it appears to be Lobelia seguinii var. doniana pictured on plate 58 #268.
Found from Uttar Pradesh to S.W.China, Myanmar, 1800-3200m.
There is another species found at 1200-2100m, 
Lobelia pyramidalis.
Looks close to Lobelia montana Reinw. ex Blume
Lobelia montana Reinw. ex Blume
---
---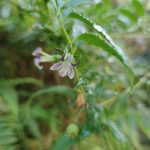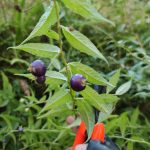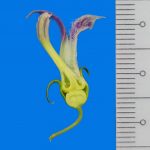 ID please
4 images.
What is the species name of this Lobelia?  Please?
---
Check with L. inflata
---
Lobelia montana Reinw. ex Blume
---
Hoping You're right …, Almost close,
---
Means still doubt?
---
No Sir Ji, Fully agree with you,
---