---
Flora of Panipat: Corchorus tridens from a village near Samalkha Panipat Haryana:  Attachments (9)
Corchorus tridens
from a village
near Samalkha Panipat Haryana
Small herb wildly growing in a roadside area
Pls validate
---
---
Corchorus tridens
L.,
ascending weed in the roadsides and fallow fields.
---
---
presenting a suspected Corchorus tridens for validation
Recorded at Patan, Gujarat, on 18 12 2016
---
Yes, Corchorus tridens as per comparative images and keys in Flora of Pakistan at Corchorus
---
---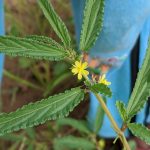 Photographed near Neemrana, Rajasthan
---
Corchorus trilocularis L. or Corchorus tridens L. ??
---
Which one …?
---
Both are same …
---
Thanks, …, for the id.
Can you count the no. of stamens as per keys with your original images
---
Beak of the capsule seems to be divided in young fruits.
So it may be Corchorus tridens
---
Thank you …! It is synonym and only difference is the author!
---
Thanks, … But when we talk here about these two names (without author citations), then it  generally means that we are talking of accepted species and not synonyms.
---
---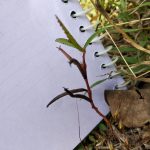 From dry thorn area.
Can anyone please identify it, at least to genus?
---
This appears to be Corchorus tridens L. [Malvaceae].
---
I too agree with …
---
References: