Pittosporum undulatum Vent., Descr. Pl. Nouv. t. 76 1802.;
Australia (South Australia, Queensland, New South Wales, Victoria, Tasmania), Jamaica (I), South Africa (I), Lord Howe Isl. (I), Norfolk Isl. (I), Ecuador (I), Brazil (I), Colombia (I), Bolivia (I), Southern Marianas (I) (Guam (I)), Azores (I) (Santa Maria Isl. (I), Sao Miguel Isl. (I), Terceira (I), Graciosa (I), Sao Jorge (I), Pico (I), Faial (I), Flores Isl. (I), Corvo Isl. (I)), Madeira (I) (Madeira Isl. (I)), Canary Isl. (I) (Gran Canaria (I), Tenerife (I)), Hawaii (I) (Lanai (I) (Lana`ihale (I)), Hawaii Isl. (I)), USA (I) (California (I)), Portugal (I), France (I), Morocco (I)
as per
Catalogue of Life

;
Australia flora-3.
: `
Pittosporum undulatum
`
from Minnamurrra rainforest.

Other species of
Pittospermum
are found also in Western ghat.
flowers smell is very pleasant.
---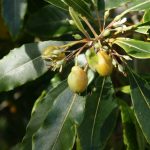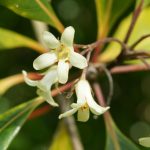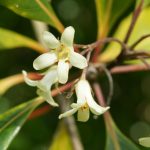 Pittosporum undulatum from California-GS25022021-3
3 images.
Pittosporum undulatum
 Vent.
A tree with more or less glabrous twigs, leaves green, thin, undulate, oblong to lanceolate-elliptic; flowers white in an umbel; fruit glabrous, 10-15 mm. In similar looking species P. tenuifolium leaves are greyish green, flowers red to purple black, fruit 10-12 mm hairy. Photographed from San Francisco Zoo, California, 22-11-2012.
Here is a key to species from Japson eFlora of California:
Leaf abaxially white, densely hairy ….. P. crassifolium
1′ Leaf abaxially green, glabrous or subglabrous
Leaf margin± turned under, stiff, leathery ….. P. tobira
2′ Leaf flat, ± wavy, flexible, not leathery
Leaf pale gray-green, no odor when crushed; petals dark red to purple-black ….. [P. tenuifolium]
3′ Leaf bright green, strong odor when crushed; petals white ….. P. undulatum
---
References: