SE-Brazil (Minas Gerais, Sao Paulo), S-Brazil (Parana, Rio Grande do Sul, Santa Catarina), Uruguay (Canelones, Cerro Largo, Paysandu, Rivera, Tacuarembo,
Treinta y Tres), trop. Africa (introduced), Yunnan (introduced), Niue (introduced), Costa Rica (introduced), Mexico (introduced), Juan Fdz. Isl. (introduced), Colombia (introduced), Cuba (c)
as per
Catalogue of Life
;
---
Please help me in identifying this
tree species found planted in a Botanic Garden.
Leaf: not more that 10 cm long
Place:

Sims Park

, Conoor, Nilgiris, TN

Alt.: c. 2000 m asl
---
Feijoa sellowiana probably a synonym of above mentioned name.
---
---
Plant for ID 27/09/2011 SMP2:
A garden plant from California for ID
Again a shrub of around 5feet height Flower size 5-6cm
---
Feijoa sellowiana
---
Yes, a drought tolerant attractor of birds, butterflies and bees… ripe fruits are yummy.. to boot..
popular in southwest usa… for obvious reasons…
---
Pineapple guava Native of South America. Grown for its edible fruit which has guava like flavour.
Family : Myrtaceae
---
.
---
From
Fremont, California.
Bush For ID : California : 18OCT14 : AK-8
---
---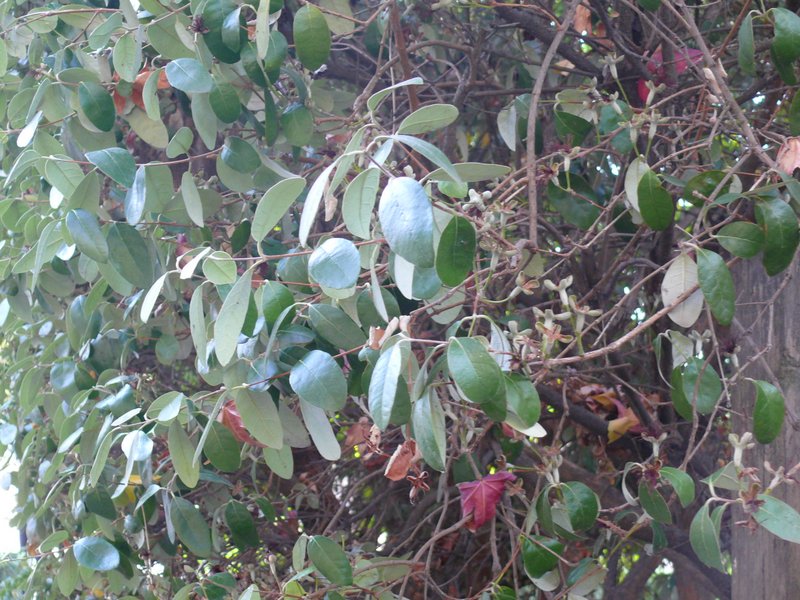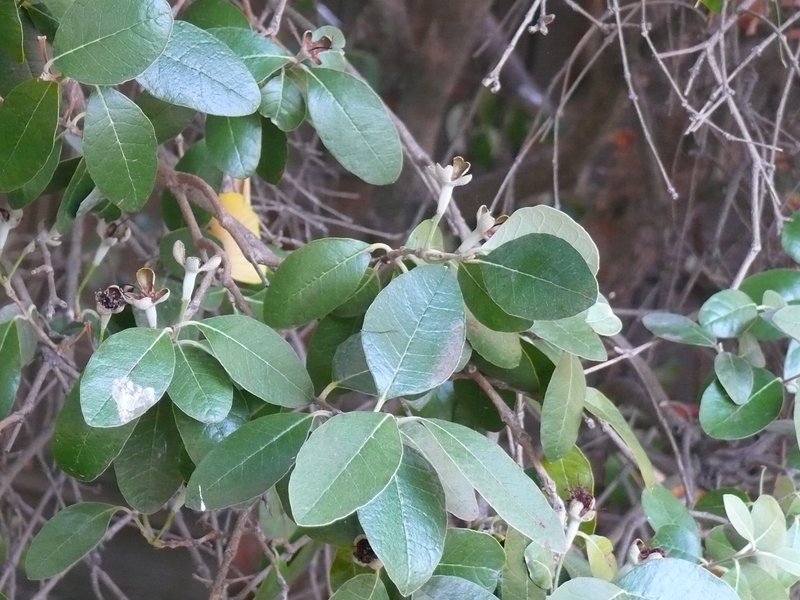 Bush For ID : California : 18OCT14 : AK-8
: 3 posts by 2 authors. Attachments (3).
Bush seen as a hedge
in Fremont
on 28th Sept,14.

Small leaves and flowers had probably fallen off.
---
It looks like Acca sellowiana of Myrtaceae.
---
Absolutely amazing!
I could never guess this one.
Thanks a lot for the id.
---
Acca sellowiana
Myrtaceae
Feijoa, Pineapple guava or Guavasteen
Shimla
---
Beautiful pictures … I had seen in Fremont, California.
Although I wish I had seen the flowers, they are so pretty.
---
References: