Images
by Raman Arunachalam (Inserted by J.M.Garg) (For more images & complete details,
click on the links)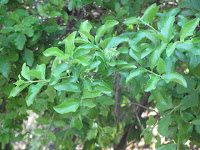 Anacua
reaches a height of 20–45 ft (6.1–14 m)[2] and a diameter of 0.3 m (0.98 ft),[4] often producing suckers or multiple trunks.[2] The bark is reddish-brown to gray with narrow furrows and peeling scales. The dark green leaves are 3–8 cm (1.2–3.1 in) and 2–4 cm (0.79–1.6 in) wide and elliptical or ovate. Their upper surfaces are remarkably rough, feeling like low-grade sandpaper.[4] Anacua is a partial evergreen, replacing some of the leaves in early spring. Abundant white flowers[2] form in panicles or cymes[5] 5–7.5 cm (2.0–3.0 in) in length at the ends of twigs,[4] making trees appear to be covered in snow when in bloom from spring to summer.[2] Flowers are 8 mm (0.31 in) wide and have 5 corolla lobes. The fruits are spherical[4] drupes[6] 8 mm in diameter and yellowish-orange.[4] The drupes contain two stones, each with two seeds.[4] In addition to being edible by humans, the drupes are eaten by mammals and birds[2] such as the Clay-colored Thrush.[7] The lifespan of an Anacua is at least 50 years.
---
2 images.
---
Fruits. 2 images.
---
Small Tree For ID : Lalbagh,Bangalore : 21DEC16 : AK-42 : 15 posts by 4 authors. Attachments (3)
Pictures taken in March this year.
Kindly suggest id.
---
One of my earlier posts.
During my recent visit this month, I could see tiny orange fruits.
Adding the pictures.
Vijayasankar Ji has suggested to check for Ehretia Species.
Experts kindly help in id.
---
If so, pl. check comparative images at efi site on genus page. 
---
Perhaps it is Duranta erecta
---
This is definitely not Duranta erecta.
Duranta
is well known to me.
---
Pl. check 
The fruit does match.
Hope to see the flowers in future to confirm id.
---
You can check this one again (same one suggested by …)
I do feel they are same.
---
Thanks … You know the trees of Lalbagh better than anyone else.
---
References: