Salsola kali subsp. tragus (L.) Celak.,

Pr

odr. Fl. Böhmen 2: 155 1871

. (Syn:

Kali australis

(R.Br.) Akhani & Roalson;

Salsola acicularis

Salisb.;

Salsola altaica

(C. A. Mey.) Iljin;

Salsola australis

R. Br.;

Salsola brachypteris

Moq.;

Salsola controversa

Todaro ex Nym.;

Salsola decumbens

Lam.;

Salsola iberica

Sennen & Pau;

Salsola kali

var.

altaica

C. A. Mey.; 

Salsola kali

subsp.

austroafricana

Aell.;

Salsola kali

subsp.

iberica

(Sennen & Pau) Rilke;

Salsola kali

var.

pseudotragus

G. Beck;

Salsola kali

subsp.

ruthenica

(Iljin) Soó;

Salsola kali

var.

tenuifolia

Tausch; 

Salsola kali

subsp.

tragus

(L.) Nym.;

Salsola macrophylla

R. Br.;

Salsola pestifer

Nels.;

Salsola pseudotragus

(G. Beck) Iljin;

Salsola rosacea

Cav.;

Salsola ruthenica

Iljin;

Salsola ruthenica

var.

filifolia

A.J. Li;

Salsola scariosa

Stokes;

Salsola spinosa

Lam.;

Salsola tragus

L.;

Salsola tragus

subsp.

iberica

Sennen & Pau;

Salsola tragus

var.

tenuifolia

(Moq.) N.N. Tzvelev);
Albania, Austria, Belgium, Baleares, England, Bulgaria, Corsica, Czech Republic, Slovakia, Denmark, Finland, France, Germany, Greece, Ireland, Switzerland, Netherlands, Spain, Hungary, Italy, former Yugoslavia, Portugal, Malta, Norway, Poland, Romania, Sardinia, Sicily, Sweden, Crimea, Anatolia, Iran, Afghanistan (Badakshan, Wakhan, Balkh, Bamyan, Ghazni, Ghorat, Helmand, Kabul, Kandahar, Laghman, Logar, Nangarhar, Paktia / Khost, Parwan, Takhar),

Pakistan (Quetta, Baluchistan, Kurram, Peshawar), Pakistani Kashmir (Gilgit, Baltistan), Jammu & Kashmir (Ladakh),

Tunisia, Algeria, Belarus, Northern Caucasus, Georgia [Caucasus], Armenia, Azerbaijan, Siberia (W-Siberia, C-Siberia), Russian Far East, China (Heilongjiang, Jilin, Liaoning, Nei Mongol, Hebei, Shanxi, Shaanxi, Ningxia, Gansu, Qinghai, Xinjiang, Shandong, Jiangsu), Tibet, Mongolia, C-, E- & N-European Russia, Crimea, Ukraine, South Korea, Kazakhstan, Kyrgyzstan, Uzbekistan, Tajikistan, Turkmenistan, Estonia (introduced), Libya, Tunisia, Algeria, Morocco, Australia (introduced) (Western Australia (introduced), Northern Territory (introduced), South Australia (introduced), Queensland (introduced), New South Wales (introduced), Victoria (introduced), Tasmania (introduced)), Pakistan, South Africa (Transvaal, Free State, Cape Prov.), Zimbabwe, Botswana, Namibia, Java (Kangean Arch., Madura Isl.), Sulawesi (incl. Selayar), Buton Isl., Lesser Sunda Isl. (Bali, Timor), Moluccas (Kei Isl.), New Guinea, New Zealand (introduced), New Caledonia, Chile (introduced), Argentina (introduced), Uruguay (introduced), Cyprus (C-Mountains, E-Cyprus, N-Cyprus, S-Cyprus, W-Cyprus), Rhodos, Egypt (NE-Egypt, Nile Delta, NW-coastal Egypt), Iran (EC-Iran, N-Iran, Iranian Aserbaijan, W-Iran), Iraq (NW-Iraq, SE-Iraq: Mesopotamia), Israel (C-Israel, coastal W-Israel, Rift Valley, N-Israel), Kuwait, Lebanon (coastal W-Lebanon), Saudi Arabia (C-Saudi Arabia, Hejaz, Asir), Sinai peninsula (C-Sinai, N-Sinai, S-Sinai), Syria (coastal W-Syria, C-Syrian Desert, Jazira), Yemen, Azores (Sao Miguel Isl., Terceira, Pico, Faial), Madeira (Porto Santo Isl.), Canary Isl. (Gran Canaria, Tenerife), Canada (introduced) (Alberta (introduced), British Columbia (introduced), Manitoba (introduced), New Brunswick (introduced), Newfoundland & Labrador (introduced), Nova Scotia (introduced), Ontario (introduced), Prince Edward Island (introduced), Quebec (introduced), Saskatchewan (introduced)), USA (introduced) (Alabama (introduced), Arizona (introduced), Arkansas (introduced), California (introduced), Colorado (introduced), Connecticut (introduced), Delaware (introduced), D.C. (introduced), Georgia (introduced), Idaho (introduced), Illinois (introduced), Indiana (introduced), Iowa (introduced), Kansas (introduced), Kentucky (introduced), Louisiana (introduced), Maine (introduced), Maryland (introduced), Massachusetts (introduced), Michigan (introduced), Minnesota (introduced), Mississippi (introduced), Missouri (introduced), Montana (introduced), Nebraska (introduced), Nevada (introduced), New Hampshire (introduced), New Jersey (introduced), New Mexico (introduced), New York (introduced), North Carolina (introduced), North Dakota (introduced), Ohio (introduced), Oklahoma (introduced), Oregon (introduced), Pennsylvania (introduced), Rhode Island (introduced), South Carolina (introduced), South Dakota (introduced), Tennessee (introduced), Texas (introduced), Utah (introduced), Vermont (introduced), Virginia (introduced), Washington (introduced), West Virginia (introduced), Wisconsin (introduced), Wyoming (introduced)), Mexico (introduced), Central America (introduced), South America (introduced), Hawaii (introduced) (East Maui (introduced), Kahoolawe Isl. (introduced), Hawaii Isl. (introduced))
as per
Catalogue of Life
;
---
Seen this herb in the sandy soil near Shiok River at Village Turtuk (Ladakh).
Date/Time: 18-09-2011 / 06:30PM
Location: Turtuk, Ladakh (Altitude: Approx: 11000ft).
Plant habit: Herb
Habitat: Wild
Could this be "Salsola tragus" (Family: Chenopodiaceae)??
---
I think yes
---
---
---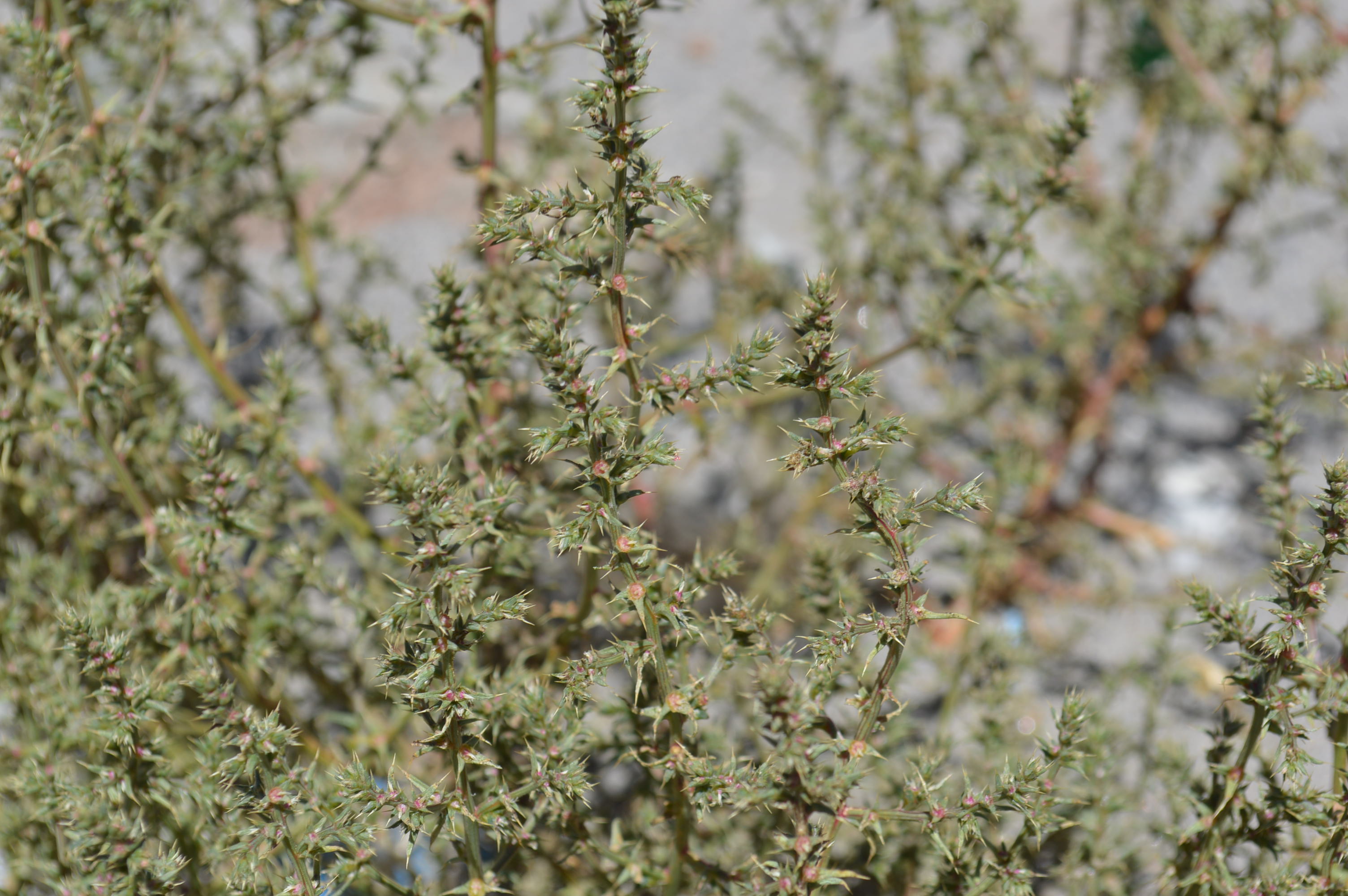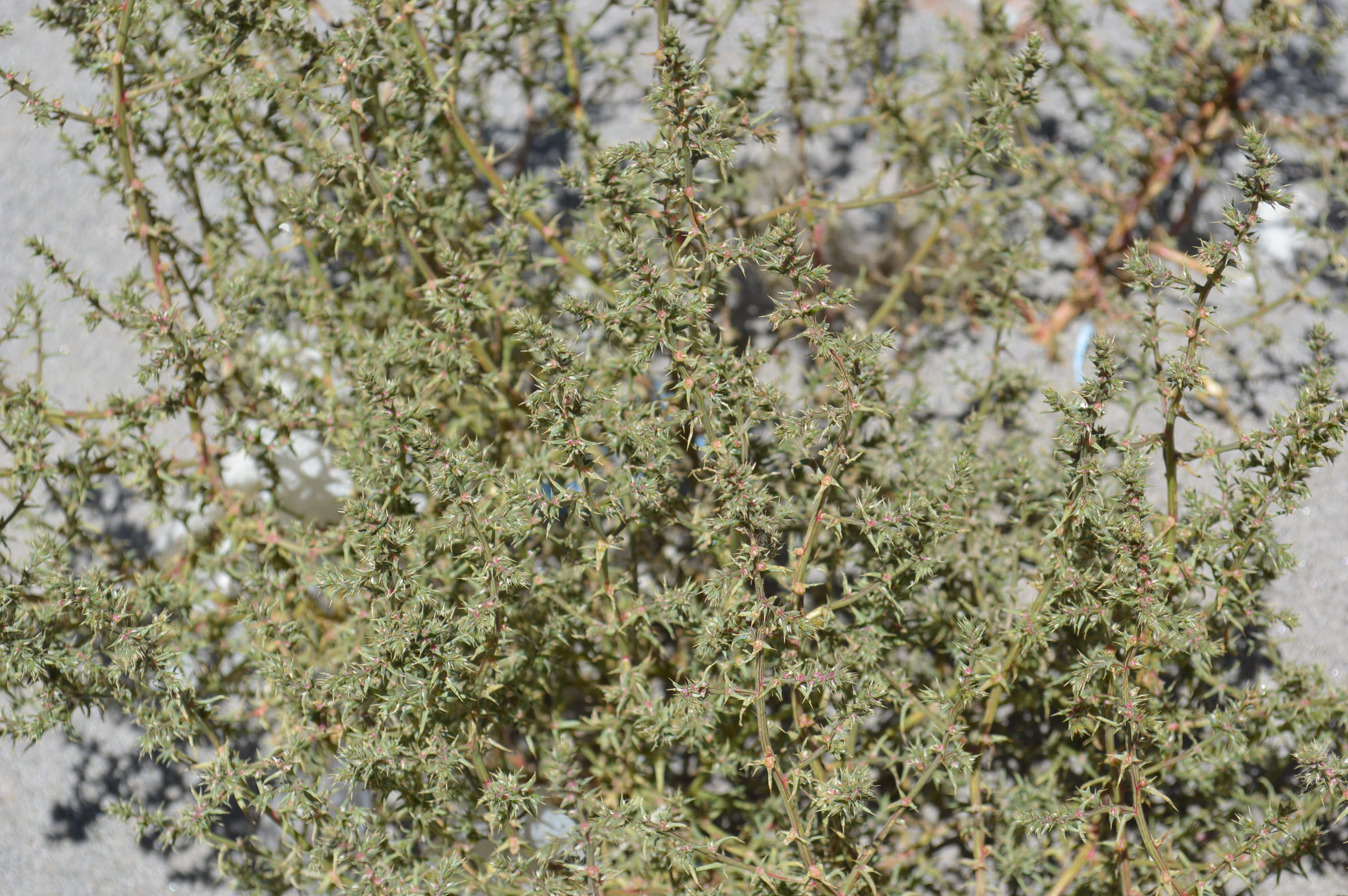 SK40JUL21-2016:ID
: 9 posts by 2 authors. Attachments
(3)- 1 Mb each except one.
Enclosing some pictures for identification.
Location : Sangam, Leh

Date: 20 August, 2014
---
I think this may be Salsola kali
– found sparsely distributed on the coast of the British Isles on sandy shores – no doubt the forms in Ladakh are recognised as a different variety.
Stewart tells us at Skardu it grows in the hottest sand
with Sophora and Echinops
–
also grows in Baluchistan and Peshawar
.
 A common desert weed,

variable

. 
---
Spoke too soon and did not check properly – I am getting tired and the pain (which I get for much of every day) is playing up.  Let me just get this off too you, then a rest.
I note that Dickore & Klimes did not list Salsola kali but two species Salsola tragus and Salsola jacquemontii – not mentioned by Stewart.
I was correct in my comment that no doubt the 'forms' in Ladakh are recognised as a different 'variety' – even at species level.
Had not realised it was one of the US "tumbleweeds"!
Don't currently know how to distinguish between Salsola (or should it be Kali) tragus and S.jacquemontii
.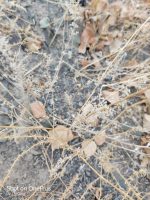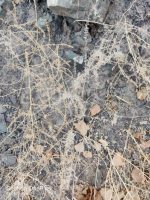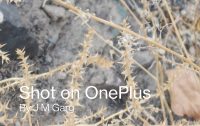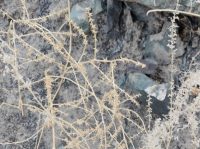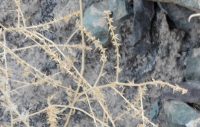 For id 300722 JM 2: Ule, Ladakh
: (Mixed thread): 6 correct images- 3 high res.
In rocky sandy area near Indus,
in Ule (10,000 ft.) Ladakh, on 14.6.22.
---
Possibly, Salsola tragus
---
The images show one to two Chenopodiaceae: the thorny species (with subulate bracts and leaves) is Salsola tragus; a plant with dried perianth is Dysphania, perhaps D. nepalensis or D. multiflora. The details of flowers and leaves are needed to identify this Dysphania. Hopefully I have helped you.
---
References: