---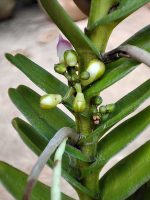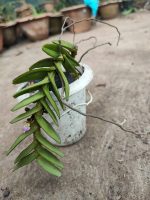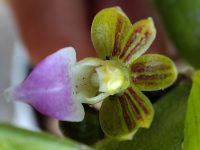 ID: Trichoglottis sps.?: 4 high res. images.
Pelatantheria insectifera (Rchb.f.) Ridl. !
---
Pelatantheria insectifera.
---
.
---
Pelatantheria insectifera:
Please find one of our recent publications attached with the mail.
---
Loved the front picture … and the process of taking the sepals apart to prepare for proper ID and photography prep… thanks for the lesson…
---
In Jharkhand one of its names popular among the Healers is Motan Jadi (… it is for you) and popularly it is added in Dhawai (Woodfordia) based formulations.
It is also used in Gulbakawali and Maidani Bakuchi based Formulations for herb toxicity.
Few weeks back I received its fresh and dry samples from Haridwar from Some Swami ji of National TV for comments. It is not in commercial trade from UP but the herb traders of Saharanpur and other areas claim that they supply it to the Tantriks for Vasikaran Rituals. It is also available with the Faith Healers of Jim Corbett Park region.
If interested I can forward the local names of this species in study area.
---
Thanks a lot … for the useful information.
If I had known earlier then I would have added it in the manuscript.
---
Congrats … and the co-workers for such a beautiful find. You deserve special applause for the drawings, they are as fabulous as the pics are….
---
---
---
this is Pelatantheria insectifera.
---
---
Plant For ID : Jim Corbett,Uttarakhand : 100714 : AK-17 : 4 posts by 3 authors. Attachments (1).
Another plant, possible an Orchid, seen on 17/5/14 with shorter leaves.
---
Very interesting. This has become rare in western himalaya but we reported it from Corbett few years back. This is Pelatantheria insectifera.
---
Many thanks for the id. Amazing how you can identify an Orchid by only seeing the plant!
---
References: