Mexico (San Luis Potosí, Chiapas), Florida to Caribbean
 as per
WCSP
;
Bahamas; Cuba; Dominican Republic; Florida; Haiti; Hawaii; Jamaica; Leeward Is.; Malaya; Mexico Northeast; Mexico Southeast; Puerto Rico; Southwest Caribbean; Turks-Caicos Is.; Windward Is.
as per
Catalogue of Life

;
Habit: Tree

Fruiting season (Oct. Nov.)
---
Yes I can see the characteristic golden yellow undersurface of the leaves.
---
I was waiting for the photograph of this particular tree. This tree is seen in Theosophical society campus,
Chennai.
---
I think the species is Chrysophyllum oliviforme and not C.cainito.
---
I agree with … C. cainito has round, about 2″ dia fruits which have star shape segments if cut horizontal (hence called as Star Apple) and are delicious.
---
---
Came across this tree (Looks like Cultivated one) in Mumbai. ID pl..
Looks like some sp. of Chrysophyllum??
Family: Sapotaceae??
Date/Time: 28-06-2010 / 06:00PM
Location: Mumbai
Habitat: Looks like cultivated, Garden sp.
Plant Habit: Tree
Height: Tree almost 8 m tall with reasonable good canopy and
Leaves: Alternate, elliptic, 3 to 7cm,  rounded at apex, petiole rusty brown 8 to 10mm, nerves 10 to 14 pairs, leaves shining green above and Golden-brown beneath
Flowers: small in cluster, 5 to 7mm, pedicel 5mm, stamens 5
---
Chrysophyllum
for sure !!
Chrysophyllum
oliviforme
is the call from me
---
I concur with … A South Florida native.
---
Chrysophyllum indeed but I doubt about oliviforme.
I imagine if the apex notch is consistent character or just deformity?
---
it is hrysophyllum oliviforme–Sapotaceae
Satinleaf, Satin Leaf
Origin: Caribbean
http://www.plantcreations.chrysophyllum_oliviforme
http://www.tradewindsfruit.satin_leaf_tree.htm
---
Indeed, the notch did have me wondering as well. The trees I see in Florida do not normally have that leaf tip, but in searching online (for what it is worth), I did see other trees with notched foliage. Perhaps it is a separate species then? I'll try to do a little more research into this soon.
---
.
---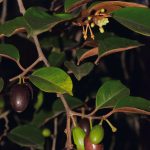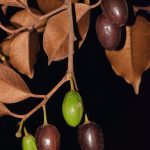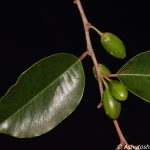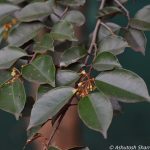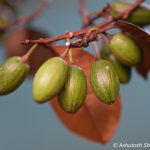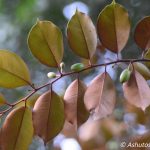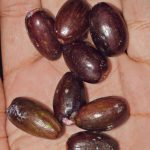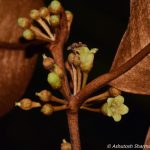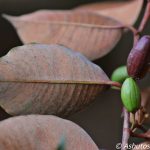 Chrysophyllum oliviforme L. submission AS25 December21: 9 images.
Chrysophyllum oliviforme L.
Satin Leaf tree
Family –
Sapotaceae
Photographed
at FRLHT/TDU Garden,
Bengaluru, Karnataka
Superb photos !
I have come across this tree. For me the ID is correct.
---
References: