Common name: Jowar, Sudan Grass • Hindi: जौवार, जवार् Jowar • Marathi: जोवारी Jowari ;
tall grass ID from Hooghly 24/6/12 SK:
This grass is around 6 feet or a little bit more tall. It is often cultivated, not for grains but, i think, for fodder. It is called GAMA (গমা) grass in Bengali. Is it a Sorghum species?
species : UNKNOWN
Habit and habitat :
6 feet or little more, cultivated species, looks somewhat like maize plant
Date :
23/6/12, 2.10 p.m.
Place :
Hooghly, West Bengal
---
Looks like Coix lacryma-jobi
---
I think, attached image is not of Coix but may be of Sorghrum sp.
---
Yes i agree with … It may be a Sorghum vulgare cultivar.
---
I have recorded more images of this grass today (26-June-2012). The data i could collect from local –
this grass is grown only to be used as cattle fodder

the local believe is that the root of this grass is poisonous and they cut the grass leaving about 6 to 8 inches above the ground level

roots and seeds are discarded

they collect seeds form Govt. Agri dept.

avg. leaf size = 111 cm X 6.8 cm

culm looks like sugarcane
Attaching the newly recorded images.
---
This is a much used fodder in our area known as "Jowar" definitely Sorghum vulgare …as suggested..
---
Thank you very much …, attaching some more photographs in my next mail, following immediately.
---
I have taken some more photos of the grass, today. Also attaching some more pics of another grass spike, collected by one of my friends from another place in Hooghly. This second set of photographs are prefixed as "set2".
---
---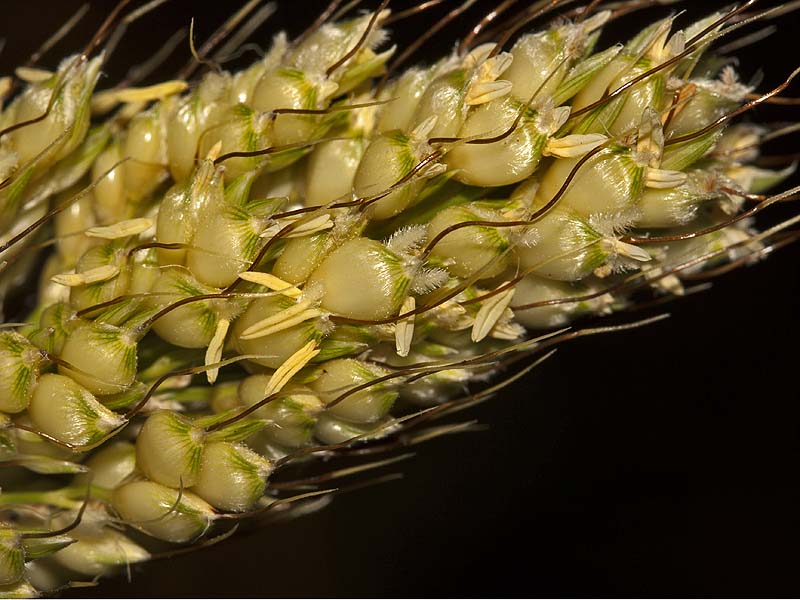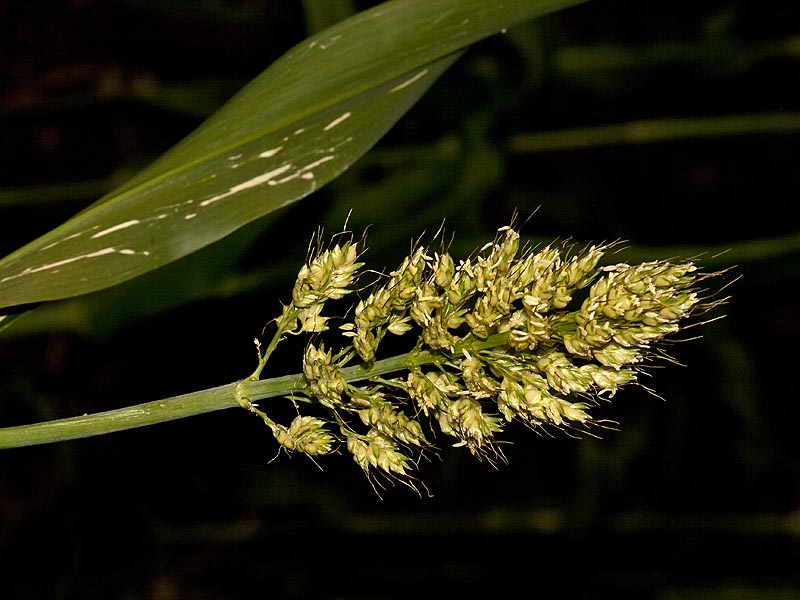 Sorghum species:
Last Sunday had a chance to have a feast of this tender sorghum seeds locally called as "Hurda" freshly cut from the fields.
Could get few closeups.
Is it Sorghum bicolor or Sorghum vulgare ?
---
Syn:
Sorghum vulgare Pers.

Commonly cultivated as Jowar crop, photographed

from Delhi
---
---
Poaceae
¿
Sorghum bicolor
?
Place, Altitude: Rajgurunagar, near Pune … about 2000 ft asl
Date, Time: 29 MAY 10 … 02:44pm
Habitat: crop field
Habit: herb; about 1.5 – 2 m (cannot recollect)
Only these views with no details may not be sufficient for ID
---
Yes it is.
---
This was planted in an apartment complex.
Bangalore
August 2014
---
Looks like Jowar plant.
---
Sorghum bicolor (L.) Moench, a cultivated variety
---
---
Please help me to identify this Agricultural crop, its a kind of native Maize.
Location: Erode district, TN
Alt.: 200 M ASL

Date: 29 Oct 2014
---
Likely to be Sorghum sp.
---
The photograph uploaded seems to be a hybrid variety of Zea mays
---
Yes. Sorghum bicolor.
---
Sorghum bicolor
---
.
---
Poaceae For ID : Nasik : 10MAY22 : AK – 01: 5 images.
Seen in a small cultivated field in Nasik last week (10.5.22).
---
Sorghum vulgare (fodder variety)
---
References: