| | |
| --- | --- |
| Malayalam | Kambiliviriji, Neyaram, Kambilivirinji, Pattutthalli, Malavirinji, Pukachan |
| Others | Kambilivirinji, Malavirinji |
---
Trees, to 18 m high, bark dark grey, smooth, lenticellate; blaze dull yellow with brownish streaks; young shoots densely fulvous tomentose. Leaves simple, subverticillate, opposite or subopposite, estipulate; petiole 7-20 mm long, stout, tomentose; lamina 7-25 x 2.5-6 cm, elliptic or elliptic-lanceolate, base acute or attenuate, apex acuminate, margin entire, glabrous above, villous beneath, chartaceous; lateral nerves 8-12 pairs, pinnate, slender, prominent, ascending about 400-500 from midrib, indistinct towards the margin; intercostae scalariform, obscure. Flowers unisexual, yellowish; male flowers: in densely tomentose racemes of 2.5 cm long; bracts 10 x 7 mm, orbicular, densely silky brown tomentose; tepals 6, subequal, oblong, obtuse, silky brown tomentose; stamens 9, in 3 rows; filaments 2-galndular, densely hispid; anthers 4-celled, oblong, introrse; female flowers: staminodes 9, in 3 rows, those of row 3 with 2-glands; ovary half inferior, ovoid, attenuate into the style; stigma dilated. Fruit a berry 7-10 mm across, globose, seated in a perianth cup, red.
Flowering and fruiting: August-January 
Evergreen and semi-evergreen forests
Southern Western Ghats
---
Lauraceae tree for identification 240712MK03:
Please help me to identify this Lauraceae tree.
I could not find any flowers in here. The leaves are upto 20cm longer.
The tree was located near a Tea estate in an open grassland.
Place: near sholayar dam (vaalparai), TN
Alt: 1000 m asl
Date: 13 July 2012
---
It may be Actinodaphne.
---
There are options to identify your species particularly woody- trees and lianas of Western Ghats by using Vegetative key of Pascal and Ramesh (Published by French Institute of Pondicherry);
the other one is:
Biotik.org- online (as well desktop based DVD) system is available for identification of the tree species of evergreen forest (only for the Western Ghats)- also published from French Institute.
For me based on the images you have uploaded it could be Actinodaphne bourdillonii Gamble – LAURACEAE
further confirmation u can do it with the online version, check with floras and herbarium if possible.
---
Many thanks …, actually I am using the biotik software for identifying many westernghats trees; and I got many good results. I am very poor in identifying the Lauraceae members; and have no familiarity in it.
---
It is Actinodaphne malabarica Balakr. confirm
Syn: Actinodaphne hirsuta Hook. f.
---
---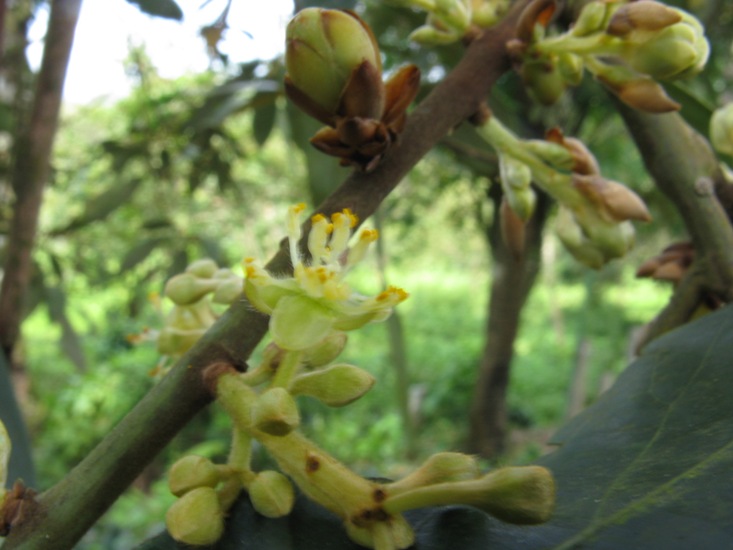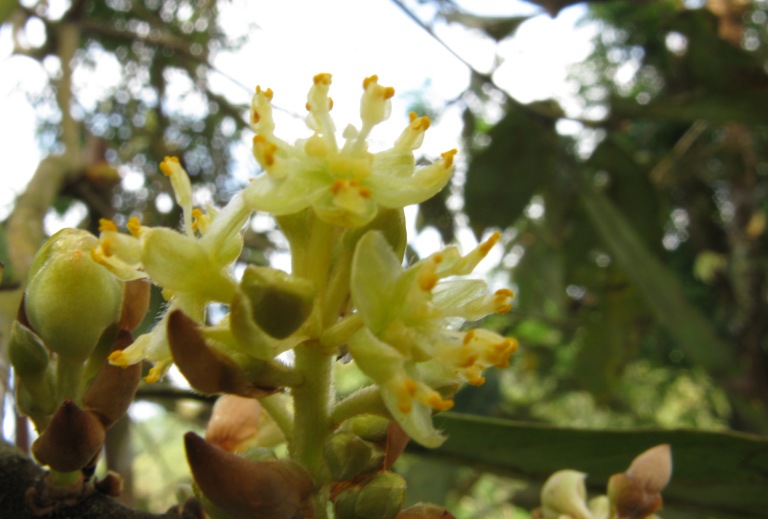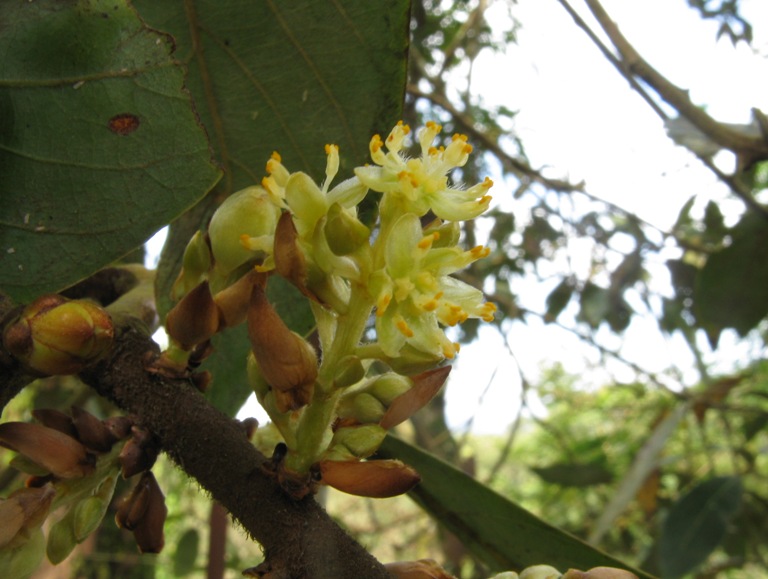 I am attaching the flowers of the same species. This tree is common in tea estates of Western Ghats.
---
References:
Biotik (Actinodaphne malabarica Balakr. syn. Actinodaphne hirsuta

Hook.f.

)  
Tropicos
(Actinodaphne malabarica Balakr. syn. Actinodaphne hirsuta

Hook.f.

)