Fraxinus micrantha Lingelsh., Bot. Jahrb. Syst. 40: 217 1907.;
Common name:
Small-Flowered Himalayan Ash
.
Having little knowledge about tropical and subtropical trees (except some growing in Delhi), I tend to mix them. This was the
tree growing along Nainital lake
and known as
Bangar
(as a local told me). The other tree identified by … as
Lannea coromedelica
grows common along hillsides.
Could this be what … suggested as Boswellia serrata, a very wild guess though. Perhaps two forms are growing side by side, one with perfectly green leaves and one having leaves with reddish tinge.
---
The tree looks quite like Boswellia serrata as you mentioned.
---
I think this is not Boswellia serrata. It somewhat resembles Lannea coromandelica.
---
I thought they look different, especially the hanging inflorescence along with leaves. Let us see other views. I am novice regarding trees.
---
The plant is not Lannea coromandelica. L.c. is a very common avenue tree in Chennai. I have beautiful photographs of this plant. I will post them after searching from my old files.
---
I am also of the opinion that it is something else.
---
This tree is Fraxinus micrantha common in Nainital. The local name is Angu. In English, it is called Ash.
---
,
---
here is a small tree from a road side from Uttarakhand. Please identify it.
---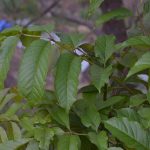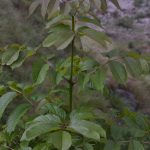 Medium size tree Captured Gaundar Uttarakhand.
: 2 images.
please check the attached images, for me not to be confused with Oroxylum, as leaves are oblong, not elliptic.
Captured Gaundar Uttarakhand.
Difficult without flowers and fruits.
Remote possibility of Stereospermum sp. (Bignoniaceae)
---
Fraxinus micrantha
---
thanks to all. Yes definitely will be back with flowers or fruits, but we have to wait for that.
---
LOCALLY CALLED KANGAYA IN THAT AREA, confirmed this time from the inhabitants of Bantoli Ukhimath.
---
References: