Ethiopia to Mozambique, Madagascar, Trop. & Subtrop. Asia to Australia
as per
WCSP
;
---
Found this grass in a ditch. Could this be Brachiaria mutica Stapf.?
Species : UNKNOWN
Habit & Habitat : about 2.5 feet high
Date : 11/7/12, 9.52 A.M.
Place : Hooghly
---
On detailed look, I found that the leaf sheaths are not hairy. This grass is Eriochloa procera. The identification feature is a round callus just below the spikelets and the branched panicle. This round callus is usually black or dark in colour, but not very clear in the photograph. You can see it if you look closely. The habitat of this grass is also semi-aquatic. Brachiaria mutica inflorescence looks similar, but is much denser and contracted than this one. The leaves of Brachiaria mutica are also densely hairy. So, finally, it is Eriochloa procera.
---
Attaching some more pictures of the same grass, recorded yesterday (26/7/12), at the same place. This time i noticed that the grass is taller than what i thought before.
---
It is Eriochloa procera. The inflorescence becomes quite large in high nutrition conditions like in drainage channels, etc. The swollen round callus just below the spikelet is the most distinguishing character. This callus is also often seen turning brown or black in some places. This callus is clearly visible in the upper right spikelet in the image DSCN7620b.jpg.
---
I have also seen pictures of
Eriochloa procera
at –
http://www.oswaldasia.org/eripr_en.html
. I wanted to share more clear pictures of this grass,
Eriochloa procera
, as have been identified by you.
Thank you very much, once again, for explaining the keys one more time.
---
---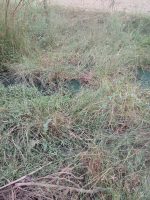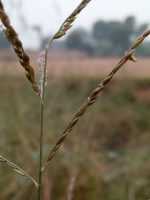 Poaceae from Kiraoli, Agra, U.P 11112019 : 4 posts by 2 authors. Attachments (2)
Need help to Identify this
grass
from Agra, U.P
Growing in water logged area near farmland.
---
Eriochloa procera – The swollen ring callus just below the spikelet is the identifying character.
---
---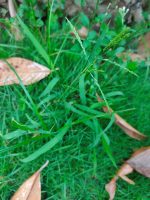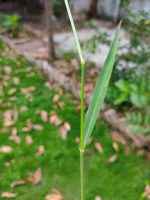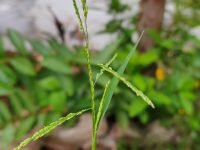 Grass identification request
: 3 high res. images.
Habitat: Urban parks
Eriochloa procera
---
References: