Given below are the relevant key characters from Flora of India:
a. Stems not winged —> Sphaeranthus amaranthoides
b-i) wings entire; flower-heads <1 cm across —> S. africanus
b
-ii) wings toothed; heads up to 2.5 cm across; leaves single-dentate —> S. senegalensis
In S. indicus, the leaves are double-dentate.
Keys
1a. Stems not winged or rarely narrowly winged; glomeruli conical, subsessile, brownish; outer florets not more than 4 –2. Sphaeranthus amaranthoides


b. Stems winged; glomeruli spherical or ovoid, pedunculate, glabrous, white, purple or violet; outer florets more than 4 –2


2a. Wings entire, glomeruli not more than 1 cm across; peduncles glabrous; involucral bracts not ciliate at apex —1. Sphaeranthus africanus
b. Wings toothed; glomeruli up to 2.5 cm across, peduncles pubescent; involucral bracts ciliate at apex—-3
3a. Leaves double-dentate and with stalked glands ——-Sphaeranthus indicus
b. Leaves single dentate and with sessile glands ——Sphaeranthus senegalensis
(Ref. Flora of India Vol.13-Asteraceae (Inuleae-Vernonieae) By R.K. Hajra et al.1995. BSI, India)
---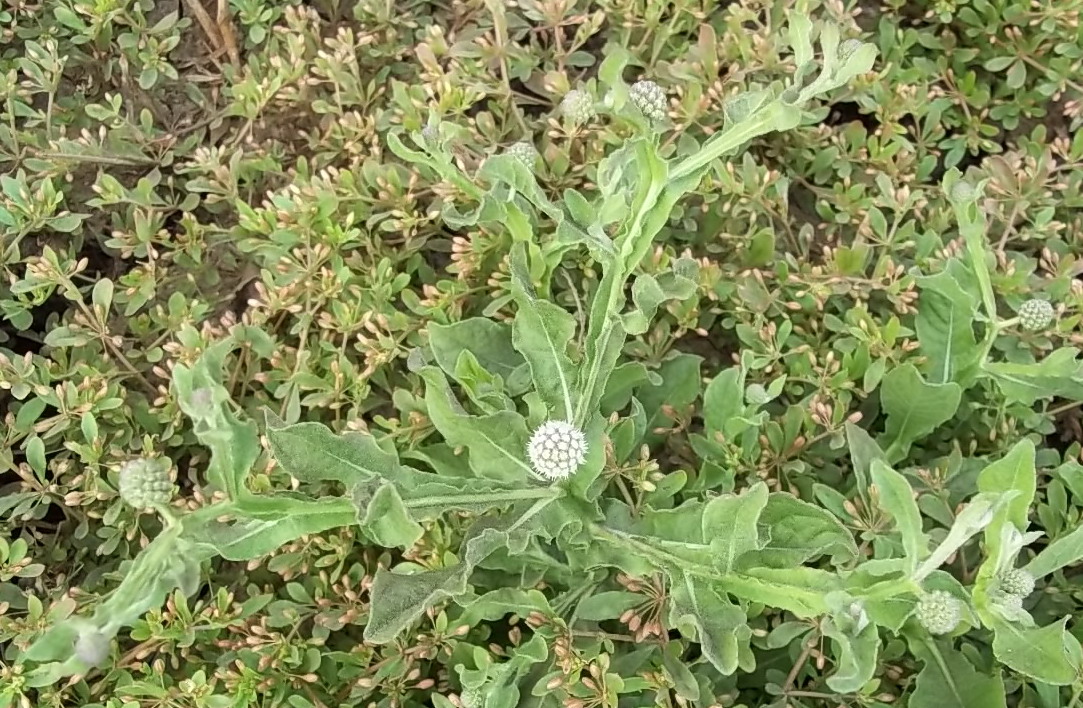 Cilacap Asteraceae 3: Another Asteraceae from ricefields in Cilacap. ID is requested.
---
It is a Sphaeranthus species, most probably S. africanus.
---
I too agree with … on Sphaeranthus africanus L.
---
Can you also tell me what is this weed in the background?
one of Glinus by any chance ?
---
I think you are correct.
It (the plant in the background) does look like Glinus, more of G. oppositifolius.
---
Sphaeranthus is known as Bodatharamu in Andhrapradesh is a medicinal plant, also hair tonic Flora Andhrica the first Indian state flora by Walter Elliot is good book as it came after Coromandel Plants and from Anakapalle where Roxvburgh supervised Sugarcane cultivation. Some Biographer has visited Samalkota and Anakapalle in 1911 and I advised him to contact some persons as nobody in India knows where Roxburgh and Koenig worked over 200 yrs ago. It is available as Google Books, I myself got it printed as Facsimile edition by Today-Tomorrow, Delhi copies may be available at Bishensingh, Dehra Dun. Another book Taleef Sharif by Playfair-Unani medicine-These 3 books with foreword to fasimile edition by myself
---
.
---
I had seen this herb at Mankhurd, Mumbai ( near the salt pans). Creek water comes upto this place.
Stem winged, flower size approx 1cm, white coloured.
Thanks to … for the ID.
Bot. name: Sphaeranthus africanus
Family: Asteraceae.
Enclosing … response…
---
.
---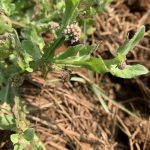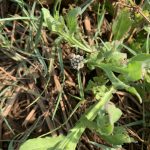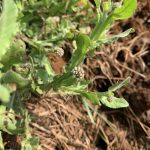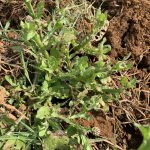 Konkan, MH :: Sphaeranthus africanus :: ARK2021-024: 4 images.
Seen this
plant in a village
near coastal
Devgad, MH in the last week of December 2020.
Sphaeranthus africanus.
---
Yes Sphaeranthus species.
---
I agree too.
---
Yes it's, you're right …
---
References: