Should be Araucaria sp., monkey's puzzle…
---
I think Araucaria an evergreen coniferous trees
---
Araucaria columnaris, Family : Araucariaceae
---
---
---
I had seen this Tree at "Mount Harriet (Near Port Blair), Andaman & Nicobar".
Common name: Christmas Tree
Bot. name: Araucaria cookii
Family: Araucariaceae
---
The Cook pine, called Christmas Tree in India, is a tree native to the Cook Island, north-east of Australia in the South Pacific.
The bark of the Cook pine peels off in thin paper like sheets. Can reach 60 m in natural habit. But more commonly grown as a house-plant in pots. The relatively short, mostly horizontal branches are in whorls around the slender, upright to slightly leaning trunk.
The branches are lined with cord-like, horizontal branchlets. The branchlets are covered with small, green, incurved, point-tipped, spirally arranged, overlapping leaves. The young leaves are needle-like, while the broader adult leaves are triangular and scale-like. The female seed cones are scaly, egg-shaped, and up to 6 inches (15 cm) long. The smaller, more numerous male pollen cones are at the tips of the branchlets and are scaly, foxtail-shaped, and 2 inches (5 cm) long. The bark peels off in papery strips and is rough, gray, and resinous. The trees have a slender, spire-like crown and look like unusually tall, thin Christmas trees
---
Thanks for showing. Seeing it first time.
---
---
love it all, esp the resin
---
---
Attached are pictures of an
Araucaris
sp
from a cultivated garden
in Mumbai
captured in November 2012.
Requested to please provide specific ID, if possible.
---
---
Thank you … for the link. The S shaped curvature indicates that this may be Araucaria columnaris. I shall go to the site and look for the bark indicator very soon.
---
The attached photo is of Araucaria heterophylla (Syn. A. excelsa)
---
All well known sources give A. excelsa as syn. of Araucaria columnaris.
Pl. see the following:
---
---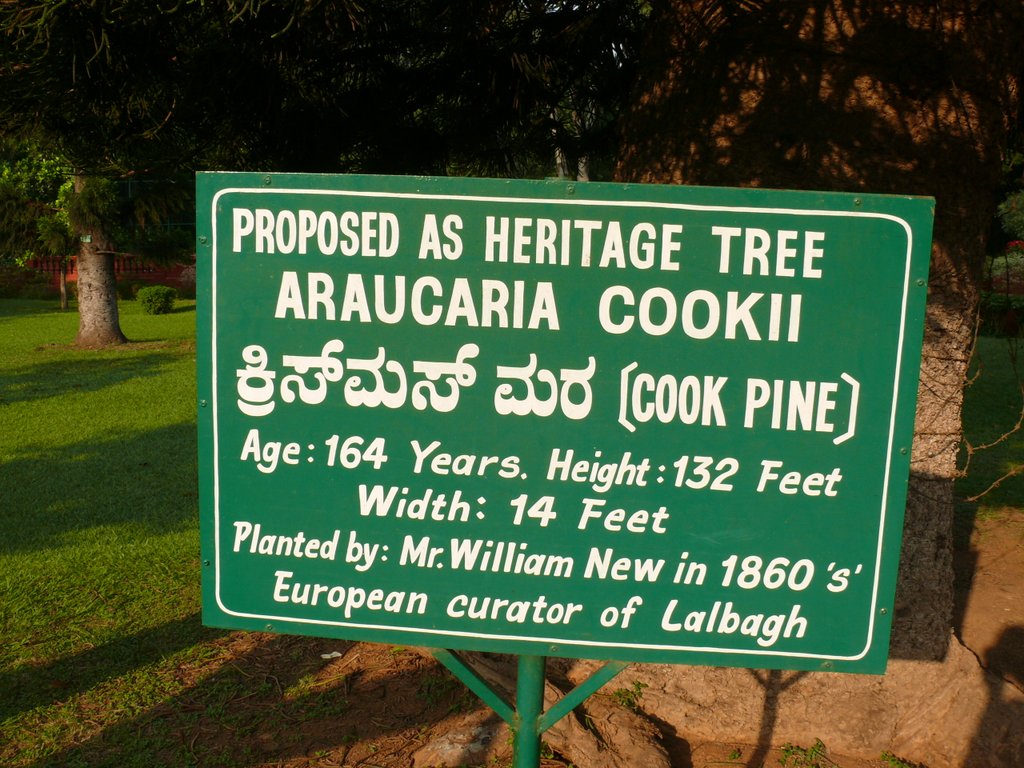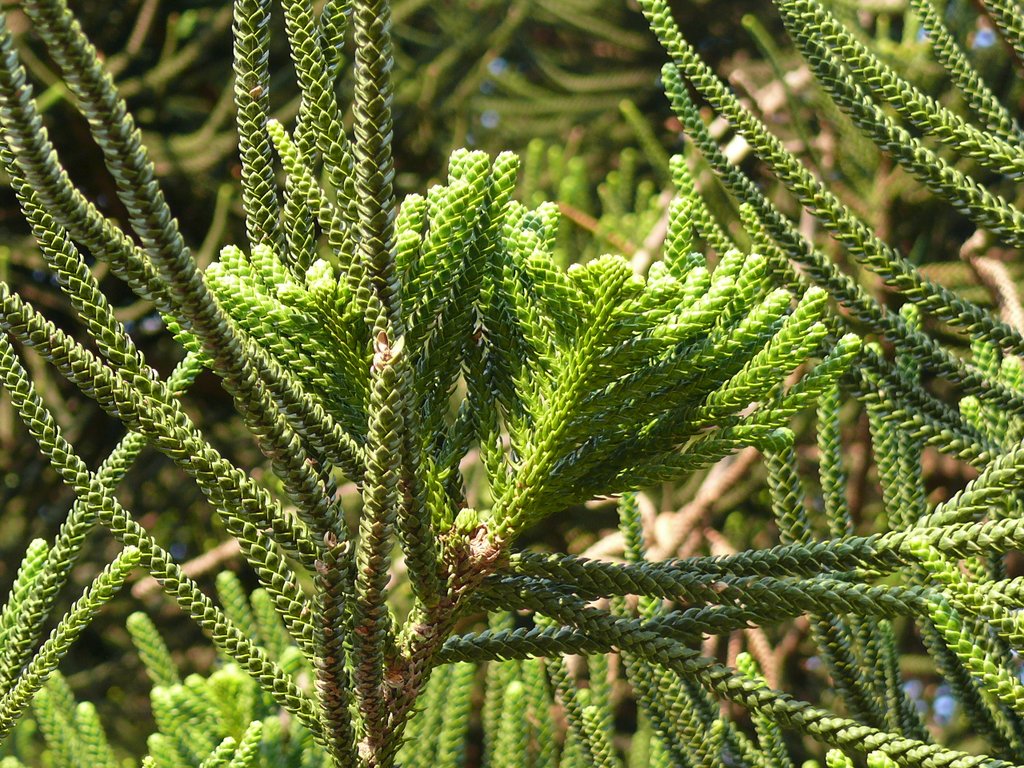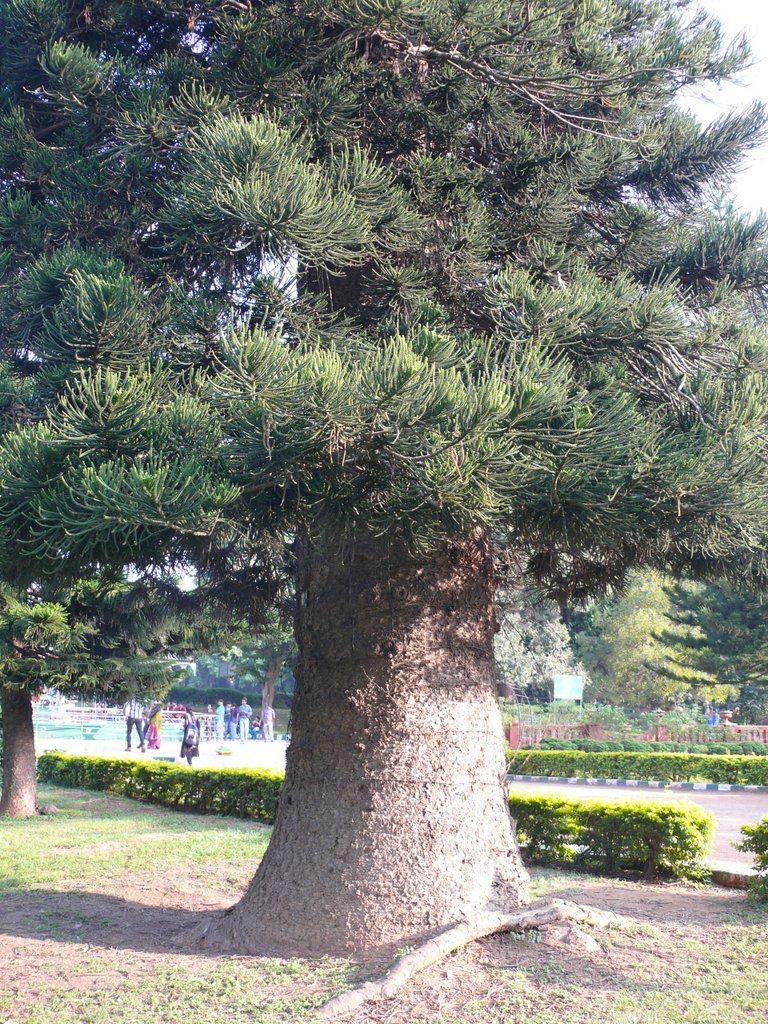 Araucaria columnaris : For Validation : Lalbagh,Bangalore : 08DEC14 : AK26 : 2 posts by 2 authors. Attachments (4)
Location: Lal Bagh, Bangalore, India
Araucaria columnaris
Christmas Tree
---
---
Tall tree seen at Lalbagh, Bangalore on 24/11/13.
I hope Araucaria columnaria
---
This is also very commonly planted gymnosperm..
wanted to know if species can be determined from these pics..
I have never seen any male cones on these trees but have observed female cones on huge tree at Kurukshetra University.. do not presently have pics..
Present pics are recorded 
from Panipat
and belong to small potted trees..
Is this
 Araucaria columnaris
??
---
I thought of Araucaria heterophylla.
---
Pl. see:
As per this it may be  
Araucaria columnaris
 & not 
Araucaria heterophylla.

---
Adult leaves less than 4mm long: A. columnaris
Adult leaves more than 4mm long: A. heterophylla
---
Araucaria heterophylla
---