---
I attach two sets of photographs, recorded at different places and on different dates.
I am not sure if the two sets are of same species.
Species : Digitaria sanguinalis (L.) Scop. ?
Habit & Habitat : set1 & set2 :
about 2.5 feet, beside railway track,
(set2 : leaves 20 cm x 1.5 cm)
Date : set1 – 19/7/12 & set2 – 1/8/12
This is Digitaria setigera. The racemes are numerous and flexuous. Also try to see whether there are isolated setae (small single hair) on the racemes or rachis. The same grass can also be seen with shorter racemes in low nutrition habitat and then they will not be flexuous. D.sanguinalis usually has stiffer racemes and not so many racemes. The spikelets are much larger in D.sanguinalis and the zig zag rachis is more winged and serrate. The upper glume would be large in case of D.sanguinalis (but this character is not visible in the photo). In case of D.setigera, the upper glume is reduced to a small triangular scale. Also, on maturity, you can see the ciliate hairs protruding out of the spikelet in case of D.sanguinalis.
Some authors do not consider D.sanguinalis as a separate species, but consider it as a variety of D.ciliaris.
---
I was trying to understand the visual differences between Digitaria setigera and D. sanguinalis. But, i confess that the ID keys are beyond my capacity. The only key i could understand is the stiffer and less racemes, on D. sanguinalis, with larger spikelets. Unless i find both the species side by side and examine them with the help of a very good magnifying glass, i think, i won't be able to identify these Digitaria grasses. However, i am attaching another image of this grass showing a closer view of the inflorescence.
Thank you for the correct ID of this grass.
---
The photo you send reveals several features. Most of the spikelets in the photograph show the lower lemma, which you can see is having distinguishing nervation. The lower glume is absent and that it why you see only the lower lemma. On the bottom right corner, you can see a spikelet that is looking almost naked. This is the other side of the spikelet showing the upper lemma. You can see a small triangular scale like upper glume in this spikelet, which distinguishes it from D.sanguinalis, in which case, this upper glume would be covering the upper lemma to a great extent and not leave it naked like this one. You can try turning around the other spikelets too to see this character.
---
This looks like the same specimen as in efi thread. I am sorry I didn't record it in the herb I prepared.
---
Though grasses are tough to tackle I hope the id is not wrong!
---
---
This is another specimen I collected.
---
This one also should be same!
---
Yes it is Digitaria setigera. The setae are clearly visible in P1150902oricrop.jpg
---
.
---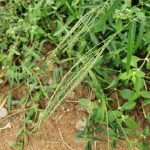 Grass for ID : Bangalore : 04OCT20 : AK-08
: 6 posts by 3 authors. Attachments
(1)
A wild grass seen near a lake.
I have only one picture.
---
Digitaria …
---
Digitaria setigera
---
.
---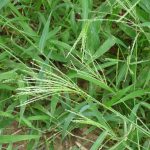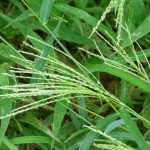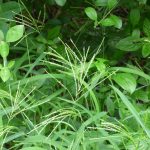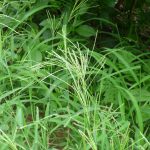 Grass for ID : Bangalore : 20OCT20 : AK-33 : 6 posts by 3 authors. Attachments (4)
Grass seen growing a lake last month (Sept.'20)
---
Digitaria only, Could be D. bicornis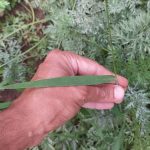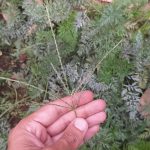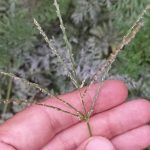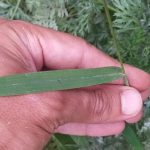 Need help with sub-digitate grass id
: 4 images.
Bhopal
Digitaria ciliaris
---
Digitaria setigera
---
References: