The scattered hairs on the rachis, acuminate spikelets, small lower glume, 7 nerved upper glume, paired spikelets;
Common wasteland grass, usually in shady places;
---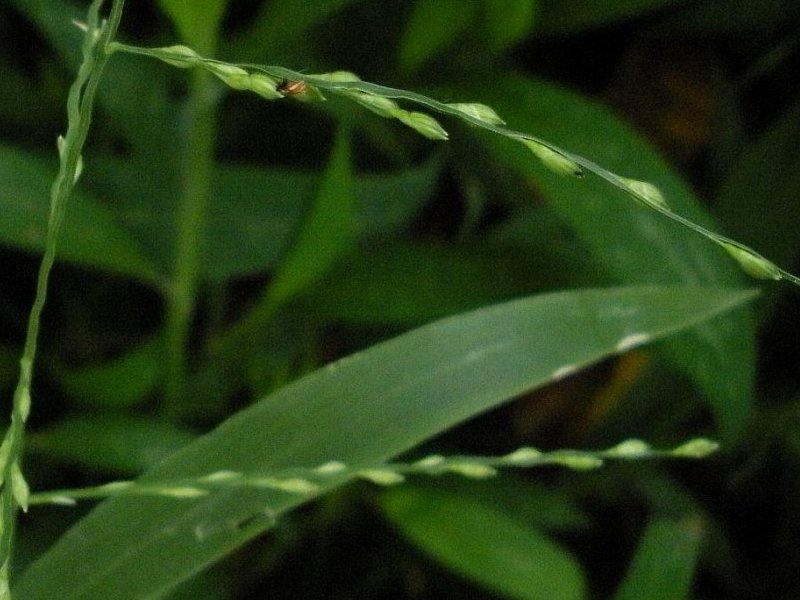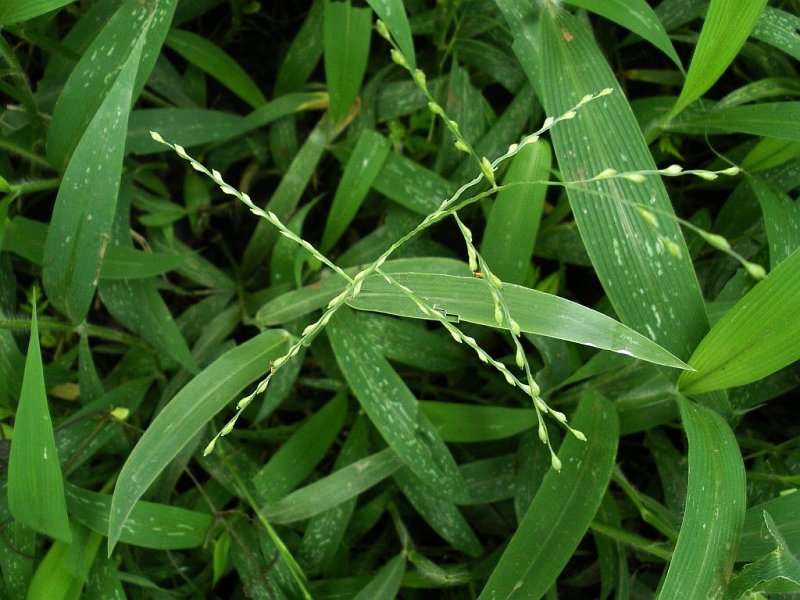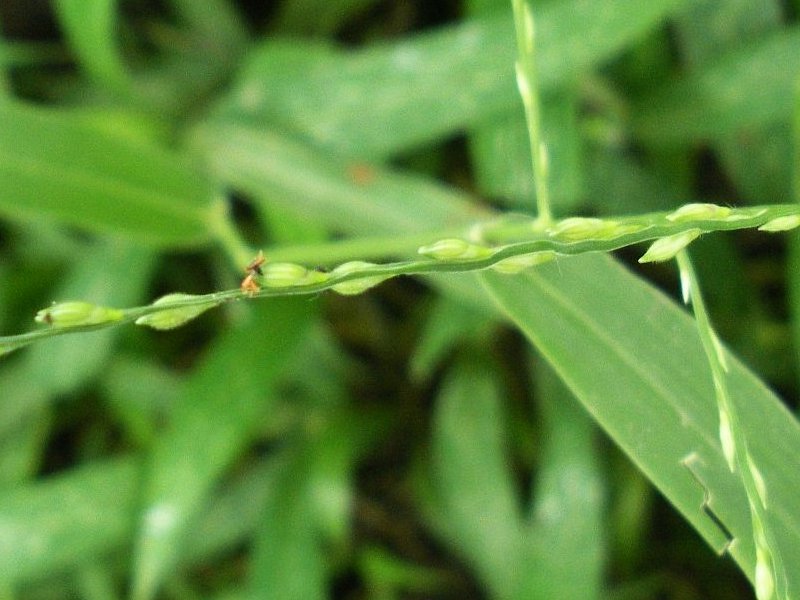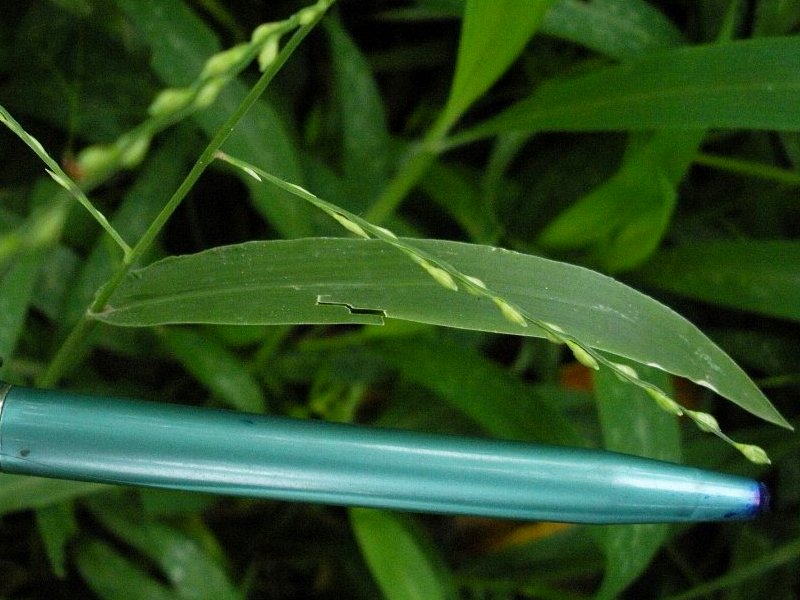 grass ID (2) from Hooghly 3/8/12 SK2:
I found this grass beside a railway platform. I could only take a few snaps of this grass through the railings of the platform.
Species : Unknown
Habit & Habitat :
small grass, not sure about its height, maybe about 1.5 feet
Date : 19/7/12, 9.41 A.M.
Place :
Hooghly
---
This is Brachiaria setigera (Retz.)C.E.Hubb. You can see the arrangement of spikelets is almost on one side of the rachis. The rachis is ribbon like with a thick midrib, so the cross section of the rachis will be triangular (triquetrous rachis). You can see that some of the spikelets towards the base of the raceme are paired (one sessile and one pedicelled), whereas most of the spikelets towards the tip are solitary. On close observation, you can also see a few isolated setae/ long white hair on the rachis. The lower glume is less that quarter the length of the spikelet. The racemes are alternate on the main axis. The leaves are lanceolate with a rounded to subcordate base. All these leads to Brachiaria setigera, a common wasteland grass, usually in shady places and is a good fodder.
---
I can see all the features you have explained here, except that i am not sure about lower glumes. I assume that those triangular shapes, with lighter shades, at the bases of spikelets (pic no. grass19jul12_BB_DSCN7401.jpg) are lower glumes.
And, as you have mentioned, i found this grass in a shady place, under a Arjuna and a Tamarind tree.
---
---
Brachiaria setigera. Such detailed photos are really precious for identification. The scattered hairs on the rachis, acuminate spikelets, small lower glume, 7 nerved upper glume, paired spikelets, character of leaves, auricles, etc. are shown in detail. Good work!
---
Thank you very much Sir for the ID as well as every detail of this grass.
It is surprising that the same grass in my another post has more elongated, rather linear, leaves – efi thread.
---
This narrow leaved grass was growing alongside the broader leaved one shown in the last image (P1150745_broad_leaf.jpg); recorded on 07-June-2015.
Interestingly the last pic with broader leaf also doesn't have acuminate spikelet (as can be guessed looking at the photograph, I don't have closer one).
Can you please throw some light on it?
---
Urochloa setigera and Urochloa ramosa (the broad leaved one)
The broad leaved one does not have any seta either. Also called Brachiaria setigera and Brachiaria ramosa.
---
Thank you very much … for the differentiating character between the two species. Next time I hope I won't make mistake.
---
.
---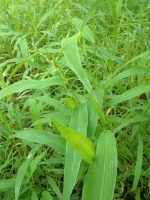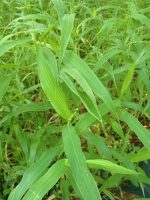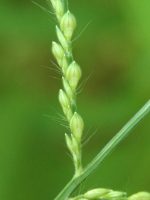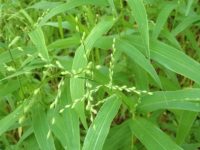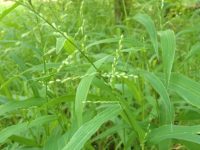 ID for Grass
: 6 images.
Date- 15 July 2023.
Location- Kasal, Kudal, Sindhudurg, MH.
A grass
Is it Brachiaria ramosa ?
---
Yes !
---
As per Bor's GBCIP key, it is Brachiaria setigera as there are only 3 nerves on the lower glume. There are sparse bristles on the pedicels and very few bristles on the rachis and the spikelets are hairy. In case of B.ramosa, the lower glume is at least 5 nerved and there are dense bristles on the rachis as well. The species is confusing as POWO and various other images show something different from the key.
---
Thank you so much Manoj sir for the correct ID with proper explanation.
Urochloa setigera
syn Brachiaria setigera
Can we name it as Bristly Signal Grass.
Signal Grass as it belongs to Brachiaria-Urochloa group & Bristly from specific epithet highlighting hairs on rachis.
---
References: