Papaver
bracteatum
Lindl., Coll. Bot. t. 23 1821. (Syn: Calomecon bracteatum

Spach

; Papaver orientale M.Bieb. (ambiguous synonym); Papaver pulcherrimum Fisch. ex Steud.);
Iran (EC-Iran, N-Iran, Iranian Aserbaijan, W-Iran), Northern Caucasus, Japan
(I), Vietnam (I), Slovakia (I) as per
Catalogue of Life
;
---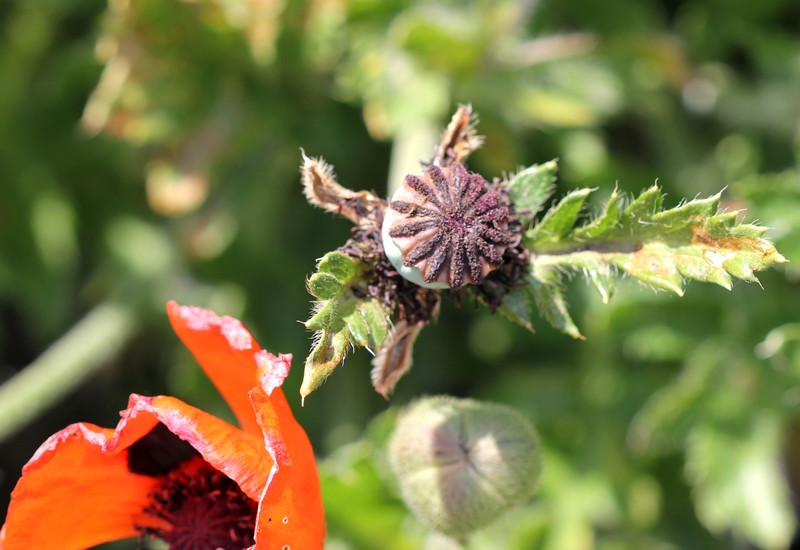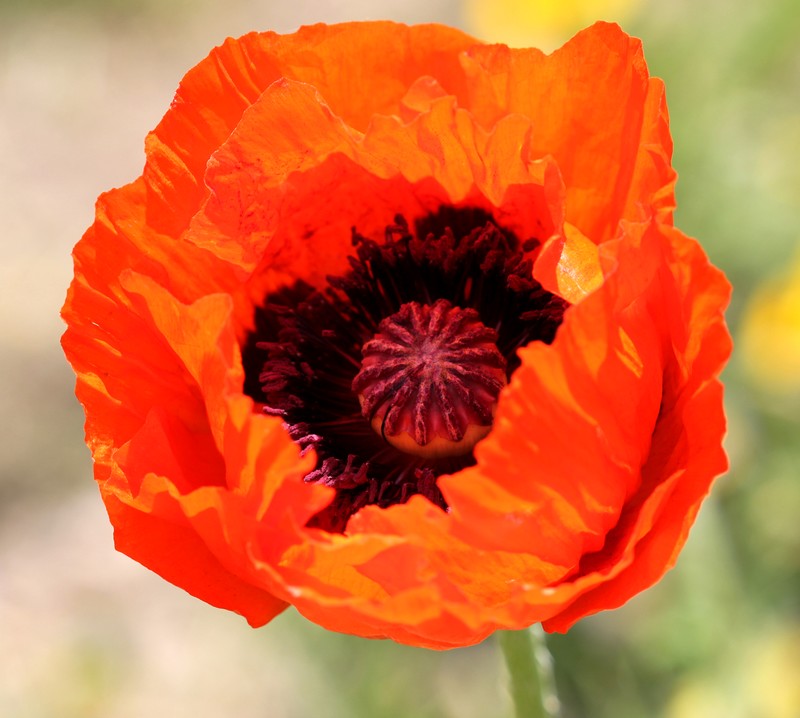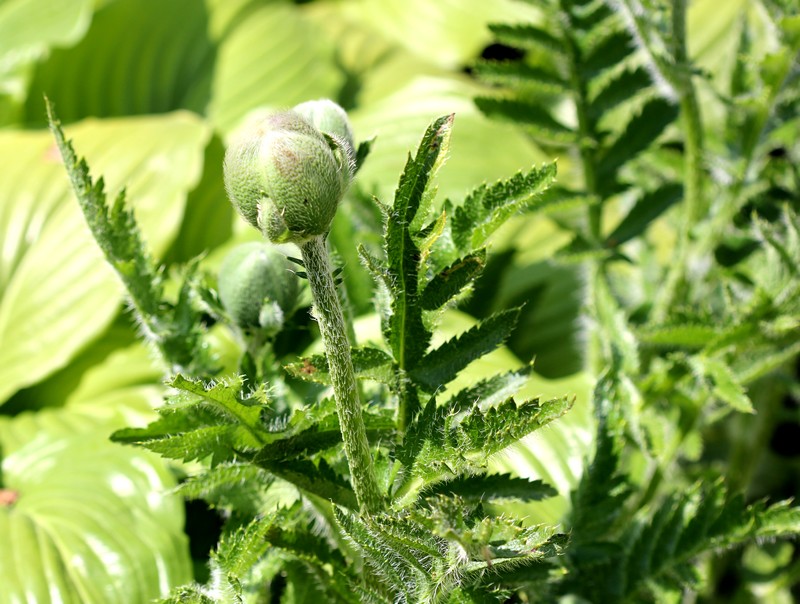 Papaver bracteatum Lindl. from Kashmir: Papaver bracteatum Lindl., Coll. bot. t. 23. 1821 
Common names: Great scarlet poppy, scarlet poppy
Robust perennial herb up to 1.20 cm tall, simple or rarely branched; leaves up to 40 cm long, setose on both surfaces, bipinnatipartite, lobes bristle-tipped, lower long petiolate, upper sessile; flowers large, 10-20 cm across, on short to long somewhat appressed hispid peduncle, buds erect, subtended by 3-5 sepaloid and two foliaceous bracts; petals 4-6, red with dark basal spot; stamens numerous with violet anthers; stigmatic disc nearly flat to slightly convex, rays 11-16; capsule subglobose, 3-5-4 cm long.  
Commonly cultivated in gardens in Kashmir. Photographed from Harwan garden.
---
Its very interesting and nice colours. I can see you used a big aperture (1/4.5) and low ISO (100) instead if you tried at smaller aperture (1/12) and higher ISO (250), you could have got more sharpness too. This could have also reduced the brightness on the back. But its a beautiful colour. Thanks for sharing the original picture.
---
With exposure time of 1/320 and if the blur is due to movement then it must be a storm that shaked the plant. Till 1/125 of a second its ok to take pictures without any tripod in normal condition. Picture is not sharp because light is bright and aperture is wide.
---
yes, this happens to all of us, ONE: too often in the beginning of using the digtal slr with autofocus lenses…too much light will cause auto-foucs malfunction… esp in digiatal cameras..
or TWO: just simply washout the details and shadows.. which ultimately define the darker/lighter boundaries… has happened to me!!!!
I wonder if the darker pixels/shadows can still be rescued in photoshop..
---
Red colour is always tricky to photograph.
---
 yes, in digital.. I used to find it quite frustrating… so Now i try to find a matching fabric or paint swatch to photograph if I am clicking the red flowers at home… just to remember what the original flower looked like.. esp in the prosumer sony, but in my DSLR I can play around..
in ancient (sic!) times..
in kodachrome it was a breeze and in ektachrome a bit of enhancer like neodynium coating on glass or pink filter used in microscopy of histological slides was good… or many of the nd filters did the toick… one i liked the best was the polarizer…
any way… need to adapt to the new..
---