Crotalaria vestita Baker;
---
---
Came across this herb at "Harishchandragad" (30-11-2009).
Is it Crotalaria calycina?? Please validate this ID..
---
it is not
Crotalaria calicina
……….
for
C. calicina
pl see the earlier discussion just few days back
---
I hope the plant in the attached photograph is Crotalaria brevis due to its hirsute nature. please see in the link below.
gvcocks
---
C. mysorensis.
---
This is Crotalaria hirta Rottl. ex Willd.
(Type – Tharangambadi to Chennai, Rottler s.n.)
It is not Crotalaria calycina Schrank, because the calyx is not enclosing the pod.
It is not Crotalaria mysorensis Roth , since the pod is quite small, and also the shape of the pod is different. It will be more clear if the stipule is observed. In Crotalaria hirta stipule is very minute or absent. But, in Crotalaria mysorensis Roth, the stipules are conspicuous.
---
Crotalaria vestita as per Fabaceae (Faboideae)Fortnight::Crotalaria vestita??::Harishchandragad::PKA-OCT-91::
---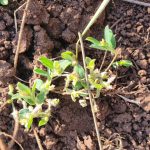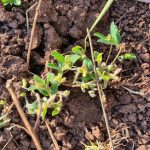 Tiny Herb for ID : Nasik : 20JAN22 : AK – 30
: 2 images.
A very tiny plant
seen at the base of Borgad.
No flowers or pods.
The stems were quite hairy.
---
Check Crotalaria.
---
Pl. post high res. images to check the details.
---
After you suggested Crotalaria, I thought of Crotalaria hebecarpa.
2 high res. images.
---
Closest I can go is Crotalaria vestita Baker as per images and details herein and as per comparative images at Crotalaria and as per POWO specimen and GBIF specimen.
But I am not getting satisfied.
---
I guess it is very close, …
---
Will try to find the flowers later.
---
References: