Fern of Ajibarang Limestone: Another fern from Ajibarang limestone area. ID is requested.
---
That is good old Pteris biaurita, with widely joined pinnule-bases [more correctly pinna-lobe bases] and non-apiculate pinna-lobe apices. So far I myself only found subsp. fornicata commonly in Java – where the costal arches formed by the anastomosing basal pair of veinlets are shallow and long, mostly extending from one pinna-lobe midrib to the next, and not coming up into a tall, more-or-less point just beneath the sinus. I have no idea if our common and widespread subsp. walkeriana is also there. But in this photo I can't see the venation anyway.
It would need a close up of the underside of a section of a pinna, preferably the second pinna up from the base – then we should be able to see the veins OK. But perhaps now the sender can answer this question himself from the information given? Good luck!
---
.
---
Fern seen deep inside the moist forest on 20/5/14.
---
this is Pteris quadriaurita
---
This is the abundantly common and widespread lower-mid altitude species, Pteris biaurita. It is impossible though to see which subspecies (cytologically different) as one has to have a close-up photo of the venation between the pinna-lobes and the height and width of the areole.
---
Thanks to you and … for the id.
During safari inside the forest, we are not allowed to get down from the vehicle.
Also we have to go by a very strict time frame once you are inside the gate.
Hence, this is the only picture I could get.
---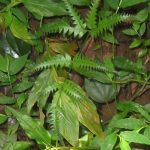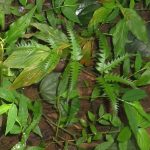 ID requested: Fern; Mudumalai forest, Nilgiris, TN: 2 images.
Moist semi-evergreen forests,
Check with Pteris
---
It is indeed a Pteris species. Unfortunately, I couldn't collect a voucher specimen or watch their growth for more details.
I will go back to the area next year, and see if I can locate a mature plant.
---
We will finalize after getting complete information,
---
Very immature leaf of the common and widespread Pteris biaurita, venation not shown so subspecies impossible to say.
---