Pteris
biaurita
L.
subsp.
fornicata
Fraser-Jenk., Taxon. Revis. Indian Subcontinental Pteridophytes
116. 2008 [27 Nov 2008]
(syn:
Pteris cumingii
Hieron.;
Pteris flavicaulis
Hayata;
Pteris pacifica
Hieron.;
Pteris pacifica
var.
eximia
(Rechinger) C.Chr.;
Pteris pectinata
D.Don (ambiguous synonym);
Pteris quadriaurita
var.
eximia
Rechinger);
.
São Tomé, Comoros, Tropical & Subtropical Asia to Pacific:
Andaman Is., Assam, Bangladesh, Bismarck Archipelago, Borneo, Cambodia, Caroline Is., China South-Central, China Southeast, Comoros, East Himalaya, Fiji, Gulf of Guinea Is., Hainan, India, Laos, Lesser Sunda Is., Malaya, Maluku, Marianas, Myanmar, Nepal, Philippines, Queensland, Samoa, Solomon Is., Sri Lanka, Sulawesi, Sumatera, Taiwan, Thailand, Tibet, Tonga, Vanuatu, Vietnam, Wallis-Futuna Is., West Himalaya
as per
POWO
;
Tibet, China (Guangdong, Guangxi, Hainan, Yunnan), Taiwan,

Sri Lanka, India (Arunachal Pradesh, Assam State, ?Bihar, Himachal Pradesh, Karnataka, Kerala, Madhya Pradesh, Maharashtra, Manipur, Meghalaya, Mizoram, Nagaland, Tripura, Sikkim, West Bengal, Uttarakhand, West Bengal), Nepal, Bhutan, Bangladesh, Myanmar [Burma],

Thailand (widespread), Vietnam, Cambodia, Laos, peninsular Malaysia (mostly in the north),

Andaman Isl.,

Philippines, Palawan, Borneo (Mt. Kinabalu, etc.), Sumatra, Moluccas (Seram), Lesser Sunda Isl. (Bali, Lombok, Sumbawa, Flores, Timor, Alor), Sulawesi, Solomon Isl. (Guadalcanal, Santa Ysabel, Kolombangara, Makira, Malaita, Kirakira), Bismarck Arch. (New Ireland), Australia (NE-Queensland), Western Samoa (Aleipata Isl., Savaii, Upolu), American Samoa (Tutuila, Ofu, Ta'u), Fiji (Viti Levu, Vanua Levu, Batiki, Gau, Koro, Ovalau, Taveuni), Rotuma Isl., Southern Marianas (Guam, Rota Isl.), Northern Marianas (Pagan, Anatahan, Alamagan, Maug, Asuncion, Agrigan, Sarigan), Palau Isl., Micronesia (Yap, Truk, Moen, Dublon, Tol, Pohnpei, Kosrae), Tonga (Late Isl., 'Eua, Vava'u, Niuafo'ou, Tafahi), Madagascar, Comoros (Anjouan, Grande Comore, Mayotte)
as per
Catalogue of Life
;
It looks like Pteris quadriauriata or P. assamica
---
Pteris quadriaurita is endemic to Sri Lanka and S. India and has narrower pinnules with crenations below the apicule. P. assamica has shorter or sometimes no basal accessory pinnules than this plant – and while it might be in Java, I have seen no material of it further South-East than Malaya.

But
P. biaurita
subsp.
fornicata
is common in Java and looks like this.
---
Seen this fern
in Mahabaleshwar, MH in March 2020.
Requested to please ID.
---
It is a Pteris of the P. biaurita group (where the bases of the ultimate segments are quite widely joined, so that the inter-pinnular sinus is quite a bit above the pinna-costa).
I have tried hard to see the venation between the segment-bases – as it is essential in this group.  Photo 1 – I think? – seems to show that there is a narrow areole all along next to the costa, with veins arising from it and passing up to the sinus. If that is so then it is P. biaurita subsp. fornicata.
    If it is possible to get the herbarium-specimen and make a close-up photo of the bases of a couple of segments against the light, we could then see the identity for sure.
    Could you do that and repost it?  Or otherwise can you send me a higher-resolution image of photo 1, so I can magnify it enough to see those essential veins?
---
Thanks … for your feedback.
I am uploading the original pic. Hope this can help.
---
Well it's pretty much the same – by the time it reaches me it goes out of focus when one magnifies it enough to see the venation.  But you have a look and see if you can see what I think I am seeing – a very narrow areole formed by the anastomosing basal veinlets, the areole running along the pinna-costa?  Is that right?  So I thinkit's  just P. biaurita subsp. fornicata, which is a triploid-apomictic subspecies of P. biaurita – a very common and widespread species.
---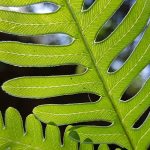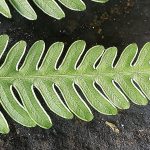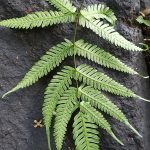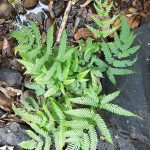 Pteris biaurita ? ..subsp if any?
:
Date/Time-15 Jan 2022

Location- South-western Maharashtra, W. ghat hills.

Habitat- Wild. in forest. along side road.
Plant Habit- Herb. Single.

Height-30cm
Leaf- Acroscopic veinlet of lobe base and a basiscopic veinlet of upper lobe base combine to form an arcuate vein and form a series of narrow areoles along costules, with 5-6 free veinlets extending to margin at arcuate vein. Majority of veinlets outward from areole are 2-forked.
---
Pteris biaurita subsp. fornicata – very common and widespread.
---
Fern of Ajibarang Limestone: Another fern from Ajibarang limestone area. ID is requested.
---
That is good old Pteris biaurita, with widely joined pinnule-bases [more correctly pinna-lobe bases] and non-apiculate pinna-lobe apices. So far I myself only found subsp. fornicata commonly in Java – where the costal arches formed by the anastomosing basal pair of veinlets are shallow and long, mostly extending from one pinna-lobe midrib to the next, and not coming up into a tall, more-or-less point just beneath the sinus. I have no idea if our common and widespread subsp. walkeriana is also there. But in this photo I can't see the venation anyway.
It would need a close up of the underside of a section of a pinna, preferably the second pinna up from the base – then we should be able to see the veins OK. But perhaps now the sender can answer this question himself from the information given? Good luck!
---
.
---
---
This is the abundantly common and widespread lower-mid altitude species, Pteris biaurita. It is impossible though to see which subspecies (cytologically different) as one has to have a close-up photo of the venation between the pinna-lobes and the height and width of the areole.
---
Thanks to you and … for the id.
During safari inside the forest, we are not allowed to get down from the vehicle.
Also we have to go by a very strict time frame once you are inside the gate.
Hence, this is the only picture I could get.
---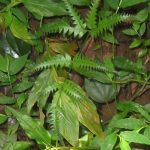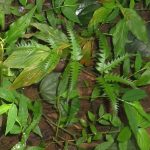 ID requested: Fern; Mudumalai forest, Nilgiris, TN: 2 images.
Moist semi-evergreen forests,
~ 1000 m altitude

Sep 2019.
---
Check with Pteris
---
It is indeed a
Pteris
species. Unfortunately, I couldn't collect a voucher specimen or watch their growth for more details.
I will go back to the area next year, and see if I can locate a mature plant.
---
We will finalize after getting complete information,
---
Very immature leaf of the common and widespread Pteris biaurita, venation not shown so subspecies impossible to say.
---
References: