Procris
crenata
C.B.Rob.,
Philipp. J. Sci., C 5: 507 1910 publ. 1911
. (Syn:
Elatostema gagnepainianum H.Schroet.
;
Pellionia procropioides Gagnep.
;
Procris laevigata Miq.
;
Procris rhizantha Gagnep.
;
Procris wightiana Wall. ex Wedd.
);
.
Tropical Africa, Madagascar, Tropical & Subtropical Asia:
Angola,
Assam, Bangladesh,
Cameroon, China South-Central, China Southeast,
East Himalaya,
Guinea, Gulf of Guinea Is., Hainan,
India,
Laos, Liberia, Madagascar, Malawi, Mozambique,
Myanmar, Nepal, Nicobar Is.,
Philippines,
Sri Lanka,
Taiwan, Tanzania, Thailand, Tibet, Uganda, Vietnam, Zaïre,
Zimbabwe as per
POWO
;
Please help me to identify this
epiphytic herb

found on a semi-evergreen forest
. Is this from
Urticaceae
?
Date: 27 Dec 2012
Place:
Kolli Hills, TN

Alt.: 1450 m asl
---
It looks like Procris sps. (Urticaceae) to me.
---
Thank you all, most possibly Procris crenata Robinson (Urticaceae). I found this plant also growing as a lithophyte over rocks nearby.
---
Procris crenata is correct ID!
---
.
---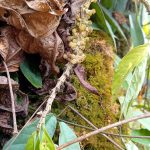 Requesting I'd of Elatostema sp: 1 high res. image.
Kindly help in the identification of Elatostema species from Sikkim Himalayan region.
Grows in tree trunk with mosses.
---
Procris crenata C. B. Rob.
---
---
,
References:
POWO  The Plant List  BSI Flora of India Checklist Flora of Peninsular India  Annonated checklist of the flowering plants of Nepal  Flora of China  FoC illustration  Facts about Procris crenata – Encyclopedia of Life  10. PROCRIS Commerson ex Jussieu, Gen. Pl. 403. 1789.  Kerala plants  Flora of Zimbabwe  mozambique flora  Flora of Malawi