Date : 06-11-2019
Habit : Shrub or small tree

Habitat : Wild
---
Shape of the fruit is confusing me although leaves and other aspects appears similar to Citrus macroptera as per
But some images how similar shape as per
The species is sometimes divided into four varieties, or alternatively into three separate species, as follows:
[5]
Pl. check.
---
---
Date : 06-11-2019
Mizo : Zawng-ser
---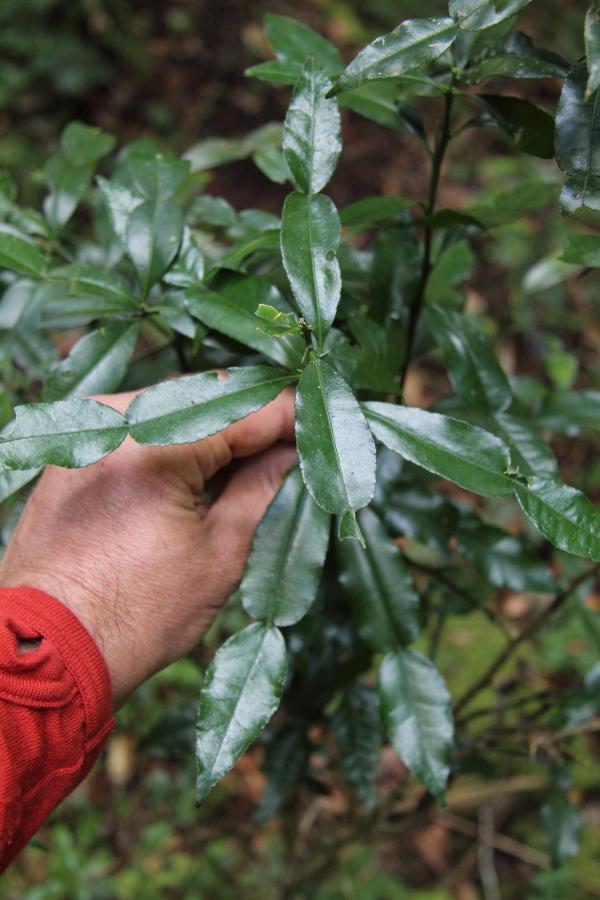 Citrus hystrix?:
Can anyone confirm that this is Citrus hystrix ?
It was found growing deep inside almost virgin forest, one full day's walk from the nearest village, on Khayangphung Mountain, Ukhrul District, Manipur at approx' 2000m asl.
In theory it is possible that the plants seen here have become naturalised from discarded seeds left by hunters as the area has been used previously as a camp.
---
Leaf blade margin entire to finely crenulate, apex acuminate. 2 C. cavaleriei
+ Leaf blade margin conspicuously crenulate, apex obtuse to subrounded and sometimes mucronate. 3 C. hystrix
---
This looks like Citrus hystrix. Citrus cavaleriei is a native of China. I don't know if it is cultivated here.
---
It is distributed in Evergreen forests of the E.Himalayas, Arunachal Pradesh and Nagaland; S.W. China as per 
BSI Flora of India
 (
Citrus ichangensis 
Swingle).
Keys and details clearly indicate this.
---
Okay …,  I did not know about its distribution in East Himalaya.
---
The plant specimen of Citrus shown by … in Nagaland is Citrus ichangensis not Citrus macroptera. The fruit characteristics  of Citrus macroptera are different shown in Photograph. The Taxonomy of citrus is confusing. In my publication of Systematic Pomology, we have tried to update it.
1 .docx file
---