Philodendron xanadu Croat, Mayo & J.Boos, Aroideana 25: 63 2002 publ. 2003. ;
---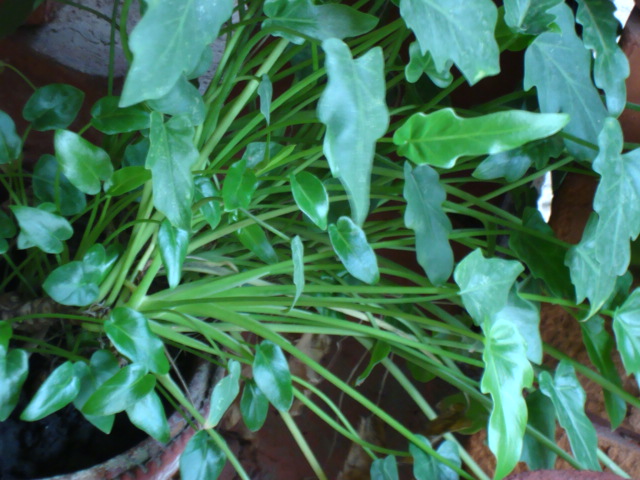 ID request – 04072011PC2: Please identify this indoor/shade plant. Small shrub with long petiolated leaves. Have not seen it flower.
---
I hope Philodendron xanadu
---
Agreed Sir this is Philodendron xanadu
---
Philodendron xanadu (refer www.toptropicals.com)
---
It is Syngonium xanadu.
Commonly used for some shades as well for hanging baskets.
generaly available from TC labs.
---
Thanks, …,
But I could not find a plant with Bot. name as Syngonium xanadu.
… has stated it to be Philodendron xanadu.
---
At present in trade of the plants it is sold with the name of Syngonium xanadu
---
Name Syngonium xanadu has no botanical standing. It never seems to have been published.
---
---
Pease Identify this Philodendron.
---
Philodendron xanadu
Philodendron xanadu photographed from Delhi for validation
---
---
Philodendron xanadu from a plant nursery in Nasik.
Pictures taken in Sept, 2009.
---
---
This common potted plant is being posted for validation of id..
I hope this is Philodendron xanadu…
Please suggest. .
---
For me the ID is correct. Very  rarely … can miss the ID.
---
---
Date/Time-Sep2011
Location- Place, Altitude, GPS-Pune
Habitat- Garden/ Urban/ Wild/ Type-Garden
Plant Habit- Tree/ Shrub/ Climber/ Herb- Shrub
Height/Length-2-3 feet
Leaves Type/ Shape/ Size-green showy
No flowers or fruits
---
Philodendron sp
---
Philodendron bipinnatifidum?
---
Probably Philodendron xanadu of Araceae family.
---
not Philodendron xanadu
very different leaf anatomy from those in … pics… I own one, sitting my drawing room right now.. may be I should take pics and upload…
---
---
Location: Kalimpong, WB, India
---
---

AAZ Fortnight :: Araceae :: SMP15 :: Ornamental : 3 posts by 3 authors. Attachments (1).
---
Looks like some Philodendron, cf. P. undulatum Engl., also please check cultivars of P. xanadu.
---
Looks close to 
Philodendron undulatum

---
Possible, …, but leaves can mislead!
---
I think more likely to be Philodendron xanadu Croat as per images and details herein.
Looks different from Philodendron undulatum as per