Images
by Aarti S Khale (Identified by Anil Thakur), Narendra Joshi & DS Rawat  (Inserted by J.M.Garg)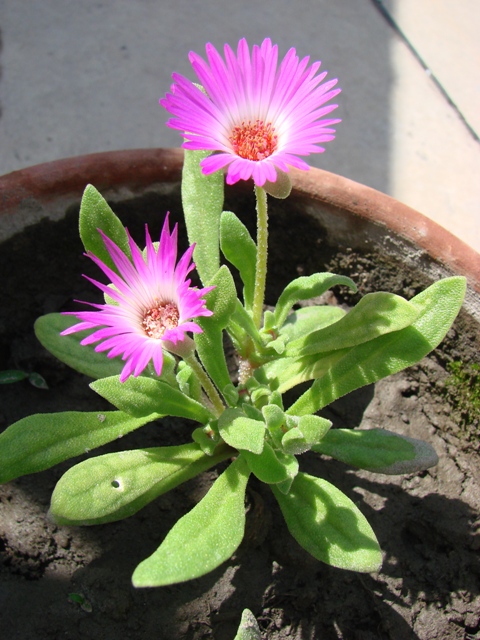 Common name: Ice Plant, Livingston Daisy, Mesembs, Mesembryanthemum •
Hindi: बर्फ़ Burf
---
Dorotheanthus bellidiformis (Livingstone daisy) is a species of flowering plant in the family Aizoaceae, native to the Cape Peninsula in South Africa, where it is known as Bokbaaivygie.  
It is a low-growing
succulent
annual
growing to 25 cm (10 in), and much cultivated for its iridescent, many-petalled, daisy-like blooms in shades of white, yellow, orange, cream, pink and crimson.  
In
temperate
areas it must be grown as a
half-hardy
annual, and lends itself to mass plantings or as edging plants in summer
bedding
schemes in parks and gardens. (from
Wikipedia 
 on 31.3.13)  
---
"Livingstone Daisy" or "Mesembryanthemum" scientifically known as Dorotheanthus bellidiformis (Burm.f.) N.E.Br. (Aizoaceae) is a small annual herb branching from base and with fleshy leaves.
It is a popular ornamental herb blooming in winter or spring.
Dorotheanthus bellidiformis
–
Ice plant
(Photo taken in Apr-09, Gangtok)
---
Good photograph of Ice plant.
A garden flower seen in Delhi on 17/3/12.
Kindly help in id.
---
Mesambrianthemum. May be spelling is wrong.
---
Dorotheanthus bellidiformis
Ice plant, Burf, Daftari babu
Location:  Godawari, Nepal