---
Trisetum spicatum is a species of grass known by the common name spike trisetum.
It is native to North America, Eurasia, and South America. In North America it occurs throughout northern regions, including northern sections of the United States and most all of Canada, its range continuing to Greenland. It is widespread throughout the Canadian Arctic Islands.[1]
The grass occurs in a variety of Arctic and alpine habitat types, as well as many types of mountainous habitat in regions farther south.
It is a perennial grass forming clumps of erect stems ranging in height from just a few centimeters to over one meter. The narrow leaves are mostly located around the bases of the densely clumped stems. The inflorescence is a narrow spike a few centimeters long or up to 30 to 50 centimeters in maximum length. The spikes are green to purple or brownish and shiny.(From Wikipedia on 22.4.13)
.
---
---
Mine from Apharwat Kashmir, alt. 3400 m collected in 1974
---
I remember it from your photo in your article 'The alpine grass cover of Uttaranchal' in 'Alpine Meadows of Uttarakhand" by Dr G.S.Rawat. Though the TP was printed from wrong side as I can see now in your picture. Thank you for reminding those formidable heights of higher Himalaya. This year hoping to trek to Barjikang Pass in July/August
---
Pl. do announce when you think of making the trip. Some of us may like to join. Also I have in mind to visit Ladakh after a gap of nearly 40 years, and take photographs of plants which i have only in Herbarium form. Let us see how things evolve. You may suggest appropriate route.
---
.
---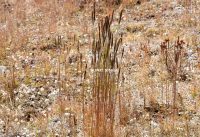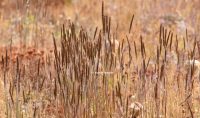 species Id required: 2 images.
please check out the attached images. Looking for an Id
Captured at – Madhmaheshwar Valley (UK)
For me, this is a Phleum species but not alpinum as it bears a quite longer inflorescence.
---
Check Trisetum spicatum
---
here I'm attaching the herbarium sheet for Trisetum spicatum /Koeleria spicata from POWO, Please check.
---
What do you think?
---
Sir, it's tough to identify the members of Poaceae for me.
---
Trisetum spicatum is a very beautiful grass and is the grass found at the highest altitudes in the Himalayas. I have seen it upto 5000m altitude where it is the only vegetation in isolation along with some Christolea.
---