Pulicaria undulata
(L.) C.A.Mey.,
Verz. Pfl. Casp. Meer.: 79 (1831)
(syn:
Aster crispus
Forsk.;
Duchesnia crispa
(Forsk.) Cass.;
Francoeuria crispa
(Forsk.) Cass.;
Francoeuria crispa
 var. 
discoidea
Boiss.;
Francoeuria undulata
(L.) Lack;
Inula crispa
(Forsk.) Pers.;
Inula odora
Forsk.;
Inula quadrifida
Buch.-Ham.;
Inula undulata
L.;
Pulicaria aromatica
R. Br.;
Pulicaria chudaei
Batt. & Trabut;
Pulicaria crispa
(Forsk.) Benth. ex Oliv.;
Pulicaria crispa
(Forsk.) Oliv. & Hiern;
Pulicaria crispa
 var. 
alveolosa
(Batt. & Trabut) Maire);
Canary Islands (Gran Canaria) Sahara & Sahel to India
as per
POWO
;
.
Morocco; Algeria (incl. Hoggar); Tunisia; Libya; Canary Isl. (Gran Canaria); Ethiopia; Eritrea; Mali; Senegal; Togo; Djibouti; Mauritania; Chad; Sudan; Somalia; Benin; Bahrain; Egypt (Desert Oases, Eastern Desert, Great Southwestern Desert, NE-Egypt, Nile Delta, Nile Valley, NW-coastal Egypt, SE-Egypt); Iran (EC-Iran, NE-Iran: Mts., S-Iran, W-Iran); Iraq (NE-Iraq, NW-Iraq, SE-Iraq: Mesopotamia, S-Iraq); Israel (Rift Valley, S-Negev Desert, Negev Desert); Jordania (S-Jordania, W-Jordania); Kuwait; Oman (Mascat & Oman); Saudi Arabia (C-Saudi Arabia, Dahana, NE-Saudi Arabia, N-Saudi Arabia, Nafud Desert, Hejaz, Asir, Nejd Desert); Qatar; Sinai peninsula (C-Sinai, N-Sinai, S-Sinai); United Arab Emirates; Yemen (Aden Desert, coastal Hadhramaut, Inner Hadhramaut, N-Inner Yemen, SW-Yemen, Tihama, W-Yemen); Afghanistan (Helmand, Kunar / Nuristan, Laghman);

Pakistan (Sind, Baluchistan, Waziristan, N. W. Frontier Prov., Peshawar, Hazara, Pakistani Punjab, Lahore); India (Indian Punjab, Haryana, Delhi, Uttar Pradesh, Bihar, Madhya Pradesh, Rajasthan, Gujarat)
as per
Catalogue of Life
;


.
Sam sand dunes  … the Thar desert, Jaisalmer
Date: October 26, 2018 … Altitude: about 225 m (740 feet) asl
Dear friends,
Please ignore the plant in foreground. I have a strong feeling that the plant posted is Pulicaria crispa; please validate the ID.
---
To me also appears to be close
(last image in the corner, in the foreground is of some other plant)
as per the following:
---
Thanks … for seconding my thoughts.
Hopefully someone validates this ID.
Yes, in the last picture, the plant in foreground is Glinus lotoides.
---
---
Images by Rohitkumar M Patel (Id by Nidhan Singh) (Inserted by J.M.Garg) (For more images & complete details, click on the links)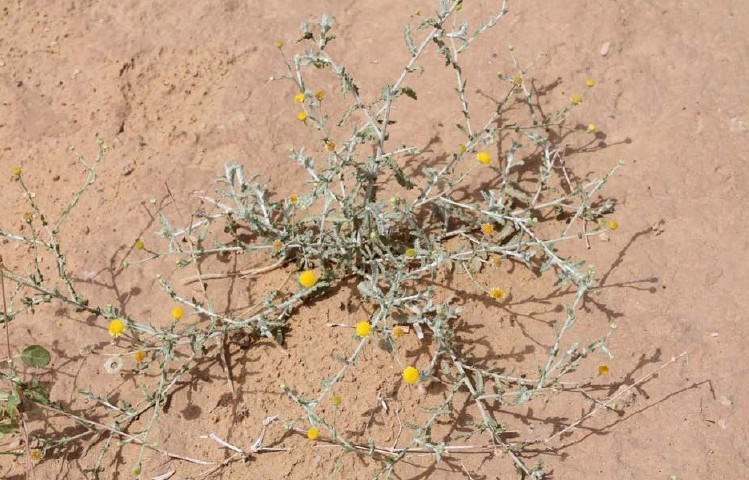 please helps me to identify the species of Asteraceae Family.
Found in the arid region of Gujarat (Kachchh District)
---
Perhaps more pic could have helped, looks close to Pulicaria crispa…
---
---

Plz identify? Asteraceae member
3 high resolution images.
Plz identify? Asteraceae member
It is Pulicaria sp.
---
Pulicaria undulata subsp. undulata ??
---
Yes, appears close as per Pulicaria crispa Sch.Bip. 
---
Thank you … ! Pulicaria undulata subsp. undulata
---
.
---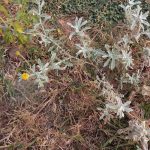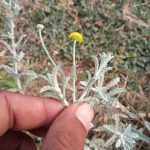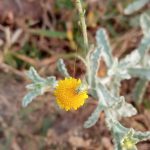 Pulicaria: 3 images.
Please help me to identity this Pulicaria Sp.
April 21
Morena, M.P.
---
Pulicaria undulata
---
I agree with …
---
---
.
References: Catalogue of Life  POWO  The Plant List Ver.1.1  GCC  GRIN
Plant Wealth of the Lower Ganga Delta: An Eco-taxonomical Approach, Volume 2 By Kumudranjan Naskar