---
Mandevilla sanderi, also called Dipladenia sanderi and Brazilian jasmine,[2] is a vine belonging to the Mandevilla genus.[3]Mandevilla sanderi climbs by twining around some support and it can reach the height of 4.5 meters (15 feet) if the climate is warm. The flowers of the wild form of Mandevilla sanderi are usually pink. The leaves are green and grow to 6 cm (2.5 in) long.[3]
The cultivars of Mandevilla sanderi include 'My Fair Lady' with flowers of pink and white colour, 'Red Riding Hood' with pink flowers, and 'Scarlet Pimpernel' with red flowers of a yellow throat.

[3]
---
On searching, this seems to be Mandevilla.
…, can you help in identifying this is Mandevilla sanderi 'Red Riding Hood' or Mandevilla Sun Parasol Giant Crimson?
It could be difficult from such a small plant.
Recently I saw different colors at Gangajal Nursery.
---
yes this is Mandevilla sanderi 'Red Riding Hood'
---
Thanks for the confirmation of this id.
---
---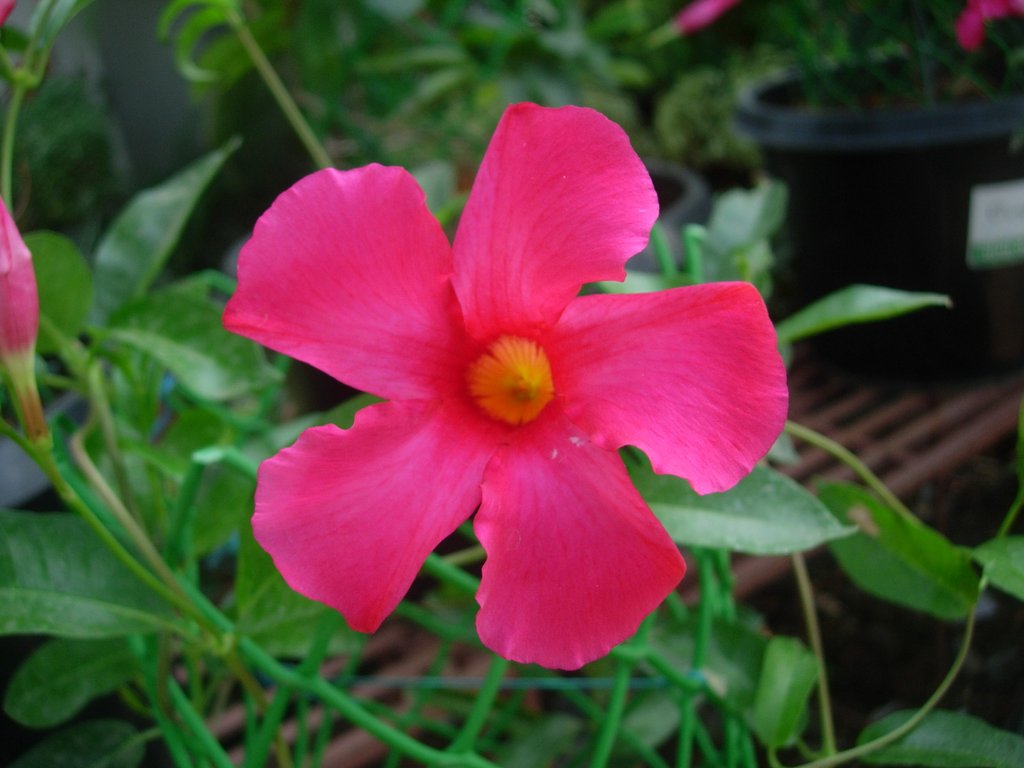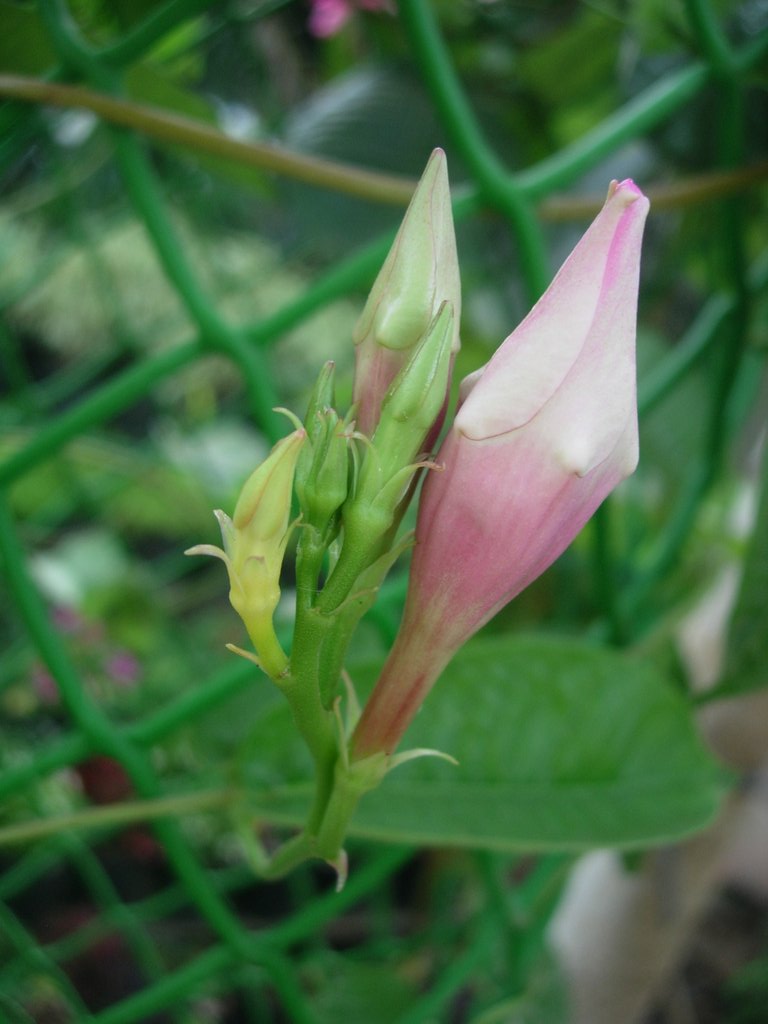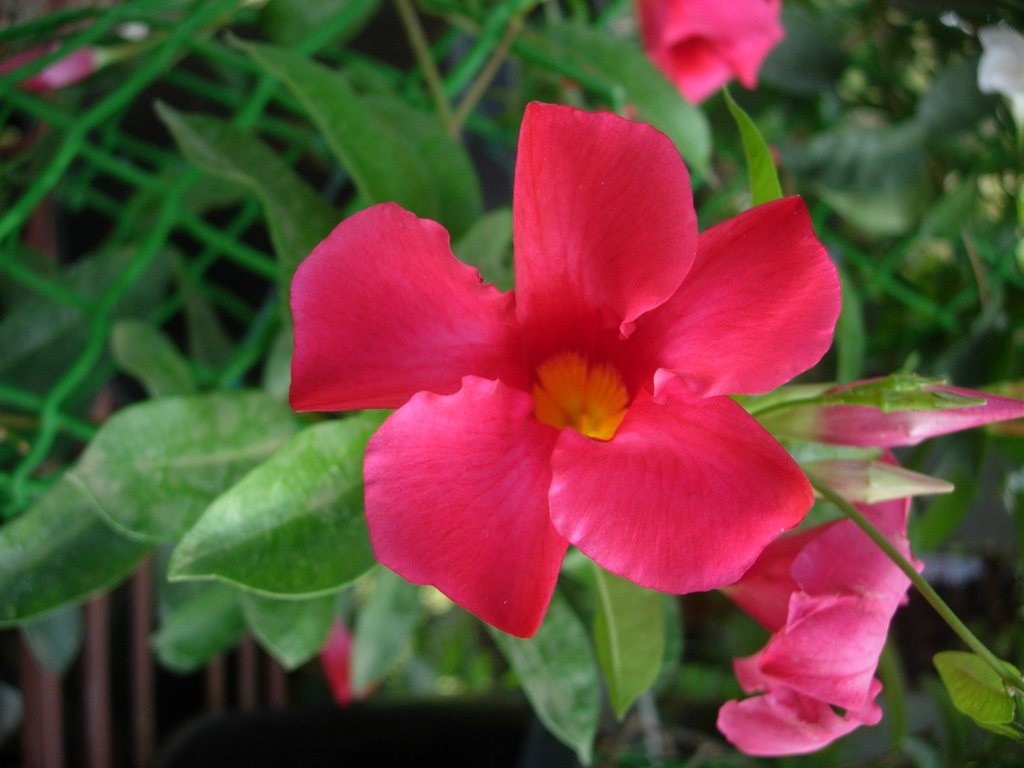 Mandevilla for ID : Bright Pink Flowers : Nasik : 190613 : AK-3 : Attachments (3).  5 posts by 2 authors.
Wanted the botanical name for these brightly colored Mandevilla flowers seen at Gangajal Nursery in April,2013.
Calling our Ornamental expert for id please.
---
Mandevilla sanderi ' RED RIDING HOOD '
---
Thanks for the id …
So they come in Red & Bright Pink?
---
white also.
---
---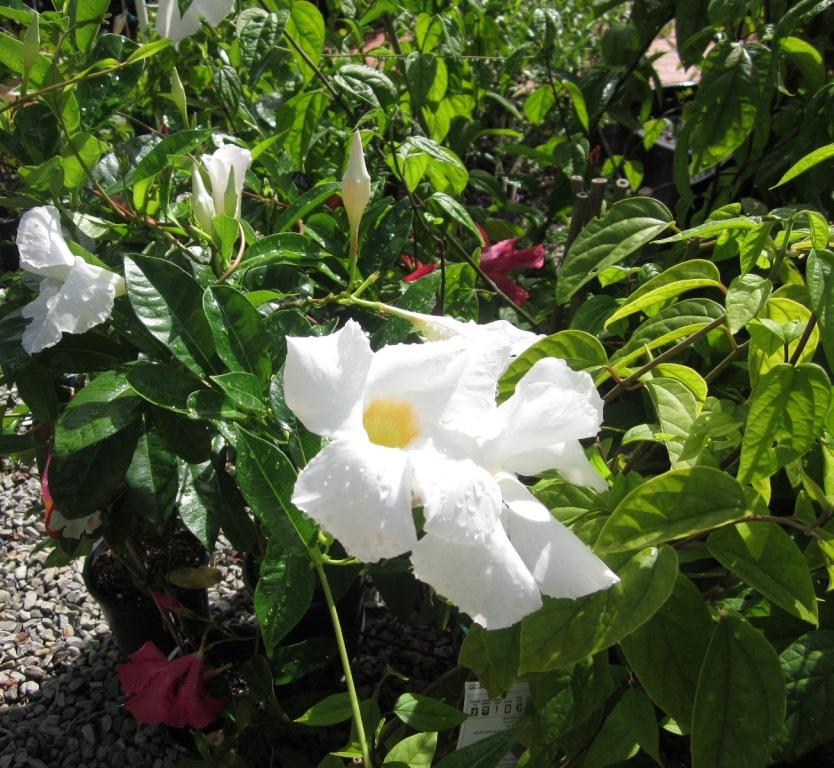 SL 63 291113 : Attachments (1). 2 posts by 2 authors.
Please ID this ornamental shrub with white flowers. Photo was taken in Sri Lanka in Sep 2012.
---
Mandevilla sanderi 'Alba'
---
---
Can someone help. identify this ornamental creeper I bought at a nursery in Palakkad, Kerala.
---
Mandevilla laxa ?  
---
Yes. It is Mandevilla laxa. It is sold in the local nursery as Chilean jasmine.
---
great. i must come there and do a round of the nurseries
---
To me looks different from images of suggested id as per
Requesting to please ID this plant captured at a nursery in Lonavala near Pune in Aug 2013.
Is it some Mandevilla species?
---
A hybrid of Mandevilla
http://davesgarden.com/guides/pf/showimage/6631/
---
It could be Adenocalyma alecae,
---
Thanks … for feedback…
…, if you mean the garlic vine (Mansoa alliacea), the corolla shape is different.
Seems to be a hybrid of Mandevilla as … has pointed out,
Further opinions requested…
---
Alice Dupont' mandevilla ??
---
Allamanda 'Alice Dupont' ? ?
---
Resembles Cryptostegia grandiflora, might be another sp.
---