---
This species is an old world species, possibly of Indochinese origin, which occurs in tropical Asia and Africa. It is common to all countries of southeast Asia.
The species grows in and along ditches, water courses, margins of fish ponds and rice fields in the open, from sea-level up to 1,800 m. It is able to reproduce by fragmentation and may be so abundant that it clogs water courses.
(From  IUCN Red List (LC) )
.
---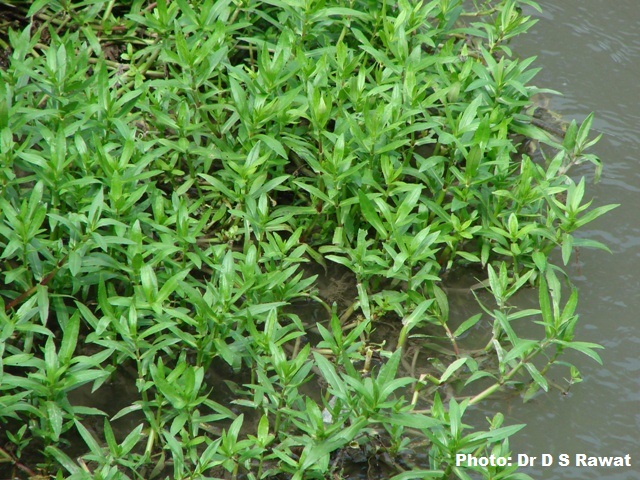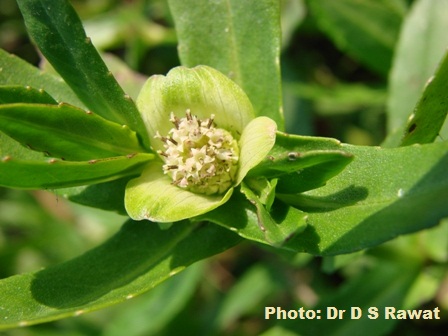 ASTERACEAE Fortnight Part 2-Discoid heads Enydra fluctuans from Uttarakhand_DSR_21
: Attachments (2). 3 posts by 3 authors.
Enydra fluctuans
Lour. is a

widespread aquatic weedy species found along water bodies

.

Heads are yellowish green, inconspicuous.
It is quite common along running streams in Pantnagar.
---
Thanks … Seen vegetative but not in flower yet
---
---
Attached images are aquatic herb. Please ID the herb. 
Habitat: Grows wild on ditches
Enhydra sp
like may be Enhydra fluctuans may be
---
It is Enydra fluctuans Lour. (Asteraceae). Though the TPL 2013 mention it as unresolved it is a well known species in Indian floras as also mentioned by Karthikeyan et al. 2009.
---
---
This is wetland plant found in Southwestern lowland of Nepal. in Kailali District at 150 m asl. 
Any clue for its identification is appreciated!
---
need a few more pictures. like habit and habitat. side view of the flower. full face of leaves
---
I have uploaded a image of its habit, though not good quality.
Its a herb
,
leaves opposite, leaves serrated. Leaves and stem hairy.
Could it be some member of Amaranthaceae? I opened a flower head and got such impression.
Attachments (1)- 1 Mb.
---
thanks. reminds me of some things we used to call pigweed or portulaca sp. some of which are edible weeds. but, in this case, which one this is, i am not sure. need more. someone knowledgeable in portulacas can perhaps help
---
This is Enhydra fluctuans
---
Enhydra fluctuans of course. another aquatic environ weed i have seen people eat with green leaves with red succulent stems. it is popular with village folks around Bengal. we call it Helchi shaak  হেলচী,  heemlochika হিমলোচিকা  in sanskrit.

but leaves here do not exactly match what i remember and what i see on the internet. may be a variety?local climate??

… perhaps can share range of variance.
---
Thank you very much. I appreciate your expertise and cooperation.
---
---
Photographed a little while ago. (5.2.20)
---
Also my first encounter, Sir, couldn't wait to share!
---
Must be an aquatic herb. It grows along perennial streams here in Pantnagar. Flowering, though, is rare.
---
Yes Sir,
it is aquatic. It is growing in a pond
,
along with other species like Commelina or Eichhornia etc.
It is sold as "SHAK/SHAG" (leafy vegetable) in local market.
But it is the first time I see it in natural habitat.
Attachments
(2)
---