---
Scapigerous perennial herbs with thick rootstock; juice milky. Leaves all basal, 8-15 x 1-3 cm, oblong, acute or obtuse, entire or finely toothed, glabrous. Heads 15 x 8 mm, cylindrical, 10-15 together, cymose, on elongated scapes. Scapes 3-5, 15-20 cm high, branched, glabrous. Bracts uniseriate, 10 x 2.5 mm, acute, oblong, margins white. Flowers all ligulate; corolla bright yellow, 18 mm long, glabrous, limb oblong; anthers sagittate at base. Achenes 5 x 1 mm, compressed, yellowish brown.
Flowering and fruiting: March-September
India, Afghanistan, Nepal, Pakistan and Iran
Looks like Launaea sp.
Location: Mullayangiri (Altitude: approx 5500 ft) – Karnataka
Family: Asteraceae
Date/Time: 26-01-2014 / 11:45AM
Habitat: Wild
Plant Habit: Herb
---
L . acaulis?….
---
Launaea species so far in efi
---
It looks like Launaea acaulis to me too.
---
---
Launaea sarmentosa
(Willd.) Sch.Bip. ex Kuntze
wild herb
from the out skirts of Bangalore.
---
this plant looks different from L. sarmentosa which is a sarmentose herb usually found in coastal areas. meemelink
Could this be L. acaulis?
---
I agree with you, I did not go through any key before uploading. It is Launaea acaulis (Roxb.) Babc. ex Kerr
Thank you …
Family: Asteraceae
Date: 24th August 2015
Place: Mullayanagiri, Chikamagalur, Karnataka
Habit: Herb
Habitat: Grasslands
---
Pl. check Launaea acaulis
---
It matches with Launaea acaulis.
---
.
---
Found on the slopes of a hillock
near Nandi Hills, (approx 60km from bangalore) Chikballapur district.
Milky juice was present in leaves and tuber
---
It looks similar to Wight's illustration – plantillustrations,
please wait for members who have recorded it.
---
.
---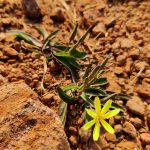 Requesting a herb id_190422-2:
A small herb with
asteraceae-like
complex flowers. The fruits is a rust-brown colored capsule, with a lot of hairy seeds.
Found in the High elevations of montane grasslands. 
Also post fruiting image.
---
The fruits appear on the 10-12 o'clock position of the picture.
---
What I see are all buds or flowers, no fruits.
---