---
Rhizomatous herbs, rhizome 3-5 x 2 cm, ovoid-conical, pale yellow-white; roots fleshy, root-tubers 2.5-3 x 2 cm, ovoid, white inside. Leafy shoots 30-60 cm long. Leaves distichous, 2-4, lamina 10-30 x 5-15, broadly ovate, base slightly cordate, tip deltoid with a small cusp, glabrous; petiole equal to the lamina; ligule short, 1-2 mm long. Inflorescence both lateral and central; peduncle 6-10 cm long; spike 4-6 x 2-3 cm. Coma bracts many, c. 5 x 1 cm, lower green with purple tip, upper deep purple-pink. Fertile bracts upto 4 x 3 cm, tip broad, rounded, recurved, green with purple-pink tips, minutely pubescent on the outer surface, lower half fused; bracteoles small, outer 8 x 4 mm, inner 4 x 3 mm, triangular, light pink or white with pink spots, pubescent. Flowers 4.5 cm long, 1 or 2 in each bract. Calyx 1-1.2 cm long, truncate, tip shortly 3-lobed, white with pink spots, minutely pubescent. Corolla tube 2 cm long, funnel-shaped, deep purple; lobes unequal, deep purple; dorsal lobe 1.5 x 1.3-1.5 cm, apiculate; lateral lobes 1.3 x 0.7 cm, ovate-oblong. Labellum 1.5 x 1.5 cm, tip slightly 3-lobed, midlobe emarginate, purple towards base, glandular hairs on inner side. Lateral staminodes 1.5 x 0.8 cm, oblong, yellow, purple towards the base. Anther-thecae parallel, 4 mm long, yellow, spurred; spurs small, parallel, with purple spots. Epigynous glands 2, 4 mm long, linear. Ovary 3-4 mm long, trilocular, densely pubescent; style long, filiform; stigma bilipped, slightly exserted from the anther. Fruit 1 x 0.5 cm, ovoid, hairy; seeds many, 5 x 2 mm, oblong, brown with a white spot at the tip, aril white, lacerate. Flowering and fruiting: April-October
Exposed laterite soil and rocky hill slopes
Peninsular India (Endemic)
Please help to identify this
Zingiberaceae
species found
on moist forest floor.
Height: won't exceed 1 feet
Inflorescence: up to 10cm long
Place: Palakkad Dist., Kerala
Date: July 24, 2016

Alt.: 135 m asl
---
Curcuma neilgherrensis ?
---
Curcuma decipiens.
---
Thanks for the lead …, but the flower colour is not yellow in C.decepiens as per GingersofIndia and also Names of Plants.
---
It is a highly variable species
---
This plant is found in Palakkad district in Kerala which is approximately 800 km away from the type location of C.decipiens. If C.decipiens becomes a synonym of C.inodora then this species will need to be described as a new species. It is very different from C.inodora in anther spur direction. Locally it is referred to as Kuzhi koova in Malayalam.
Attached is a high res picture of the flower.
1 high res. image.
---
It is still found on either side of the Palakkad gap. I saw 3 different populations in Nelliampathy and Malampuzha area. Best time to see them in bloom would be July and August.
---
Happy to hear this. I will look for this plant when travelling to that area.
---
.
---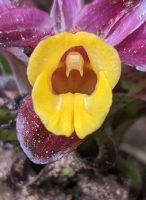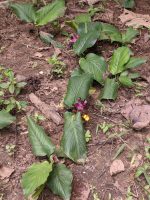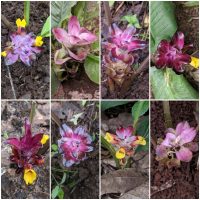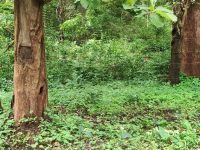 Curcuma for identification: 4 images- 3 high res.
Please help me identify this Curcuma species.
Location: Northern and Southern borders of the Palakkad gap, Kerala
Habitat: Rubber plantations – shade to filtered sunlight
Rhizome: small, odourless, not branching. 
Inflorescence: Most were 2-3 inches and highly variable in colour of coma bracts. Flower did not show much variation.

Plant: Some had leaves close to the ground, others had longer petioles. Leaves were broadly oval.
---
Curcuma decipiens.
---
It would be nice if both the posts of the plants from Palakkad (this one and an older post by …) could be maintained together separate from the Maharashtra species (C.decipiens/C.inodora) to avoid further confusion. All the other plants under C.decipiens are the same plants posted under C.inodora and should be ideally grouped together.
---
---
.
References:
POWO  The Plant List  Dinesh Valke's Flickr Post  India Biodiversity Portal