Vaccinium neilgherrense Wight, Calcutta J. Nat. Hist. 8:173. 1847;
Tamil: Kalavu, Kila Malayalam: Manalamaram Kannada: Hollenugu
---
Small trees, branchlets drooping. Leaves to 9 x 1.5 cm, lanceolate, acuminate; nerves very oblique. Flowers 10 mm long; calyx tube glabrous, lobes ovate, ciliate; corolla white, glabrous, lobes ovate, spreading; filaments tomentose.
Flowering and fruiting: February-April
Evergreen and shola forests
Southern Western Ghats (Endemic)
Please help me in identifying the tree species. The fruits are edible. Could this be any Rhamnaceae?
Date: 19 June 2013
Place:
Longwood Shola, Kotagiri, Nilgiris, TN

Alt.: 2000 m asl
---
Looks like a member of Myrtaceae, as the fruits seem to be formed from an inferior ovary with remnants of floral parts at the tip. Any Eugenia sps. Not sure
---
It could be Vaccinium sp?
---
I also doubt this could be any Vaccinium sp.
---
It is Vaccinium neilgherrense
---
Thanks a lot … for confirming.
---
.
---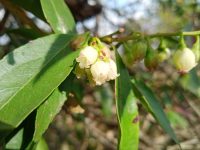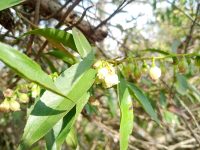 ID Ooty 02/12/3/23: 2 high res. images.
Please identify this shrub from Ooty. 12/3/23
---
Vaccinium leschenaultii Wight !
---
I think more likely to be Vaccinium neilgherrense Wight as per FoPI and POWO rather than Vaccinium leschenaultii Wight as per FoPI and POWO.
---