It is a
perennial plant
growing to 0.3–1 metre (10 in–3 ft 3 in) tall, with clustered orange or yellow
flowers
from early summer to early fall. The
leaves
are spirally arranged, lanceolate, 5–12 cm long, and 2–3 cm broad.
This plant favors dry, sand or gravel soil, but has also been reported on stream margins. It requires full sun.
It is commonly known as
Butterfly Weed
because of the
butterflies
that are attracted to the plant by its color and its copious production of
nectar
. It is also the
larval
food plant of the
Queen
and
Monarch
butterflies.
Hummingbirds
, bees and other insects are also attracted.
[

2

]
The plant looks similar to the Lanceolate Milkweed (
Asclepias lanceolata
), but is uniquely identified by the larger number of flowers, and the hairy stems that are not milky when broken. It is most commonly found in fields with dry soil. 
---
Images by Ranjini Kamath (Id by Vijayasanakr Raman) (Inserted by J.M.Garg) (For more images & complete details, click on the links)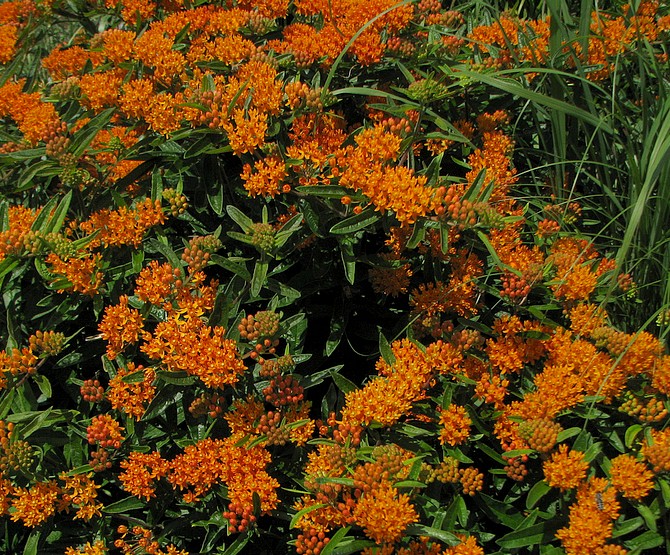 Asclepias curassavica – Blood Flower – New York – 160913 – RK 2 :
Attachments (1). 5 posts by 3 authors.
Pic taken 17/06/13  morning- Highline Park, New York
---
Wow! That's quite an abundance! 🙂
---
Nice picture, …! But it looks like
Asclepias tuberosa
to me.
---
Thank you for the correction, …
---
Seen at a park overlooking the Niagara Falls in the last week of June, 17.
---
yes . milkweed called butterfly milkweed but then most milkweeds are preferred by butterflies. but this one seems to too well tended. we might assume there are chemicals sprayed on or around it, so not so life giving to the poor monarch
---
It was a cultivated plant at the entrance of the park.
---