Polygala furcata Royle, Ill. Bot. Himal. Mts. 76, pl. 19, f. B 76 1834. (Syn: Heterosamara furcata (Royle) J.A.R. Paiva; Polygala glaucescens Royle ex Chod. (ambiguous synonym); Polygala glaucescens Wall. (ambiguous synonym); Polygala hyalina Wall.; Polygala triphylla Buch.-Ham. ex D. Don; Salomonia seguinii H. Lév.; Semeiocardium glaucescens (Wall. ex Royle) Hassk.; Semeiocardium hyalinum (Wall.) Hassk.);
Jammu & Kashmir, India (Himachal Pradesh, Indian Punjab, Uttar Pradesh, Bihar, West Bengal, Assam, Arunachal Pradesh, Nagaland, Manipur, Orissa, Meghalaya, Madhya Pradesh, Maharashtra, Andhra Pradesh), Sikkim,

Pakistan, Nepal, Bhutan, Bangladesh, China (Guangxi, Guizhou, Yunnan), Bhutan, Sikkim, Myanmar [Burma] (Kayin, Mon, Mandalay)
as per
Catalogue of Life
;
---
Polygala furcata
Royel (
Polygalaceae
) is a
small rainy season herb common on moist slopes in mid hills
.
The lower part of stem is naked and yellow flowers are produced with few leaves at upper end of stem.
Photographed
near Patal Ganga Chamoli district, Uttarakhand.
---
Thanks … for this post, I will share mine pics of the same

from Chakrata

.. this species was lying unidentified..
---
---
This very
small herb of grassy localities
was shot
from Chakrata area this August..
I was trying to id this.. many thanks … for uploading this..
Very few pics of this plant are available on web.. kindly validate the id..
---
Lower part of stem naked and leaves clustered at top, flowers yellow
. It is correctly identified as
P.furcata
.
---
---
Polygala furcata
: 3 posts by 2 authors. Attachments
(3)

Sharing some pictures of
P. furcata
shot
at Pharping Nepal on 24 August 2013 at 5000 ft.
---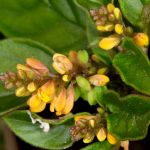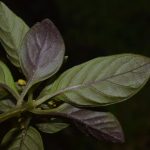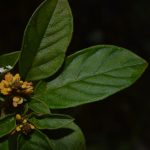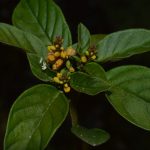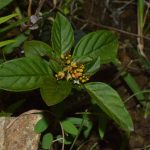 Polygala furcata Royle
: 5 very high res. images.
Location: Kalikot, West Nepal