Ocimum

species in efi with keys.
---
Annual herbs with a short rootstock; stem erect, 15-30 cm high, obtusely 4 angular, pubescent with retrorse hairs, diffusely branched. Leaves opposite, 0.7-4.2 x 0.35-1.6 cm, oblong to ovate-oblong, cuneate to tapering to base, obtuse, faintly serrulate, glabrous and copiously dotted with oil globules on both surfaces; petioles 1-2.2 cm long. Racemes 3-5 cm long; verticils distant. Floral leaves linear-oblong, with a concave, glandular receptacle at base. Calyx tube 2.5 mm long, subglabrous to sparsely pubescent without, glabrous within; upper lip broadly ovate-oblong, to 8 mm long in fruit, slightly longer than the lower; lateral lobes of lower lip bimucronate or truncately serrated, median ones spinous-acuminate. Corolla 6-7 mm long, puberulous without, pinkish-white; upper lip 3 mm long, lower equally long. Stamens much exserted, ± twice length of corolla; filaments glabrous. Nutlets globose, 1.5 mm long, smooth, mucilaginous when wetted.
Flowering and fruiting: May-June
---
Is it Ocimum filamentosum Forssk., Syn. Ocimum adscendens Willd., Syn. Becium filamentosum (Forrsk.) Chiov.
---
Ocimum species in efi with keys.
---
I agree with the ID Ocimum filamentosum.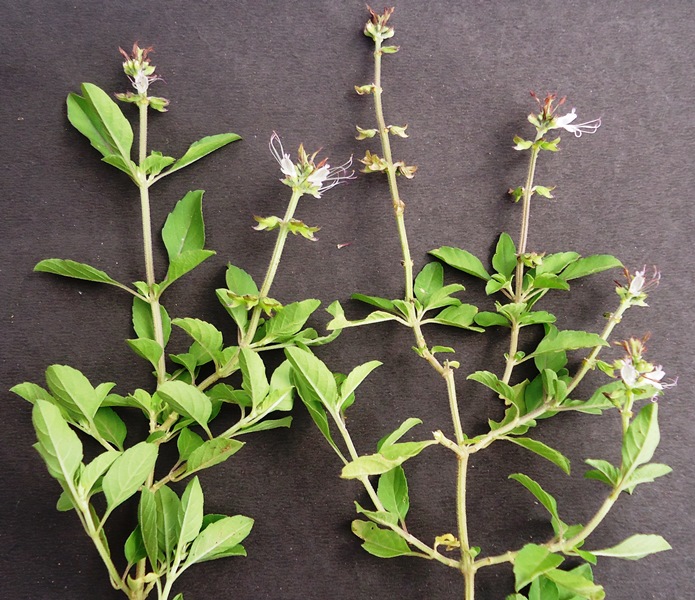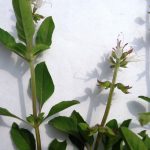 Ocimum filamentosum Forssk. SN Oct 12
: 1 post by 1 author. Attachments (2).
Ocimum filamentosum
Forssk (=
Becium filamentosum
(Forssk.) Chiov,
Ocimum
adscendens
Willd.),

wild in open places and rain fed land
from Krishnagiri Dt of Tamilnadu

---
.
---
Fwd: MS/9/2/2019 – ID request. : 6 posts by 3 authors. Attachments (1)- 2 mb.
I am sending herewith a photograph received from a friend in Chennai.
Photograph is not clear. Need to check the plant in the foreground. Leaves are scented. Looks like a species of Ocimum.
---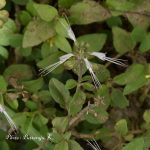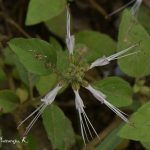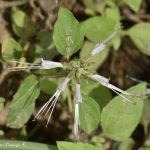 Flora of Chamarajanagar_ID_Please_06092021 PK1- 3:
Segregating clubbed posts due to sam subject:
Date/Time-:27/08/2021   –    09:30
Location- Place, Altitude -Chamarajanagar, Karnataka,
Habitat- Garden/ Urban/ Wild/ Type-   wild
Habit- Tree/ Shrub/ Climber/ Herb-  Herb
Length- 8cm,
---
Ocimum filamentosum
---
---
.
References:
The Plant List  Flora of Zimbabwe  India Biodiversity Portal 
Flora of Ranga Reddi District Andhra Pradesh, India By T. Pullaiah, M. Silar Mohammed (2000- Description)