Spiranthes hongkongensis S.Y.Hu & Barretto, Chung Chi J. 13(2): 2 1976. ;
---
This is very very beautiful … cute little flowers.. Can you throw light on how many species are known from India??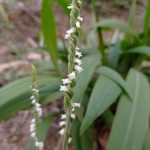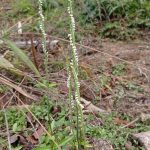 Requesting I'd of Spiranthes sp. (Orchidaceae) from Sikkim Himalayan region
: 2 high res. images.
Respected florists, kindly help with the identification of
Spiranthes
sp. spotted in plenty
from West Sikkim. 
Kindly check the attached image of the plant in its natural habitat.
---
Again, it is not possible to confirm without dissection.
Please dissect the flowers and share images.
---
Kindly check the attached images of dissected floral whorls.
Tubers/ roots: (7- 13), no. of flowers/ buds per spike in larger plants : 43-54.
---
I tend to call this Spiranthes hongkongensis. Please check the attached pdf and match with your flowers if possible.
---
The characters matches closely to
S. himalayense
. Pair of fork like minute rostellum was seen in most flower. Also the glands in the base of labellum are somewhat globose.
Flora of sikkim shows the presence of S. sinensis only and i am confused as S. sinensis also shows pubescent forms. The flowering period is different compared to S. sinensis and all the plants have white coloured flower.
---
I am sure Spiranthes himalayensis is found in India but the flower of this species including the lip is much bigger and broader. The front of lip of you species is much narrow like S. hongkongensis.
Please also look at the apex of the petals which are blunt in S. himalayensis but almost rounded, acute or obtuse in S. sinensis and S. hongkongensis. However, the petals  in S. sinensis are slightly spathulate (broader towards upper half) and almost oblong in S. hongkongensis. Floral bract is slightly shorter than the ovary in S. hongkongensis but longer than the ovary in the other two. Column is shortest in S. sinensis but longer in the other two. Stigma is narrowest in S. hongkongensis but broader in other two. Don't worry about hairs, as they are found in all three, while S. sinensis comes in both hairy and non hairy forms.
Please recheck as you have the live plants. Or instead take some pics under the microscope of the petals.
---