Native to: Argentina Northeast, Argentina Northwest, Belize, Bolivia, Brazil North, Brazil Northeast, Brazil South, Brazil Southeast, Brazil West-Central, Colombia, Costa Rica, Dominican Republic, Ecuador, El Salvador, Guatemala, Guyana, Haiti, Honduras, Mexico Gulf, Mexico Southeast, Mexico Southwest, Nicaragua, Panamá, Paraguay, Peru, Suriname, Trinidad-Tobago, Uruguay, Venezuela 
Introduced into: Cameroon, Galápagos, Guinea, Gulf of Guinea Is.,

India

, Jawa, Laos, Leeward Is., Liberia, Malaya, Mauritius, Puerto Rico, Réunion, Seychelles, Sierra Leone, Sri Lanka, Taiwan, Vietnam, Windward Is.
as per
POWO
;
Costa Rica, Panama, Belize, Galapagos Isl., Peru, Hispaniola, El Salvador, Lesser Antilles (I) (Anguilla (I), Dominica (I), Grenada (I), Guadeloupe (I), Martinique (I), St. Vincent (I)), Colombia (Amazonas, Antioquia, Bolvar, Boyac, Cauca, Cesar, Choc, Crdoba, Magdalena, Nario, Valle), Nicaragua, Guatemala, Honduras, Ecuador, Mexico (Chiapas, Guerrero, Oaxaca, Tabasco, Veracruz), Guyana, Surinam, Argentina (Buenos Aires, Chaco, Cordoba, Corrientes, Entre Rios, Formosa, Jujuy, Misiones, Salta, Santa Fe, Tucuman), S-Brazil (Parana, Rio Grande do Sul, Santa Catarina), Paraguay (Caazapa, Canindeyu, Cordillera), Uruguay (Artigas, Cerro Largo, Paysandu, Rio Negro, Rivera, Salto, Tacuarembo), Bolivia (Beni, Chuquisaca, Cochabamba, La Paz, Santa Cruz, Tarija), N-Brazil (Para, Amazonas), NE-Brazil (Pernambuco, Bahia), WC-Brazil (Goias), SE-Brazil (Minas Gerais, Sao Paulo, Rio de Janeiro), Venezuela (Barinas, Portuguesa), Trinidad & Tobago (I), trop. Africa (I), Bioko Isl. (Fernando Poo) (I), Cameroon (I), Guinea (I), Micronesia (I) (Pohnpei (I)), Palau Isl. (I) (Koror (I)), Mauritius (I), La Runion (I), Singapore (I), Laos (I),

Sri Lanka (I),

Vietnam (I), Java (I)
as per
Catalogue of Life
;
Common name: Whorled Twintip
---
Annual herb. Stem tufted, erect, up to 14 cm high, much branched, densely hirsute. Lower leaves opposite, upper ones in verticils of 3, broadly ovate, 0.7-1.5 x 0.4-1.4 cm, truncate at base, subacute at apex, coarsely crenate-serrate, penninerved, punctate above, scabrid along nerves beneath; petioles 3-10 mm long, densely and minutely glandular-hispid. Flowers axillary, solitary. Pedicels 1 mm long. Calyx lobes subequal, linear-lanceolate, 2.5-3.5 x 0.6 mm, acuminate at apex, minutely glandular-hispid without. Corolla 5.5 mm long; tube cylindric, 3-4 mm long, minutely glandular pilose without, pale green, with longitudinal dull purple lines; upper lip 2- lobed at apex, with clavate hairs at base; lower lip 2 mm across, with obovate-orbicular lobes, midlobe broader than lateral ones. Filaments glabrous, anterior pair 1.5-2 mm long, posterior pair shorter; posterior anther-cells unequally paired. Style short; stigma bent. Capsule orbicular, 2.5-3 x 3 mm, biconvex, shorter than calyx, glabrous, 4-valved; seeds cuneiform, 0.5 mm long, truncate at both ends, longitudinally ribbed, reticulate in between ribs, dark brown.
Flowering and fruiting: March-April
Banks of rivers, streams, etc.
Native of Tropical America; now Pantropical
---
Probably Veronica species of Scrophulariaceae
---
Veronica species so far in efi.
---
Stemodia verticillata (credits: Rahul Kamble), but i feel family is Scrophulariaceae
---
Yes for Stemodia verticillata.
---
.
---
Stemodia verticillata— : 3 posts by 3 authors. Attachments (3)
Pics taken at Aambyvalley Rd., Lonavala, Pune in Dec16.
---
---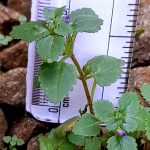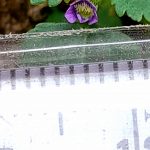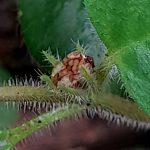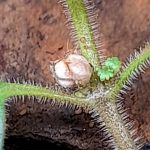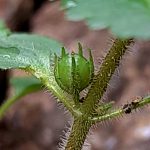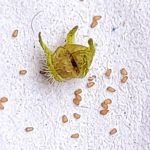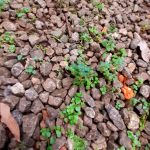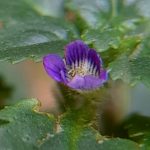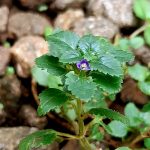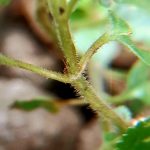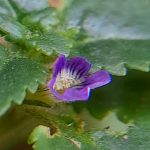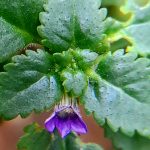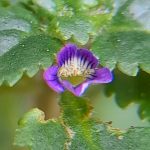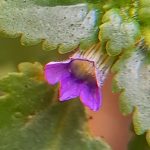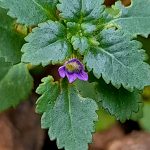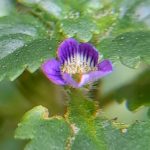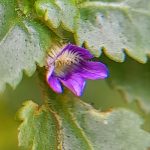 130 ID wild plant Lindernia
: 17 images.
Please ID wild micro plant growing in my courtyard,
Location:

near Reserve Forest,

Chathamattom, Ernakulam District, (Kochi) Kerala PIN:686671

Altitude: 1400fsl

Flower date: 29.07.2021, 03.40pm
Habitat: wild moisture

Plant habit: creeping/erect, branches, slender weak stem 01mm diameter, hairy, annual

Height: 06cm
Leaves: opposite, heart shaped, apex, hairy, toothed margins, size:01.2×01mm

Flower: diameter:02mm, violet, non fragrant
Fruit:

Seed:

Camera: mobile Samsung Galaxy A21s +macro lens
---
Sharing more information and images.
Fruit: globular, green into brown, diameter: 1.5mm
Seed: brown, numerous, micro granules
---
Looks like Stemodia species
---
May be Stemodia verticillata
---
yes it is, thank you very much for ID my plant,
---