Images by (Narendra Joshi – Id by Gurcharan Singh, validation by N.P.Balakrishnan), (For
more photos & complete details, click on the link, (inserted by Bhagyashri
Ranade)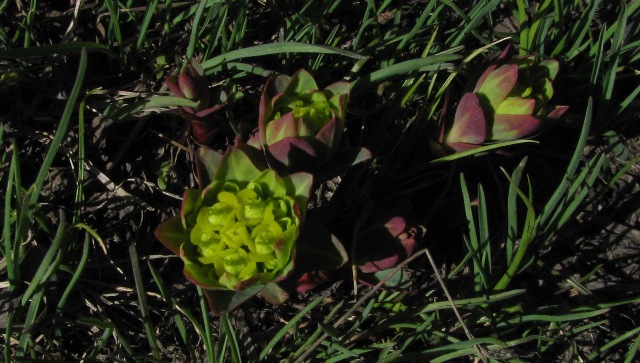 Euphorbia helioscopia from Kargil. June 2011.
---
I don't think E. helioscopia

The plant is clearly perennial

could be E. thomsoniana
---
Yes, this is Euphorbia helioscopia L.
---
Please reconsider your identification. To me it looks a typical perennial plant with new shoots emerging from rootstock. E. helioscopia in annual herb.
---
I think you are right. The plant looks perennial.
In that case the next possibility is Euphorbia thomsoniana Boiss., which occurs in JK at 2000 to 4200 m alt.
The description in "The genus Euphorbia L. (Euphorbiaceae) in India by M.S.Binojkumar & N.P.Balakrishnan, indicated that it is perennial and further "stems many from a thick rootstock, sometime purplish red, unbranched or rarely branched".
The further details of the description more or applies to the photographs.
Therefore I think it can safely be identified as E. thomsoniana
---
Thanks a lot … I am happy my Persistence paid off.
I fear it may not be
E. helioscopia
, which perhaps does not grow at those height, is much more delicate, with greener involucre bracts, and leaves are serrulate towards tip.
This could be Euphorbia thomsoniana 
---