---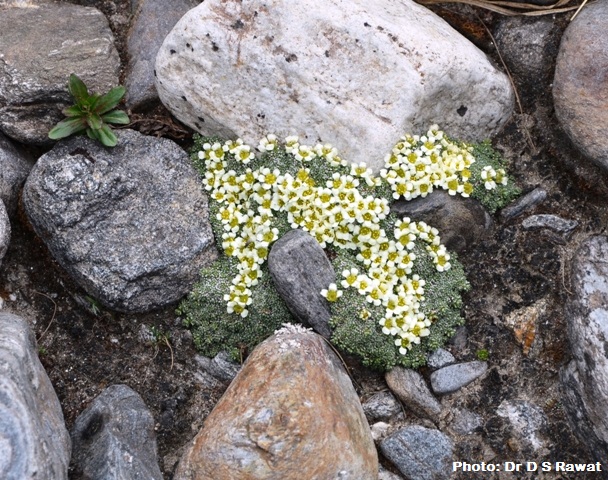 DECEMBER 2013: Saxifraga pulvinaria from Uttarakhand_DSR_1 : Attachments (1). 3 posts by 3 authors. 
Saxifraga pulvinaria Harry Sm. [=S.imbricata Royle] of the family Saxifragaceae is a cushion forming alpine plant.
All flowers are at the surface of cushion and many a times almost completely cover it. It blooms in early summer (May-June) in alpine zones of the Himalaya from Kashmir to Bhutan.
It grows in rock crevices, over rocks or among the boulders.
---
Very beautiful picture … really a wonderful upload…
---
Date: 14th June 2011
Location: Paddar valley Kishtwar J&K.
Altitude: 4562 meters asl
Plant habit/habitat: Wild herb
---
I hope Arenaria bryophylla
---
Wao…………….. what a beautiful display of nature. A close up of the flower could have added life to the habitat show.
Sir ji a small query, if the specific epithet is bryophylla, is it any way associated with bryophytes (or does it grow on bryophytes) ?
---
Possibly because the plant resembles a patch of bryophytes (mosses) on rocks. Incidentally this plant is the highest recorded plant on this earth "highest record Arenaria bryophylla at 6180 m alt in Himalayas"
---
According to eFlora of Pakistan, the record is even higher Reported from Mt. Everest at 6216 m.
---
Infact this is a high altitude species and I have also photographed this species at a height of 5250 meters asl with some species of Saussurea.
---
Please reconsider the identity of this cushion forming plant.
It is CERTAINLY NOT
ARENARIA BRYOPHYLLA
(
CARYOPHYLLACEAE
). Leaves with terminal lime pit (lime secreting gland) clearly indicate it. Though the high resolution image is not available I can understand that it is a Saxifraga species. Either
Saxifraga pulvinaria
(=
S.imbricata
) or related species. Single and terminal lime pit with triangular leaf shape, cushion forming habit, white flowers strongly suggest it as
Saxifraga pulvinaria
(
Saxifragaceae
).
The post may please be shifted to proper place now.
Please see my
earlier post
and attached picture.
Attachments (1)
---
Yes, this must be Saxifraga pulvinaria. This is common high level cushion plant in N.Pakistan & Kashmir @ 3600-5500m. There are no other similar plants in the NW Himalaya – there are in Nepal. Commonly known as the 'White-pitted Saxifrage'. 
Saxifraga pulvinaria Harry Sm. (=S.imbricata Royle) is a dense cushion forming species of alpine zones in Uttarakhand. It occurs above 4000m elevation and blooms early in June. The shoots aggregate together to form cushions, and leaves characteristically have one terminal pit (indicated by black arrows). These terminal pits (lime pores/ lime glands) secrete lime which can be seen adhering around pits.
Here photographed in fruiting stage (fruiting indicated by white arrows) in Roopkund area of Chamoli district in Uttarakhand.
Flowering stage can be seen in
my earlier upload
from Sunderdhunga Valley, Uttarakhand
---
excellent case presentation, never seen the lime pits before
---
A unique post, nice to see this beautiful post..many thanks …
---
I have just begun inspecting Saxifraga postings.
Do have a good print of this species in flower which I plan to post, along with any other images available.
For the present I am showing a close-up of a pressed specimen in the Ann Arbor Herbarium, University of Michigan collected by Walter Koelz
at some 5500m on a pass in Rupshu in July 1931. The flowers were white, with a delicate fragrance. This saxifrage was growing in wet ground in front of snow.
Also, some images of this saxifrage taken on the Sinthan Pass incl. its habitat, base-rich (limestone) rocks.
Stewart found this to be a high level cushion plant in Kashmir usually on rocks and also present in Ladakh at 3600-5500m.
Its leaves are densely overlapping, bent back at apex, all with a terminal pit, some of which are lime encrusted. The cushions or mats it forms are very hard. The darker parts are mostly empty, dried capsules as well as a few dead leaves.
---
Just to show that Chris Chadwell really has explored for plants in places few botanists venture, kindly view the attached images of me scrambling about near to Mt. Kolahoi, one of the higher peaks in the main Kashmir valley @ some 5400m.
The images are scanned in from slides taken in the 1980s plus 2 from the 1970s made available to me by the late Oleg Polunin.
1.  View from Lidder Valley
2.  View from Upper Lidder Valley
3.  Mt. Kolahoi's north glacier – I scrambled above the glacier onto the cliffs to the left which was home to large colonies of Meconopsis aculeata
4.  Snout of Kolahoi's north glacier – main source of Lidder River which flows through Pahlgam
5.  A colleague negotiating slippery waterfalls to collect botanical specimens for the University of Kashmir herbarium
6.  Closer view of Mt. Kolahoi from the West.
7.  Snout of Kolahoi's south glacier – perhaps you can make out the two porters to the left of the glacier (one with a ruck-sack with a yellow sleepa mat)
8.  On the south glacier after 'accident'
9.  Chris with two local villagers hired as porters to carry our rucksacks as far as the 'col' where we had planned to camp, attempting to scale Kolahoi the next day but it was not meant to be.
10. Saxifraga pulvinaria 'White-pitted Saxifrage' – photographed by Oleg Polunin; recorded up to 5400m in Kashmir
11. Saxifraga pulvinaria 'White-pitted Saxifrage' – photographed by Oleg Polunin; recorded up to 5400m in Kashmir
I had spotted what I take to be Waldheimia glabra near the snout of the glacier and was hoping to get good photos of Saussurea simpsoniana, as well as reaching the top of the peak.
A Britisher colleague and I plus our Scottish guide, the son of a couple who ran a school in Kashmir, who had climbed to the top of the mountain before.  We carried our rucksacks & tents from Pahlgam past Aru and up a side-valley, arranging for two men from the last village to act as porters for the day to take our loads to a drop-off point, allowing them to safely return. The following day we planned our ascent.
Unfortunately, my British friend became unwell and it was decided he was not fit to attempt to climb Kolahoi, so he returned to Pahlgam.  I carried on with my guide but as the ice of the snout of the glacier was slippery and the porter's footwear not ideal, steps needed to be cut into the ice to safely negotiate a short steep section. In the guide's over-enthusiasm, the ice-axe he was using bounced off the ice with the sharp end going into the top of his head!  There was not much blood.  I administered first aid, bandaging him up.  He said he was fine and that we should continue.  I, correctly said a form no, imaging what could happen at any time and certainly if we went higher….  What a shame but one must always "play safe". The fittest and strongest I had ever felt in the Himalaya. I was relieved to get the young man back to his parents (one of whom was a doctor). Thankfully the wound was not too serious and no permanent damage.   Mountains must be treated with respect. Clearly the Gods were not with me that day.
I never got another chance to found out what grew at 5400m (some 18,000′) in the Kashmir Himalaya – not that too many others know.
---
Wow, Great… That is really adventurous…
It requires great commitment, willpower and of course physical & mental toughness to undertake such expeditions.. My salute to …
All the photographs (Slides) shared are awesome…
---
Thanks for your generous comments.  It made extra sense for me to abandon my attempt to climb my Kolahoi, as my Britisher companion, who had to withdraw before we reached the glacier, was vastly more experienced in mountains than I, with rock & ice-climbing experience in winter. Adventurous though I am, have always judged that it makes sense to "come back down" from the mountains in one piece.  The British have a habit of "dying valiantly in the field" and no doubt my name would have been 'elevated' had I done so but one must try to make wise decisions in the interests of the safety of companions and anyone hired.  Local people whether in the Indian Himalaya or Nepal, be they porters or guides, may have little experience and zero training, so it is the responsibility of Westerners who undertake treks (and more demanding scrambles to keep them safe as well).
It is my intention to post other Parts, from Kashmir covering Sunset Peak (Pir Panjals) where I did locate Saussurea simpsoniana; Nichinai Pass (a straightforward walk during a trek but a very cold place to camp below the hanging glaciers, with an enormous colonies of Saxifraga jacquemontiana, Primula reptans etc. plus other adventurous explorations in Ladakh and Lahoul.
I have always had a fascination with 'higher alpines' and it is informative to see the habitats where they grow.  Whilst not undertaking formal surveys, as I am able to reliably identify many (though not all by any means) of the plants I come across in the Himalaya, this has put me in a unique position to assess the abundance (or not) of species which inhabit high places. It is impossible to judge the status of said species unless one goes up into the higher mountains and is able to scramble about amongst boulders, on steep slopes and at times on cliff-faces not forgetting being able to recognise the species seen.
In recent decades thanks to the sterling efforts of the Indian Army and others, tracks and roads have been built (with at times, loss of life, so we all must be appreciative) providing access to many high passes but one still MUST venture beyond the roadside to understand the vegetation and be mindful, more accessible though such places are by vehicle compared with trekking, such passes are not necessarily representative of the region's vegetation.
Caution must be shown even with the luxury of a comfortable 4WD vehicle along a major route.  Take the Manali to Leh 'road' as an example.  Many people cross the Baralacha La by road every day it is open.  I met Dr Walter Koelz an American zoologist who with Thakur Rup Chand made extensive botanical collections in Kulu Valley, Lahoul & Ladakh for the Russian Nicholas Roerich back in the 1930s – they travelled on foot, taking weeks, when nowadays such trips can be completed in a day or two.
In the early 1990s I reached and went beyond the Baralacha La (at about 4800m not especially high).  A year later a colleague of mine who had accompanied me on one of those occasions (by then into his late 60s) repeated the journey with a fit, slim young man in his 20s, who had previously trekked to a similar altitude in Nepal with no problems (walking is a better means of acclimatisation than using a vehicle).  They spent the night on the pass itself.  During the night the young man's lips turned blue and he started cough blood, causing great concerned – he was taken down rapidly (a vehicle helps) and within a week he had fully recovered.  He clearly had not acclimatised adequately and strangely enough (or perhaps not so) it is not always the younger ones who cope best with altitude – though sooner or later even the world's leading mountaineers can no longer reach the heights they once could.
I trust you will enjoy viewing these images as well.
---
Salutes to your enthusiasm and determination, …!! 
Challenging terrain and of course weather can be cruel too.
---
Thanks, …, for detailed accounts.
---