Melianthus major L., Sp. Pl. 2: 639 [as 939] 1753. ;
.
Cape Prov.; Introduced into:
Bolivia,
East Himalaya,
Norfolk Is., Spain, St.Helena
as per
POWO
;
.
It grows to 2–3 m (7–10 ft) tall by 1–3 m (3–10 ft) wide, with
pinnate
blue-green leaves 30–50 cm (12–20 in) long, which have a distinctive odour. Dark red, nectar-laden flower spikes, 30–80 cm (12–31 in) in length, appear in spring, followed by green pods.

[1]

[3]

All parts of the plants are poisonous.

[2]
---
Very interesting find. I have not seen anything like this before. It is a Polygonaceae and is probably a Rumex or some other genus of that family.
The image DSC 09369 shows simple leaves with dentate margins. Whereas image DSC 09368 and DSC 09475 show pinnately lobed leaves with dentate margins, showing that this plant has dimorphic leaves. Perhaps the young plants have simple leaves and subsequent leaves are pinnately lobed.
I will try to identify it through websites. It may take time.
---
This is an exotic plant growing in upper Nilgiris. Melianthus major, Melianthaceae
---
… is absolutely correct. It is a South African plant introduced and naturalised in W. Himalayas and NIlgiri hills.
---
Very interesting plant!
First I also thought it a Polygonaceae. Many thanks to … for identification.
Thanks to … too for sharing this unique plant.
---
Melianthus major (giant honey flower) of family Melianthaceae.
---
---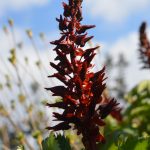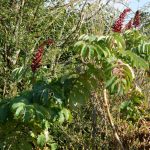 SK 3512 25 May 2022: 2 very high res. images.
Location: Eden Project, Cornwall, UK
Date: 03 April 2022
Habit : Cultivated
---
---
---
.
References:
POWO  The Plant List Ver. 1.1  Tropicos  GRIN  India Biodiversity Portal  Wikipedia  PFAF