Dendrophthoe
falcata
var.
pubescens
(Hook.f.) V.Chandras., Fl. Tamil Nadu 2: 215 1987. ;
---
Branches stout, smooth. Leaves 6-15 x 2-4 cm, elliptic-oblong, obtusely acute, base truncate to sub-cordate, glabrous; nerves 3-5 pairs, sub-prominent; petiole 2-3 mm long, flattened. Racemes 2-3 cm long, pubescent; pedicel 3 mm long. Flowers many; corolla pink, 3 cm long, pubescent outside, lobes 7 mm long, curved; tube inflated above the middle, white below, pink middle and green above.
Flowering and fruiting: January-March
Evergreen and moist deciduous forests, also in the plains
Peninsular India
---
This Loranthaceae member was seen on numerous mango trees near the Kanha National Park, Madhya Pradesh in December 2016.
Requested to please ID.
---
Its Dendrophthoe spe..
---
Pl. check comparative images at Dendrophthoe
---
no doubt its Dendrophthoe sp.
---
Dendrophthoe curvata
---
May be Dendrophthoe falcata var. pubescens (Hook.f.) V.Chandras. as per Keys from BSI Flora of India
---
Images by Yazdi Palia – Id by Santhosh, (inserted by Bhagyashri Ranade)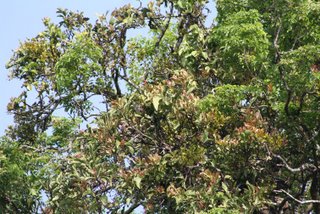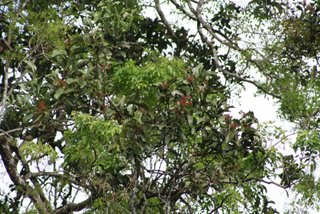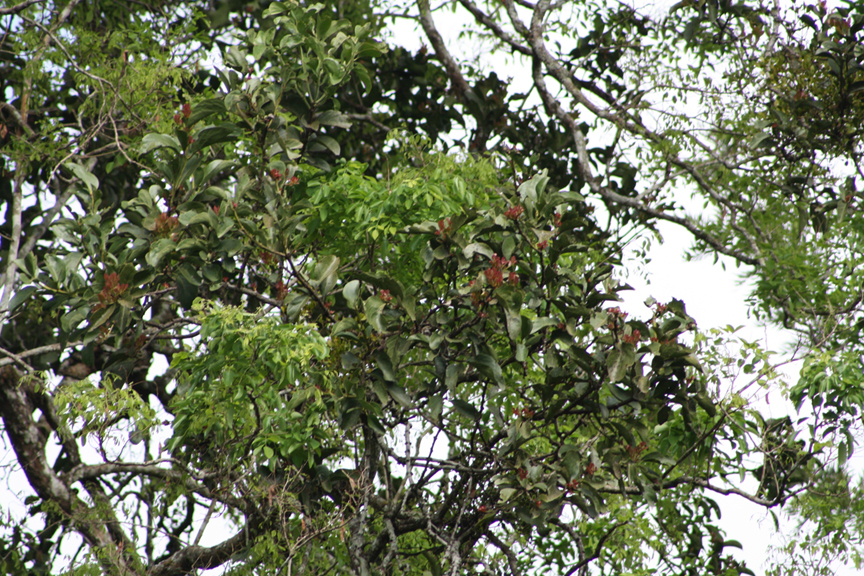 25/02/11/YRP/1
: Identity of this parasite on Indian Rose wood tree please?
Date & Time 24/02/11
Location: Place, Altitude, GPS  Chethalayam, Wayanad.
Habitat: Garden, Urban, Wild Type:      Wild
Plant Habit: Tree, Shrub, Climber, Herb Parasite
---
Most probably
Dendrophthoe falcata
var
pubescens
. Very poor picture!!!!!! 
---
Here is a better picture. 
---
Thank you for the high resolution picture.
I too think this could be Dendrophthoe falcata (Loranthaceae family), a widely distributed mistletoe. 
---
Please find attached for ID. Loranthus ?

Place:-     Kinhi, Parner, A.nagar (MS) India  
Date :-      5 June 2018
Habitat :-  Wild  
found on :- Annona reticulata
---
Sir i think it is not loranthus; correct name is Dendropthoe falcata please check.
---
Pl. check 
Thank you, it is larval host plant of Delias euchaiis common jezebel butterfly. thank you for Confirmation 
---
References:
Keys of Dendrophthoe falcata subspecies as per BSI flora of India  Flora of India Volume 23  Tropicos  The Plant List Ver. 1.1 (syn. of Dendrophthoe falcata (L.f.) Ettingsh.)  India Biodiversity Portal