Dombeya pulchra N.E.Br., Bull. Misc. Inform. Kew 1895: 142 1895. ?;
Common name: Silver Dombeya, Silver white pear
---
This planted Dombeya is
a small tree or shrub in gardens
of Pantnagar Uttarakhand
.
Not able to identify up to species level.
It has a looser cluster of flowers with less flowers but with more fragrance.

Please suggest ID.
---
---
Yes … it appears like D.pulchra. … in a separate thread have also suggested it as D.pulchra.
I am taking it as D.pulchra.
---
ID please
A shrub about 6 – 8 ft high, planted for its ornamental flowers.
Flower about 3 cm across (not certain).

at a resort
in Amba village in Kolhapur on December 20, 2010
---
Some species of Dombeya (Malvaceae). There are many exotic species. And nice pics as always.
---
Dombeya species in eFIoraofindia (with details/ keys from published papers/ regional floras/ FRLHT/ FOI/ efloras/ books etc., where ever available)
---
---
Many thanks … for pointing to the most possible ID.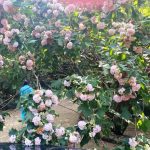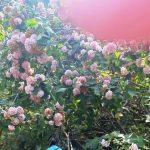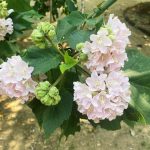 Swamy/New series/ID/48 – Dombeya spectabilis
: 3 images.
Please confirm the ID/ suggest a new ID for the plant.
Photographed
in Pench National Park , M.P.
sometime back. Suggested ID 
Dombeya spectabilis.
---
There are many species of this genus Cultivated in India.
I could not find any keys to differentiate them. Due to this there are a lot of misidentifications on the net.
Not sure about the actual identity.
---