Osbeckia
parvifolia
Arn.,
Companion Bot. Mag. 2: 308 1837
. ;
.
---
A prostrate to ascending herb or suffrutex. Stems laxly villous with purplish or brownish to yellowish spreading hairs. Leaves elliptic, 1-6 x 0.8-3 cm, basally rounded to obtuse with a 1-6 mm long petiole, acute at the apex, generally 3 or sometimes 5-nerved, rather densely pubescent with long hairs on both sides. Flowers few or several in rather loose clusters, pedicelled, tetramerous or occasionally pentamerous. Hypanthium 2-4 mm wide, with a rather lax cover of purplish or brownish to yellowish long hairs and stellate emergences; intersepalar emergences stellate with several long bristles. Sepals triangular-ovate, 2-4 mm long, apically with bristles as in intersepalar emergences, persistent in fruit. Petals 5-11 mm long, pink to mauve. Anthers ovate-oblong, obtuse, 2-4 mm long, not or only slightly twisted. Ovary apically with many erect bristles.
Flowering and fruiting: November-December
Moist deciduous forests, also in the plains
South India and Sri Lanka
Kemmangundi Road

 Karnataka
Date: 13 NOV 2016 … Altitude: ~ 1021 – 1369 m (3349 – 4491 ft) asl

Osbeckia octandra
 DC. 
… (family: Melastomataceae)
---
---
Family: Melastomataceae
Date: 30th December 2015
Place: Kottigehara, Chikkamagaluru District, Karnataka
Habit: Herb
Habitat: Semi-evergreen forest
---
This is not Osbeckia octandra, it is different from it…
---
Thank you sir. I brought a specimen back with me and keyed it out with Gamble. Please help resolve the species in this case.
---
Images of Osbeckia species so far in efi 
---
I am narrowing your search. Osbeckia virgata (which you call O. octandra following Gamble) will have bristly hairs on different parts and the inflorescences will be terminal cymes as seen in the images, and then there is O. parvifolia which will have simple hairs on stem and the flowers will be in terminal clusters. Now decide yourself. Seems to referable to the former.
---
As you say, I too feel it must be the former.
---
O. parvifolia
it having 4 or 5 petals.
flower color is changed due to some other reason.
other characters are same.
---
---
Date/Time-Location-
07.10.2011

Place, Altitude, GPS-
Munnar (Kerala) 1800 MSL

Habitat-
Urban
Plant Habit-
Herb
–
---
---
Seen this small herb (10 to 15cm in height) in Mullayagiri – Baba Budan giri region (Karnataka).
Bot. name: Osbeckia parviflora
Family: Melastomataceae
Date/Time: 27-01-2014 / 11:15AM
Habitat: Wild
Thanks to … for ID..
---
.. You mean Osbeckia parvifolia Arn. (= O. cupularis D. Don ex Wight & Arn.) ?
---
Yes, U r right. Thanks for correction..
---
Yes it is Osbeckia parvifolia
---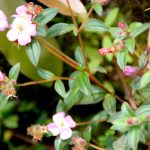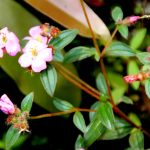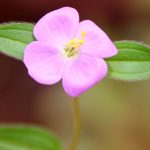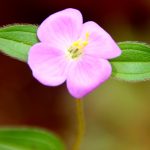 Melastoma malabarica from Chikamagalur Mullayaingiri Road-GS12022022-2
: 5 high res. images.
Melastoma malabarica
photographed
from Chikamagalur Mullayaingiri Road, 26-9-2015;
---
This appears close to images at Osbeckia parvifolia Arn.
Agree with …
---
Thanks a lot …, you are right
---