---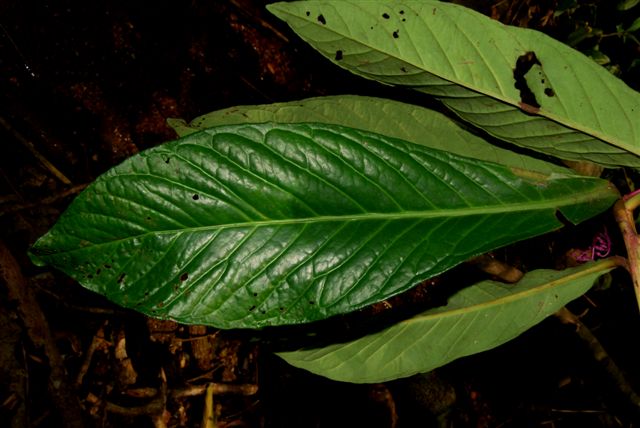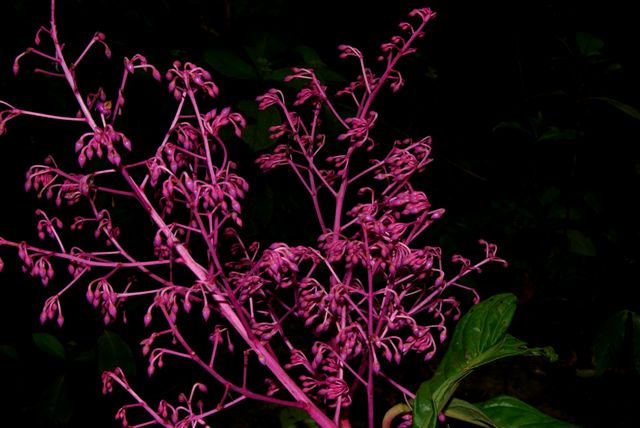 [efloraofindia:34348] id please : 11 posts by 8 authors. Attachments (3).
Please help me to ID this species
Date/Time- 18/4/09- 12:20 PM
Location- Place, Altitude, GPS-  Bongaigaon, Assam,
Habitat- – Wild Type
Plant Habit-   Shrub,
Height/Length-  1.75- 2.5 m
Leaves Type/ Shape/ Size- lanceolate, entire, lower dorsal pale green
Inflorescence Type/ Size- Solitary or in pairs,15-32cm
Flowers Size/ Colour/ Calyx/ Bracts-, 1.5-2.5, Deep purple in color
Fruits Type/ Shape/ Size Seeds- Not seen
---
Pl check for Ardisia (Myrsinaceae).
---
May be Ardisia solanacea.
---
This plant is indeed Ardisia solanacea  [Synonyms: Ardisia elliptica, Ardisia humilis]  from the family Myrsinaceae sometimes it is also places in the family Primulaceae under the sub-family Myrsinoideae.
---
… getting confused … the group's database already has Ardisia solanacea queries not resolved.
This plant seems to be yet different from the earlier two.
---
I am sure that it is not Ardisia solanacea. Here the leaves are very large and so the inflorescence. It can be a member of A. pyramidalis — A. macrocarpa group.
…, if you refer Kanjilal's Flora of Assam or Dr.Haridasan's Flora of Meghalaya you can easily identify it. Now i have no access to indian floras.
---
I also support … For sure this is not A. solanaceae. The leaf venation and the inflorescence tell you that this is not A.solanacea as … pointed out.
Any of the north eastern taxonomist can help id this as I never worked in Assam I may not be able to id this.
---
Could this possibly be A. paniculata Roxb. as per D. Brandis pg : 419. It is found in Assam, Khasi hills. Dacca and Chittgong hills. Leaves are mentioned as oblanceolate, glabrous. 8-20 in. long, narrowed into a stout petiole, midrib and sec. n. prominent beneath. Flowers mentioned as rose coloured , pyramidical terminal panicles.
---
I also support this to be Ardisia pyramidalis…. Pl. see the link
---
Family: Myrsinaceae
Date: 1st February 2015
Place: Agumbe, Karnataka
Habit: Shrub up to 8 feet tall
---
Even though I have not seen this species so far,
It appears to be Ardisia paniculata Roxb.
Subverticillate leaves, terminal panicles on lateral branches are more comparable to A. paniculata.
---
---
This is
from Rajnagar, Kumarghat, Tripura
Please identify
---
Does not seem to match with existing species so far in efi site at
Ardisia
---
Ardisia? / Phlogacanthus sp ? (fruit don't match but leaves and its arrangement does).
Please check if the stem is cylindrical or angular…
---
There's no doubt, it's not Acanthaceae member (Phlogacanthus sp),
---
---
Between Rhynchotechum gracile B.M.Anderson and Rhynchotechum obovatum (Griff.) B.L.Burtt ??
---
Could be a species of Ardisia
---
Some similarities with the plant Ardisia paniculata. Kindly check.
---
Yes, appears close to mages at Ardisia paniculata Roxb.
---
---
.
References: