---
Echinocactus platyacanthus, also known as the giant barrel cactus, giant viznaga, or biznaga de dulce,[2] is a species of cactus (family Cactaceae). It is native to central Mexico in the Chihuahuan Desert.[1]
This species is the largest barrel cacti. Their hairs are often used for
weaving
in Mexico and used to produce a traditional
candy
by boiling the
pith
.
This slow-growing species can reach sizes to 2.5 metres (8.2 ft) tall to 1.5 metres (4.9 ft) wide and can live over a hundred years. Their stems are a gray-ish blue color and the straight, rigid
spines
are black. The apex of the cactus is flat and covered with a yellow felt-like substance. They're heavily ribbed and have large
areoles
. Their
diurnal
, tubular flowers bloom at the end of spring to summer and are a vivid yellow color, they grow about 2 centimetres (0.79 in) in height and 3 centimetres (1.2 in) broad.

[3]

The fruit is about 3 centimetres (1.2 in) long and is covered by a hairy wool.

[4]
(From
Wikipedia
 on 22.3.14)
.
---
---
The body form is right for E. grusonii but the spines are not right. The new spines should be longer and more yellow. Of course these could by a hybrid of some sort. I know E. grusonii has a spineless form and a white spine form. Perhaps these are Echinocactus platyacanthus. You don't see it as often as E. grusonii but it has a similar form.
---
Echinocactus yes …,
But not grusonii, these look to be E. platyacanthus, a much larger growing Echinocactus.
---
Yup, platyacanthus, with somewhat shorter spines?
---
E. platyacanthus
---
Thanks to all for all this information on various cacti species, in different threads. It helps a lot to enhance my otherwise zero concept on cactus.
---
.
---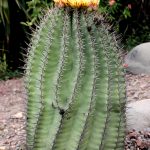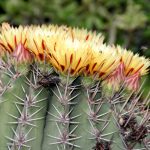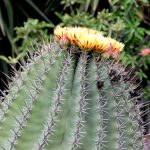 Echinocactus platyacanthus from Platae Paradise, Datyar, Himachal Pradesh-GS17012022-3
: 3 high res. images.
Echinocactus platyacanthus Link & Otto 
Syn: 
Echinocactus ingens
 Zucc. ex Pfeiff.
Photographed
from Platae Paradise,
Datyar, Himachal Pradesh, 29-5-2015.
---