Notholaena himalaica Fraser-Jenk., New Sp. Syndrome Indian Pteridol. & Ferns Nepal 183 1997.;
---
Is that Gymnopteris?
---
This is Notholaena himalaica Fraser-Jenk. (syn: Gymnopteris vestita), which is well known in the W. Himalaya and further east. It is important to check the literature – especially as in the West Himalaya we have the very well known, Illustrated Ferns of the W. Himalaya, in two volumes by Professor S.P. Khullar (1994, 2000), which readily enables identification of this and most other ferns.
---
Now, Hemionitis vestita (Hook.) J.Sm.
---
.
---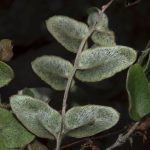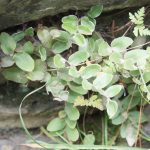 SK 3427 25 April 2022 – Fern: 2 very high res. images.
Location: Jumla, West Nepal
Try Paragymnopteris – maybe the species P. delavayi
---
Cat's ear fern
---
sori character and rhizome venation is required for further identification. Locality?
---
Gymnopteris vestita
---
probably Gymnopteris vestita
What a wonderful fern.
Gymnopteris vestita looks an amazing match… see below
References:
A SUMMARY OF INDIAN CHEILANTHOID FERNS AND THE DISCOVERY OF NEGRIPTERIS (PTERIDACEAE), AN AFRO-ARABIAN FERN GENUS NEW TO INDIA by C.R. FRASER-JENKINS & C.S. DULAWAT- FERN GAZ. 18(5):216-229. 2009  
Flora of China (Paragymnopteris vestita (Hooker) K. H. Shing syn: Gymnogramma vestita Hooker, Icon. Pl. 2: t. 115. 1837; Gymnopteris vestita (Hooker) Underwood; Hemionitis vestita (Hooker) J. Smith; Neurogramma vestita (Hooker) Diels; Notholaena himalaica Fraser-Jenkins; Paraceterach vestita (Hooker) R. M. Tryon; Syngramma vestita (Hooker) T. Moore)