Images
by Ranjini Kamath (Validation by A Ajit) (Inserted by J.M.Garg) (For more images & complete details,
click on the links)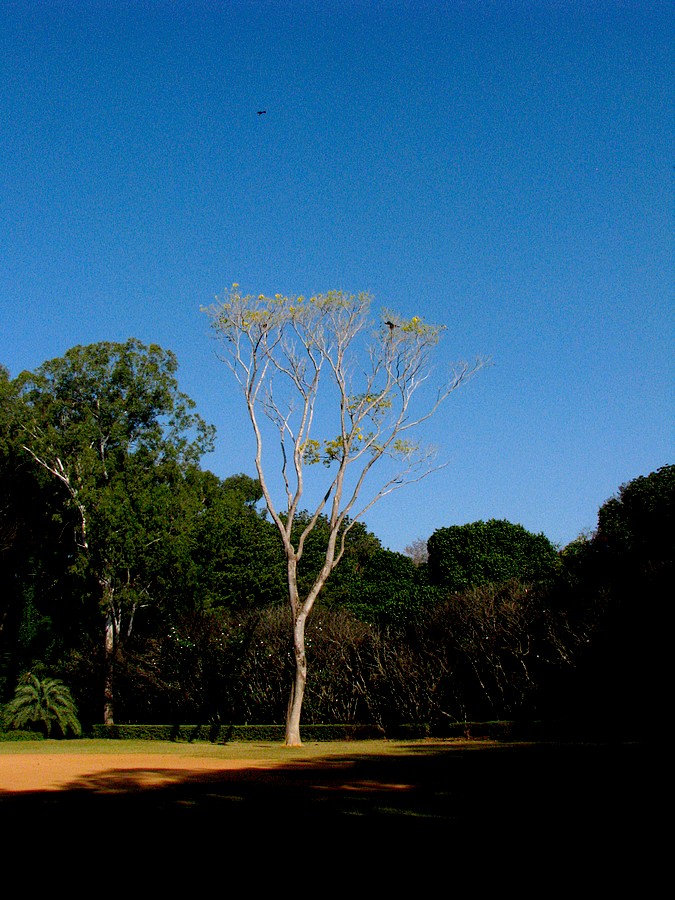 ---
Were intrigued by this Tabebuia. At first we thought it is T. aurea – but the trunk is not at all deeply fissured.
Pics taken in Raman Research Institute, Bangalore. 26/01/2014 – morning.
Sir CV Raman's ashes are buried at the foot of this tree.
Would appreciate ID!
---
It is an extremely tall tree – forgot to mention this.
---
Is this tree Tabebuia donnell-smithii?
---
A tree expert during the Tree Festival, Neralu [meaning shade in Kannada]- Cubbon Park, Bangalore, said this is
Tabebuia serratifolia
– does not look like it tho':
http://en.wikipedia.org/wiki/Tabebuia_serratifolia
09/02/201 Young treee – no flowers at the time 
---
This is indeed
Tabebuia donell-smithii
. This is marked as one of the heritage trees of Bangalore in the book Heritage trees by Vijay Thiruvady in page 135 where this exact tree is given. Apart from here, its mentioned that there is one more tree in Raj Bhavan. These are the only 2 trees of this species in Bangalore. The tree status is marked as endangered.
---
Thank you, … for this v. interesting information. Appreciate your sharing this 🙂
---