---
Perennials. Culms 20-150 cm high, erect, rhizomatous; nodes glabrous. Leaves oblong-lanceolate, lanceolate or linear, 2-50 x 0.2-0.8 cm, flat, blunt or shortly acute at apex. Ligules membranous, thin, truncate. Spikes terminal and axillary, 3-20 cm long, ending with narrow tails of almost barren spikelets. Joints 4-6 mm long, hollow, with a pair of sessile spikelets at each node. Spikelets all sessile, pedicelled ones reduced, oblong, 3-5 mm, awnless, sunken in cavities of rhachis. Lower glume oblong, 3-5 x 1-1.5 mm, coriaceous, 5-7-nerved, nerves visible only on inner side. Upper glume oblong, 3.5-5 x 1.5-2 mm, delicate, hyaline, faintly 3-nerved. Lower floret empty. Upper floret bisexual. First lemma oblong, 3-4.5 x 1-1.5 mm, acute, delicate, hyaline, faintly 2-3 nerved. Second lemma oblong, 3-4 x 1-1.5 mm, delicate, hyaline, faintly 3-nerved. Palea oblong, 2.5-3.5 x 1 mm, delicate, hyaline. Stamens 3, anthers 2-3 mm long. Ovary oblanceolate, 0.3-0.5 mm long; styles c. 0.5 mm; stigmas 1-1.5 mm long.
Flowering and fruiting: August-January
Coastal zones, in dry sandy soil
Afghanistan to Malesia through India
(Attributions- Dr. N Sasidharan (Dr. B P Pal Fellow), Kerala Forest Research Institute, Peechi
---
Please help me in identifying this Poaceae grass.
The fruits are of cylindrical size in a peculiar manner.
Place: Puducherry suburbs
Alt.: 10 m asl

Date: 6 April 2014
---
Thank you … I have seen this grass also in Kancheepuram dist., fallow land.
---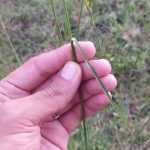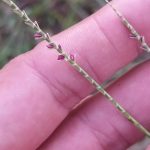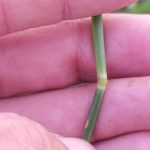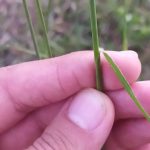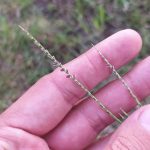 Nee ID help: think wiry grass
: 5 images- 1 high res.
Bhopal,

black soil,
Mnesithea laevis
---