W. & Central Himalaya to Assam: Assam, Nepal, West Himalaya as per
POWO
;
.
Common name:
 Stuart's Primrose
.
Primula stuartii
from Himachal [GHNP, Kullu; 3600 m asl]
Flowers of this species are tucked in topi towards ceremonial head gear ornamentation.
---
Beautiful Primula. I saw it in a dark stream valley near Kedarnath. It is less common in Garhwal but makes a robust stature.
---
This looks so beautiful…thanks for sharing a unique click …
---
Wow. What a wonderful robust Primula with yellow flowers.
---
Correctly identified.  Showy golden-yellow flowers.  Open slopes (often beside streams), gregarious on grazing grounds.  Recorded from Kulu Valley through to East Nepal @ 3600-4500m.  Dr Walter Koelz found it in the Kulu Valley above Naggar in the early 1930s when he worked with Thakur Rup Chand for the Russian Roerich to be deposited in the herbarium of the Urusvati Institute.  Sadly, the herbarium was never established with thousands of specimens lying untouched and unutilised for more than 80 years!  Many have probably rotted or become infested with insects.  I have tried to gain access to assess what is there but not succeeded (on 3 occasions).  What a waste.  A duplicate set of some of the specimens is at the University of Michigan Herbarium at Ann Arbor, USA.  I visited the pass @ 3600m where Koelz had been a few years ago but there was no sign of the Primula – albeit it was autumn, so the foliage may have died back or perhaps over-grazing/trampling had taken its toll – plus the ground seemed dry other than along a modest stream.  One source says it prefers heavily dunged sites. Found at Gosainkund in Nepal.
---
I have seen this below Hemkunt sahib, should look up for the pics in my old hard drive. Thanks a lot for sharing.
---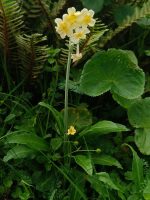 Plant ID from Uttarakashi, Uttarakhand
: 1 image.
Request for identification:
Location: Dayara-Gidara range, Uttarkashi, Uttarakhand
Altitude: 4086 meters asl
Plant habit/habitat: Wild herb
---
Primula stuartii Wall. !
---