Images by Nidhan Singh (Id help by Prijith, Maggie & Surajit Koley) (Inserted by J.M.Garg) (For more images & complete details,
click on the links)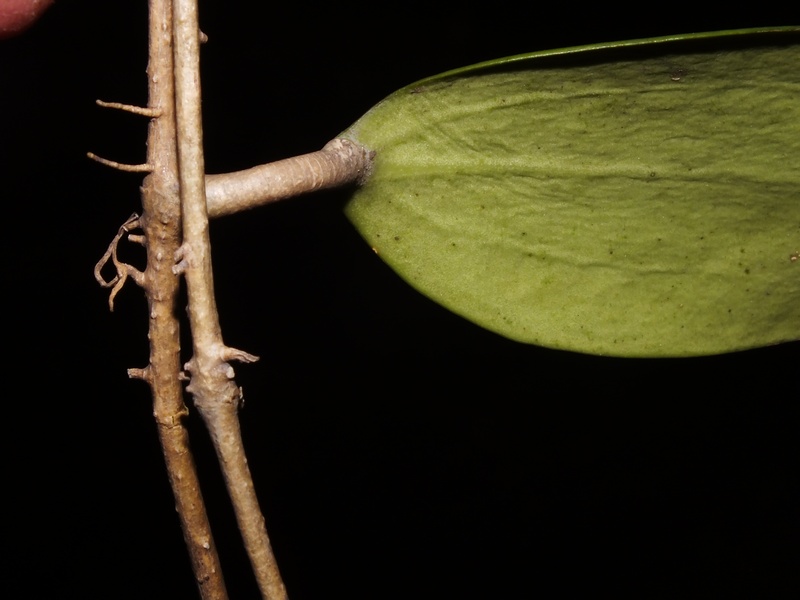 This beautiful epiphyte was shot
near Siliguri (W.B.)..
This is a Hoya sp. …H. verticillata ??
Please give your opinion regarding specific id..
---
Wow, great find …
---
Hoya alright since I photographed H. carnosa a few days ago here in California. Looks ver similar. Would be helpful if we know the differences.
---
Thanks for your early inputs …
I was considering this being one from H. verticillata or H. carnosa ..
---
tha pictures of the tiny flowers are so beautiful…they almost look artificial.
---
Hoya verticillata, acuta and parasitica are all quite difficult to differentiate. If there are references on the flora of Bengal, it could help
---
"I sure looks like a species from the parasitica complex, but it's extensive and flowers come in many colors (also growing condition affects the color) so it's difficult to pin point exaclty which one"
---
Attached here KEY of three Hoya in 'Bengal Plants'. Attachments (1).
Roxburgh's note on
Asclepias parasitica
reads, "……. leaves opposite….. firm fleshy texture… veins scarcely conspicuous above, and invisible underneath, ….. petioles short, round, ash coloured, in fact more like a part of a branch…." But,
Wight's illustrations
shows leaves are pinnately veined. I do not know if this is the same as
Hoya parasitica Wall. ex Traill
.
FoC has only one species with 3-veined leaves –
I hereby do not attempt to ID your plant. I send you this mail only because I have spent past two hours just to know what Hoya is! Whatever species it may turns out it is a heavenly (if there is any!) creation…. and excellent photographs as well.
Thank you very much for sharing this wonderful finding.
---
Pl. also see Hoya acuta
---
Herbarium sheet marked as Hoya verticillata (Vahl) G. Don can be found at KEW –
The No.1, 3 & 4 above have tri-nerved leaves. But no.2 seems to have penninerved leaves and one leaf in the no.3 herbarium also is pennineved.
Attached images are Hoya parasitica. The accepted name for the species are
Hoya parasitica

(
Roxb.) Wall. ex Traill
synonym of
Hoya verticillata (Vahl) G. Don
(According to
India Biodiversity Portal) ,
Hoya parasitica
 Wall. ex Wight
(According to Tropicos),
Hoya
 parasitica (Roxb.) Wall. ex Wight(according to eFl of India),       

Hoya parasitica

Wall. ex J. Traill(According to Biodiversity Heritage library and The Plant list) and Hoya parasitica Wall. 

( according to JSTOR Plant Science)and

Hoya parasitica

 (Wall. ex Hornem.) Wight (

according to  
Kew world checklist of selected plant families). Now which is the correct Bot. name for
Hoya parasitica.?
Date :25.06.2017
Location: Assam

Family : Apocynaceae/Asclepiadaceae
Genus & species : Hoya parasitica
Habitat: Grows as epiphyete on tree
Habit : Epiphyte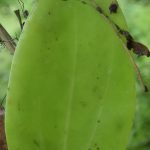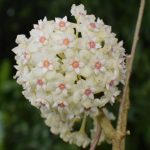 Hoya verticillata
: 2 high res. images.
Hoya verticillata
Behali

Reserve Forest,

Biswanath, Assam, India
---
Image from GBIF!
---
It is a very variable species, I am sure of this.
---
for me its hoya parasitica
---
I went through the discussion and you are correct about the confusion. I was initially not sure where to place it because I have myself observed several variations of the flower colour and leaf characteristics in the safe forest growing in different tree trunks. I also communicated with Dr. Michele Rodda in 2018, regarding this, and he was with the same opinion. It should be better placed as H.verticillata? in eFI.
My photographs lack details, sorry for that. It might be among the varieties proposed within the species.
However, Attached is an article which might help.
1 pdf attachment
---